Event Information
Location
Cloud Gate, Millennium Park
(The Bean)
Chicago, IL 60601
Refund policy
Refunds up to 7 days before event
Description
Join us as we gather living organ donors from around the world at the Cloud Gate in Chicago to set a Guinness World Record!
Who
This event is being hosted by living donors for living donors with the support of Transplant Village, supporters of Northwestern Medicine's Comprehensive Transplant Center. You do not need to be an organ donor to attend, all organ donation enthusiasts are welcome! Transplant Village strives to connect the transplant community, and as such, is pleased that the following organizations will be represented at our event!
#1BEANPOWER Sponsor ($5000+)
American Transplant Foundation
Special Guests
Illinois Secretary of State, Jesse White | Life Goes On
Transplant Games of America- IL
John F Martin Photography, Inc.

Dave Kappas- Constructive Noise

Superintendant Johnson- Chicago Police

Pair of Beans Sponsors ($1000+)

National Kidney Foundation of IL
Inside Edge: Public Relations & Media Services
Mary and Bill Neustadt
Organ Transplant Support (OTS)
Henry Ford Transplant Institute
Kidney Beans Sponsors ($500)

Gifts of Gratitude: Kidney and Transplant Jewelry

The Subrin Family
Baby Bean Sponsors ($100)
Wayne Ruppert
Dave Jepsen
Laurie Sarvo
Rose Shirey
Patricia Tripolitakis
Jennifer Gedville
Michael Doyen
Michael Doyen
Steven Ferkau
Ellen Walsh
Cindy Sue Gepfert
Dolores Foxworthy
Patricia Cooper
Steve Rosen
Other Awesome Organizations & Supporters Attending

American Association of Kidney Patients
Gifts of Gratitude: Kidney and Transplant Jewelry
Transplant Support Group of Northern Illinois
What
While this is our second annual meeting, it will be our first attempt at setting a world record. We will need 250 donors to set a record, and need your support! The whole process will be filmed and carefully documented in order to meet the strict Guinness Record evidence guidelines.
When
Saturday, April 21, 2pm-6pm. The official Guinness count will begin at 3 pm sharp. Join us for champagne at Tiffany's on Michigan Ave at 9am, details here.

Where
We've purposefully selected Cloud Gate in Millenium Park because it is well-known as "The Bean", a term that's quite meaningful to those in the transplant community and will be perfect for group photos. British artist Sir Anish Kapoor design of the Bean was inspired by liquid mercury and the sculpture's surface reflects and distorts the city's skyline. What better place to meet than at the world's largest kidney? There are lots of restaurants walking distance from the Bean to dine with your donor friends before or after the event.

Why
April is National Donate Life Month! Our goal is to bring the living donor community together by creating a unique event that will help raise awareness surrounding the importance of organ donation. Our goal is to connect, support, celebrate, and inspire others to consider living organ donation as an option. Proceeds from ticket sales will start a living organ donor fund for Northwestern Medicine. This fund will be used to help donors at NM with donation expenses not covered by insurance.
What to Wear
April in Chicago might mean we get a beautiful sunny day, OR rain showers. Please make sure to prepare for all kinds of weather, as we will be outside for an extended period of time. For the group photo, please wear blue or green (donor colors), OR order a commemorative t-shirt ahead of time. If you would like to purchase a special commemorative t-shirt for the event for $17, please order one here- the shirt will be shipped to you before the event. Proceeds for the t-shirt will benefit the American Living Organ Donor Fund. If you have not ordered a shirt by now, we cannot guarantee it will arrive to you before the event.

Proving You Are A Donor
To be counted toward the Guiness Record attempt, you need to be a living organ or tissue donor and complete the following steps.

1) Buy a ticket on eventbrite, this adds you to the official donor list.
2) Complete this online form, which will also ask you to upload 2 pages of paperwork. Here is a Youtube video that walks you through the process if you run into problems.

3) Show up to the event! You will sign a statement in front of a designated witness, and say your name into a camera. We will guide you through this step on event day, it will be fun and interactive!
Some of our atendees are in the news for attending the rally! Check out their stories here: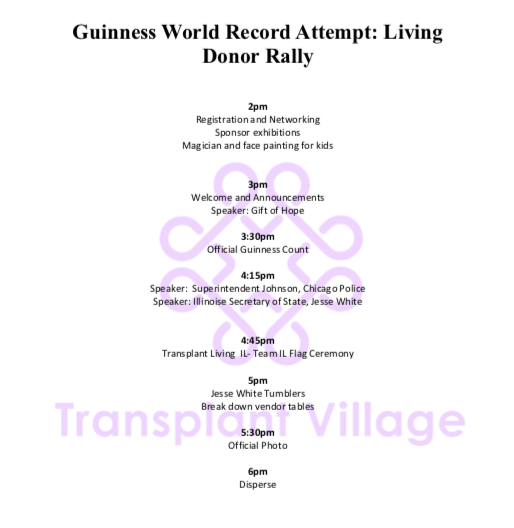 Date and time
Location
Cloud Gate, Millennium Park
(The Bean)
Chicago, IL 60601
Refund policy
Refunds up to 7 days before event