Description
Join us on a fun and informative casual bike ride from the Hermosa Beach Pier to Veterans Park in Redondo Beach and back, all on the beachside bike path (The Strand) and separated bikeway on Harbor Drive.
We are fortunate to have riding with us two well-known authorities on local history, Chris Miller for Hermosa Beach and Pat Aust for Redondo Beach. Each will enlighten and entertain us with interesting facts and folklore as we make several stops along our beautiful ride.
• 6:00 PM – Check in starts.
• 6:30 PM – Ride begins.
• 7:15 PM – Arrive at Veterans Park (estimated arrival time).
• 7:38 PM – Stop for the sunset on our way back.
If you need a bike, borrow one for free on-site from Hermosa Cyclery (one driver's license is required as security for your group). Your ticket to this event is your RSVP to borrow a bike, should you need one. Arrive by 6:00 PM.

Riders should gather between Good Stuff, The Beach House and Hermosa Cyclery, where we will check you in.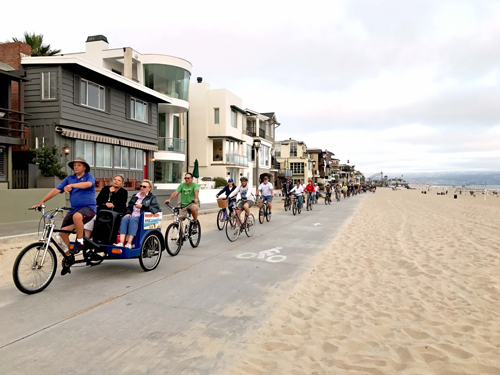 2017 Guided Sunset Strand History Tour by Bike