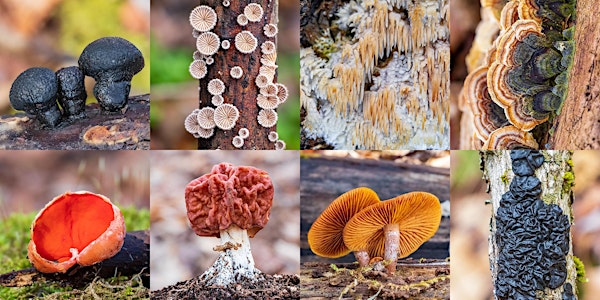 Guided Mushroom Walk: Early Spring Mushrooms 2023
Join me at Frick Park to learn about early spring mushrooms. We will be on the lookout for scarlet elfcups and Carolina false morels!
When and where
Date and time
Sunday, March 26 · 10am - 1pm EDT
Location
Frick Park 1981 Beechwood Boulevard Pittsburgh, PA 15217
Refund Policy
Contact the organizer to request a refund.
Eventbrite's fee is nonrefundable.
About this event
In late March, nature in Pittsburgh is finally waking up and fungi are no exception. While it's not time for morels yet, there's plenty of fungi to see and learn about!
The focus of this learning walk will be on early spring mushrooms as well as polypores and crust fungi that have survived the winter. Some of the early spring mushrooms we may see are Gyromitra caroliniana (Carolina false morel), Sarcoscypha sp. (scarlet elfcups), Panus neostrigosus (ruddy panus), and Coprinellus micaceus (mica caps). It's important to understand that mushrooms grow when the conditions are right and there is unfortunately no guarantee that we will find the above species. However, in late March, I have found all of those species on these trails. No need to worry though—there will be plenty of polypores and crust fungi for us to learn about as well, including Trametes versicolor (turkey tail), Trametes elegans (white maze polypore), Trametes betulina (gilled polypore), Ganoderma applanatum (artist's conk), and various Stereum species.
Location & Time
This walk will be held in Pittsburgh's Frick Park on Saturday, March 26 at 10 am. We will take the North Clayton Trail to Biddle Trail and Bradema Trail to Nature Trail, making about a 2-mile loop.
Attendance is limited to 12 people so that we can be in a small group and interact closely.
📍 Meet at the fountain by the Frick Environmental Center at 10 am.
WHAT TO EXPECT
✅ Things we'll do:
Walk the trails looking for mushrooms, stop to look at them, and learn about their ecology, characteristics, and properties.
Compare similar mushrooms side by side to learn how to differentiate between them.
Discuss mushroom foraging, mycology, and why we love fungi!
Learn about some tips and tricks for mushroom photography.
👎 Things we won't do:
Forage for mushrooms. It is not allowed to forage for mushrooms in Pittsburgh city parks.
💎 How to make the most out of this walk:
Dress appropriately for the weather. Wear layers and good shoes.
Bring a notebook to take notes. You may want to start a special mushroom notebook!
Take pictures of the mushrooms we talk about. You can then upload these to iNaturalist and start building your species list of mushrooms you can identify.
Look up the walk location ahead of time and figure out your timing. Give yourself a little extra time to find us at the location.
Walks are very hands on and participatory. Don't be afraid to look closely, pull things apart, smell, taste (spit it out after) and thoroughly take advantage of the opportunity. Questions and comments are welcome! That's why I keep the group small!
This is a first of a series of guided mushroom walks I'll be holding this year in the Pittsburgh area. My goal for these walks is to span seasons and places around Pittsburgh so that you can learn about a wide variety of mushrooms when they are in their prime. These classes are open to everyone, regardless of experience.
Teacher Bio
This class will be taught by me, Barbora Batokova, aka @fungiwoman. I created FUNGIWOMAN in 2018 as a photography passion project to foster learning about mushrooms. My goal is to help people discover the beauty and benefits of fungi, inspire them to start mushroom hunting and go on foraging adventures, and create delicious meals with wild mushrooms. I create daily educational posts on my Instagram account and publish mushroom recipes and mushroom profiles on my website fungiwoman.com. I am currently working on my biggest project yet—a mushroom guide and identification book that will be coming out in Spring 2024!
I was born in the Czech Republic, where I grew up mushroom hunting around our family summer house in South Bohemia. That's where my passion for mushrooms began. Since 2018, I've been actively studying mushrooms in Pennsylvania and in 2021 I became an official mushroom identifier for the Western Pennsylvania Mushroom Club (WPMC).
Visit fungiwoman.com to learn more.