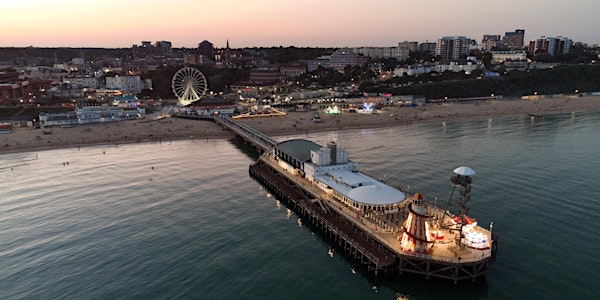 Guided attractions & history walk for visitors to Bournemouth & Poole
Free interactive guided tour of Bournemouth & Poole with travel & attractions history & facts presented in audio app that explores with you
When and where
Location
Bournemouth Square Bournemouth Square Bournemouth BH2 United Kingdom
About this event
100 Amazing Bournemouth Places Guided Tour / Attractions Walk - free audio walk & outdoor museum for tourists & locals
A carefully researched outdoor audio walk is packed full of interesting facts spanning 200 years of history (and including some pre-historic, Iron Age & Roman facts) allowing you to learn about the amazing information at the places where they happened.
Created by Jan-Erik Paul, a Bournemouth local with a passion for antique Dorset maps & local history, this Bournemouth audio walk / walkable travel guide provides an explorable outdoor museum with amazing unique facts, places & history about Bournemouth, such as:
Longest fireman's pole in the UK (+why it's so long`)
Bournemouth's only "street" location
Locations of Marconi's first radio broadcasts
Hidden fossilised forests you can walk over
Queen Victoria's surgeon influence in pine tree forests
Stone-age reindeer camp
Smugglers secret chimny hiding places
Using the Walkfo App, you can explore Bournemouth & Poole the same way you would do using audio headsets / audio guides provided at museums or art galleries (usually with a charge). Using a mobile phone & earphones or EarPods, Walkfo is able to offer user free guided tours & explore anywhere outside to access millions of historical & cultural facts without being limited to specific geographic locations.
The app will automatically give you free access to the 100 Amazing Bournemouth Places Travel Guide / Tour Guide Walk as soon as you walk close to an information spot or by entering the unique walk code: MXRB
Experience on Apple devices >> https://apps.apple.com/gb/app/walkfo-audio-travel-guide-app/id1556078402
Experience on Android devices >> https://play.google.com/store/apps/details?id=com.walkfo&hl=en_GB&gl=GB