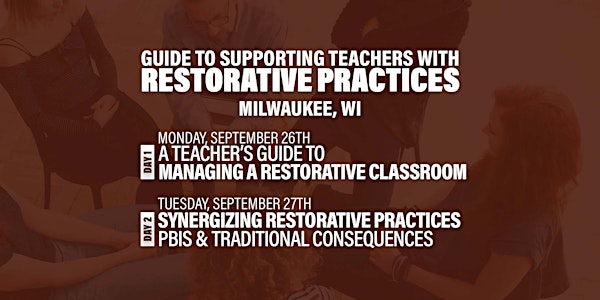 Guide To Supporting Teachers With Restorative Practices (Milwaukee, WI)
LIMITED SPOTS AVAILABLE
When and where
Location
Sonesta Milwaukee West 10499 West Innovation Drive Wauwatosa, WI 53226
Refund Policy
Refunds up to 7 days before event
Eventbrite's fee is nonrefundable.
About this event
REGISTER WITH PURCHASE ORDER
To register with a purchase order, Click Here.
REGISTER WITH CREDIT CARD (TAX-EXEMPT)
Eventbrite collects sales tax in Wisconsin for all credit card sales. We are aware that most of our registrants are tax-exempt and can provide the necessary documentation.
If your organization is tax-exempt and would like to pay for your registration by credit card, Click Here.
COST OF REGISTRATION
FULL REGISTRATION - GROUP RATE (2+) - $375 per person
FULL REGISTRATION - Individual - $450 per person
1-DAY REGISTRATION - GROUP RATE (2+) - $195 per person
1-DAY REGISTRATION - Individual - $225 per person
WORKSHOP OVERVIEW
Most people would agree that the three most important behaviors that need to be learned to be an effective teacher are the ability to deliver quality instruction, manage a classroom and build relationships with students. If one had to pick two of the three as most important, most would choose the ability to manage a classroom and build relationships with students. I ask this question at nearly all my trainings and this is always the consensus. So, if we understand that the ability to manage a classroom and build relationships with students are the two most important behaviors that a teacher needs to be effective, why do schools and districts spend upwards of 90% of their professional development solely focused on training teachers to deliver quality instruction?
​During this two-day workshop, we focus on providing administrators and those that support teachers with guidance that will enable them to create a continuous support system for teachers on their campus. Teachers that attend this workshop will receive specific strategies that should enable them to proactive build relationships with their students and minimize disruptive behavior. We encourage you to join us both days but feel free to only come to the day that fits your schedule and/or interest. Please take a moment to review the descriptions of the days below so you can learn what you should expect from attending each day of the workshop.
DAY 1 - MANAGING A RESTORATIVE CLASSROOM
Most teachers who struggle do so because of their inability to manage their classroom and connect with their students. Too often, the blame is placed on these teachers, but this is more of an issue in how we have chosen as an industry to support teachers. If we want struggling teachers to become better classroom managers and build relationships with their students, we must teach them how to do those things. And we must learn the difference between telling someone to do something versus actually teaching them how to do it. This training gives participants practical experiences that will allow them to integrate Restorative Practices with their classroom management strategies. This should enable teachers to create structures to manage behavior and proactively build relationships with students in their classroom by understanding their diverse needs.
FOCUS #1: PREVENTATIVE STRATEGIES
Schools, particularly inside classrooms, are full of rules designed to maintain order and establish a safe environment optimal for learning. While rules are important, and necessary, they fail to acknowledge how the people in these environments want to be treated. Respect Agreements provide a process for establishing how everyone within a classroom, team or staff will agree to treat one another. This includes student to student, student to teacher, teacher to students as well as everyone to the physical state of the classroom.
Many students in schools today lack Emotional Awareness. For example, a student struggling to solve a math problem may express they are getting angry because they can't solve the problem. What the student is attempting to communicate is that they are frustrated but they lack the emotional awareness to understand the differences between these similar emotions. Students need to develop their emotional awareness and be provided with a process to be able to learn and proactively communicate their current mood to their teachers and peers. This is why we must provide teachers with strategies that will empower them to proactively and nonverbally gauge their students' current mood while also developing emotional awareness of their students.
FOCUS #2: DE-ESCALATION STRATEGIES
If a student is standing on a desk, the teacher's number one objective is to get that student off the desk without being injured. How this happens does not matter as much as a successful outcome does. The student standing on the desk, the primary behavior, is not the reason that the student will be sent to the office. How the student responds, the secondary behavior, to the teacher's request to get off of the desk will determine if the student gets in trouble. Affective Statements provide teachers with a strategy to avoid adverse secondary behaviors from students by responding appropriately to primary behaviors.
FOCUS #3: RELATIONSHIP BUILDING STRATEGIES
School culture and climate are key indicators of the academic success of a school. Therefore, the development of the relationships between the stakeholders in our school, particularly between students and teachers, is essential. Community Building Circles provides educators with a process to develop strong relationships with their students as well as all other stakeholders that make up the school community.
Day 1 of the workshop will provide participants with:
an understanding of how to use Respect Agreements to establish a climate of trust within their classroom
an understanding of the difference between primary and secondary behavior and how to Avoid Adverse Secondary Behaviors when addressing students by effectively utilizing Affective Statements
an understanding for why students in school today lack Emotional Awareness and strategies to assist them with expressing their emotions appropriately while developing their emotional intelligence
a process for creating Community Building Circles that will assist teachers in proactively building relationships with students
DAY 2 - SYNERGIZING RESTORATIVE PRACTICES, PBIS & TRADITIONAL CONSEQUENCES
A school can have all of the frameworks and strategies in the world but the key to the success of any initiative will always be implementation. Having the right plan and team to execute the plan is essential. This training is designed to provide participants with specific guidance and support to help campuses develop an implementation plan specific to the needs of their campus.
FOCUS #1: 3 MOST COMMON APPROACHES ​TO MANAGING BEHAVIOR IN SCHOOLS
Throughout my tenure in education, it seems like every year there is something new that is supposed to be the answer to the challenging behaviors we face today. The only constant of these initiatives is that they're all flawed. If we're being honest, we also have to admit that they all have some good qualities too. What we've all come to understand is that there is no perfect solution that will solve the behavior challenges we face in schools today. Restorative Practices, Social Emotional Learning and Positive Behaviors Interventions and Supports can all have a positive impact on the climate and culture of your campus. With all initiatives, there will always be deficiencies. One can look to any of these frameworks and determine that they alone will not meet the diverse needs of their campus.
FOCUS #2: DEFINING ROLES FOR A SUCCESSFUL ​RESTORATIVE PRACTICES INITIATIVE
When implementing any initiative, it's imperative that everyone understands their role. Restorative Practices is no exception but it presents an even greater challenge because most educators struggle with how to integrate Restorative Practices into the traditional structure of a school. Because of this, most people think that you must hire additional staff to even consider implementing Restorative Practices. I think everyone would agree that adding additional staff to support any new initiative is ideal and welcomed. But if you've been in education long enough, you know that you have a better chance of winning the pick three lottery than consistently getting staffing allocation that you need. Therefore, we have to make the best of the staffing we have and that requires being strategic and efficient. In order to be efficient, everyone must understand their roles and buy into the concept that the sum must be greater than the parts.
FOCUS #3: CREATING A RESTORATIVE PRACTICES IMPLEMENTATION PLAN
A school can have all of the frameworks and strategies in the world but the key to the success of any behavior initiative will always be implementation. When it comes to behavior initiatives, there are commonalities from school to school as to why they ended up failing. If you want to give yourself a chance at being successful in the future, you need to start with looking at your past. Why were some of your past initiatives successful and why did some your past initiatives fail? This is a question that everyone needs to ponder before they take on what could arguably be the most challenging behavior initiative ever. What makes implementing Restorative Practices so challenging is that you are challenging a mindset that has been in place for over 100 years. To complicate things even more, Restorative Practices has a branding problem. A lot of people believe that Restorative Practices means that you are going to let students do whatever they want with no accountability. Your version of Restorative Practices can and will hold students accountable by synergizing Restorative Practices with traditional consequences. This may be your intention but it needs to be communicated through your implementation plan. Having the right plan and team to execute that plan is essential.
Day 2 of the workshop will provide participants with:
how to develop a campus framework that will allow you to incorporate the key elements of Restorative Practices, Social Emotional Learning (SEL) and Positive Behavior Interventions and Supports (PBIS) along with traditional consequences to improve the climate and culture of the school.
how to define each stakeholders' roles in order to have a successful Restorative Practices initiative
how to strategically provide leadership opportunities to all staff members to increase buy-in
specific guidance and support to help campuses develop an implementation plan specific to the needs of their campus
how to create a restorative practices implementation plan that ensures the fidelity of the initiative as well as creates buy-in with the majority of the campus' stakeholders
ABOUT THE PRESENTER
KELVIN OLIVER is an Educational Consultant specializing in implementing Restorative Practices in Schools. As a campus administrator he played an instrumental role in the development, implementation, and support of Restorative Practices. Kelvin is credited for creating a Restorative Practices campus-based support model that included weekly professional development and an implementation support team. Since 2007, he has worked in education as a special education teacher, classroom teacher, campus math specialist, district curriculum specialist, assistant principal, campus principal and consultant.
For more information about Kelvin's work, please visit www.leavingthevillage.com.
FAQs
What's the cancellation/refund policy for this workshop?
If you are unable to attend and need to request a refund, you must submit your refund request in writing SEVEN (7) DAYS prior to the scheduled date of the workshop. Submit all refund requests to billing@leavingthevillage.com. If you submit your refund request within SEVEN (7) DAYS of the workshop, you can be provided with a credit that can be applied to any of our future workshops.
Should I attend if I've already attended an Alternatives To Suspension and/or Guide To Implementing Restorative Practices virtual workshop series?
Almost all of the strategies and concepts presented in the three virtual workshop sessions in both series will be presented again during the in-person workshops. With that said, the in-person workshops provide a greater opportunity to give more context because all of the strategies are presented in a day versus over the course of three 90-minute sessions. The in-person workshops also provide an opportunity for hands-on learning activities that can't be duplicated virtually. The in-person workshop would be beneficial for those who have attended our virtual workshops but would like a refresher with some hands-on learning opportunities.
Is this workshop beneficial for elementary educators?
Our workshops are differentiated to meet the needs of all levels, K-12. With that said, Kelvin Oliver, the presenter, was a PK-6 campus administrator when he implemented Restorative Practices on a campus. His time as a campus administrator is where he developed many of the concepts that are presented during these workshops. While the focus will be on all grade levels, elementary educators will not walk away from this workshop feeling that it didn't apply to them.
Are these workshops only intended for administrators?
No, you don't have to be an administrator to attend these workshops. All educators that attend these workshops will find great benefit in these workshops.
Will I receive any supporting resources if I attend this workshop?
Yes! At the conclusion of the workshop, each registered participant will be mailed one complimentary cheat sheet resource for each day of the workshop they registered to attend. Each Cheat Sheet is strategically designed to support attendees of our workshops when they return back to their campus. If you register multiple participants for both days, you will receive the pair of complimentary cheat sheets for each paid registrant.
When should I expect to receive the supporting resources?
Participants who fulfill payment for their registration prior to the start of their scheduled workshop can expect their complimentary cheat sheets to be shipped to the shipping address provided at registration within two weeks after the conclusion of the workshop they attended. Participants who register using a purchase order as a promise of payment will need to fulfill the purchase order payment before their complimentary cheat sheets are shipped. Once the purchase order payment is fulfilled, participants can expect their complimentary cheat sheets to be shipped within two weeks of receipt of payment.
Will lunch be provided either or both days?
We've allotted one hour and 15-minutes for workshop attendees to have lunch on their own. Because most attendees work on a campus with students, they are rarely afforded the opportunity to go to a restaurant for lunch. Our hope is that each attendee takes advantage of this unique opportunity to enjoy a sit-down lunch like most other working professionals are able to do. Throughout both days, beverages such as coffee, water and hot tea will be available to all participants.
​Is there a room block available with a special room rate?
We don't have a block of rooms since we do these workshops around the country and can't anticipate how many rooms will be needed at each location. Please contact the hotel directly to book sleeping rooms.
Will I be able to receive CEU hours if I attend this workshop?
Unfortunately, we can't guarantee that you will be able to receive continuing education units if you attend our workshops. We offer our workshops around the country and we are in the process of ensuring our attendees can earn credits in the future.
How can I contact Leaving The Village if I have additional questions?
You can email us at info@leavingthevillage.com or call (301) 789-8407.