GUEST SPEAKER - 25+ years of Real Estate Investing John McCants (Tuedsay August 13)

Tuesday, August 13, 2019 from 6:45 PM to 8:30 PM (PDT)
Event Details
Playing to Win In Real Estate!

Who is John McCants?
John has been a successful real estate broker from 1992-2017. Working with an experienced network of brokers & contractors John has developed a Team Approach toward buying, rehabbing, flipping and creating portfolios of investment real estate with positive cash flow. John loves to purchase property at a very steep discount off retail values, acquiring most of his real estate in the competitive foreclosure marketplace buying wholesale what most people would say is impossible.  He is a MASTER at it! 

JOHN's Back Story (how he started in real estate)
John was an insurance agent, he started in Real Estate investing by investing in himself $69 to go to a Real Estate intro meeting. HE THEN spent over $7000 to get a 5 day boot camp.
The following Monday, he could not do his job, his head was full of ideas about real estate. So he gave notice --- they then walked him to his car! That Minute! NOT even the typical two week stuff. He could not say goodbye his customers, he had NO access to them.
So he took his 3 ring binder and cassette tapes and drove all day until, he got for $7 GRAND, because he was supposed to be at work. [ shhh don't tell his wife Pam
;)

]
As an Entrepreneur, he quit an 8 hour/day job working for someone else's dream, he took the long road of now working a 12-16 hour day job to work on himself and make more money than at his day job!
John did 8 flips after the 5-day boot camp, that was his best.
After he joined our community and system of education, he did
18 deal his first year

37 deals his second year AND

42 and this was his best year so far
JUST SO YOU KNOW - 395 people went through the

same seminar

(boot camp). That company wanted those who attended to update them. AT THE END of the year, John was 1 of 8 people that are still kept in contact with the company.
Recently John Tracked his last 208 deals, he made an average of over $45k per deal.
QUESTION

- Does our system work? YOU BET! What about the community that participated with him? This is a TEAM SPORT.
JOHN HAS GONE ON TO ACCOMPLISH THE FOLLOWING REAL ESTATE STRATIGIES...
Lease options

Buyer/Seller

Portfolio of rentals

Fix n Flip

Foreclosures

Auctions

AND HE HAS BEEN A

Realtor for 22 years working with investors

RECENTLY -  We Had John out in our Murietta office where he spent all day talking about

The 5 buying opportunities on the foreclosure timeline
Ways to approach people and properties in foreclosure to make offers
How to track foreclosure properties and identify potential "Hot Properties"
The 20 questions you need to ask before buying any foreclosure property
The key players you need on your team to buy more properties and make BIG profits
John's favorite way to buy foreclosures and why
Tuesday is NOT GOING TO BE ABOUT THAT ONE STRATEGY,
BUT ABOUT MUCH MORE.
Want to know the process of buying foreclosed properties at auction from beginning to end? Learn the power of property default lists, the importance of working with a complete list and how to streamline your lead-generation process.


REGISTER NOW TO ATTEND THIS EVENT.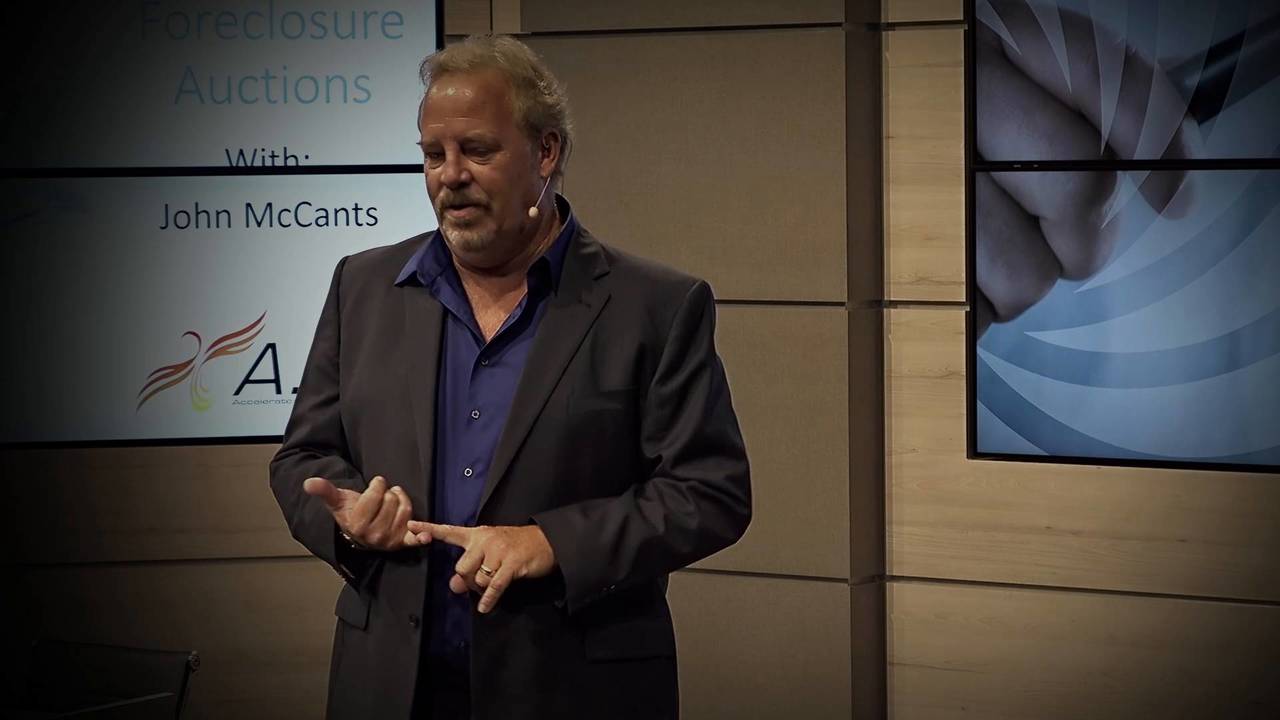 DISCLOSURE : Result's Not Typical, but then again NEITHER are You for check out us, who also are NOT typical ;)
John is out of our Phoenix office. He lives and works mainly in that area, but works closely with other offices around the nation (Tacoma, Seattle, Spokane, Sacramento, Murietta, San Diego, Phoenix, Tuscon). John enjoys Building relationships and business and understands the importance of maintaining great relationships when it comes to getting transactions done and finding the resources through the relationships to get deals done.
Do you have a Community of Investors You work with?
Successful Real Estate Investors know the following..
✅ A skill that's recession proof
✅ A skill that doesn't need a college degree
✅ A skill that's vital to any successful business
✅ A skill that most billionaires claim you NEED to succeed


If you've considered investing in real estate, but haven't done so yet, what's holding you back?
Lack of Knowledge?

Lack of Time?

Lack of Money / Credit?

Fear?
REGISTER FOR THIS EVENT to up your Relationships, Up your Real Estate Knowledge and have the opportunity to gain valuable resources to make your real estate investing career successful.
Keywords That Describe our Real Estate Investors Event
Investing, Real Estate Investors, Real Estate, Business Strategy, Real Estate Investment Education, Financial Education, Financial Literacy, Cashflow, Real Estate Investing, Success through Financial Literacy, Entrepreneurship, Financial Independence, Wealth Creation, Financial Freedom, Beginner Real Estate Investing, Financial Planning, Small Business, Real Estate Networking, Self Improvement, Personal Growth, Positive Impact REI, Next Step REI, San Diego Real Estate Event, Sacramento Real Estate Event, Phoenix Real Estate Event, Murrieta Real Estate Event, Orange County Real Estate Event | #NextStepREI | #PostiveImpactREI
Have questions about GUEST SPEAKER - 25+ years of Real Estate Investing John McCants (Tuedsay August 13)?
Contact NextStepREI
When & Where

San Diego - Miramar

San Diego, CA 92126


Tuesday, August 13, 2019 from 6:45 PM to 8:30 PM (PDT)
Add to my calendar
Organizer
Next Step Real Estate Investors Group 
More than Real Estate Investing…..
Financial Literacy, Community, Study & Work Shops Mastermind Group, Mentorship, Real Estate Property Project Tours and more….
We care about the quality of the person and their dreams to succeed in Real Estate and Business Ownership, it requires effort, work, dedication, you are not alone, we have the resources to help to succeed. Our Question to you? Who esle do you know that would like a better lifestyle using proven systems of success in Financial, Business and Real Estate?
"Compound interest is the eighth wonder of the world. He who understands it, earns it. He who doesn't…. pays it." -Albert Einstein
(San Diego, CA | Murietta, CA | Santa Ana, CA | Sacramento, CA | Phoenix, AZ)