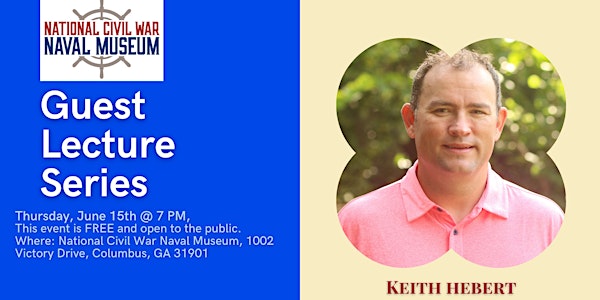 Guest Lecture: Keith Hebert
Author and history professor Keith Hebert presents "Alexander Stephens's Cornerstone Speech and the Lost Cause"
By National Civil War Naval Museum
Date and time
Starts on Thursday, June 15 · 7pm EDT
Location
National Civil War Naval Museum 1002 Victory Drive Columbus, GA 31901
About this event
When: Thursday, June 15 @ 7pm (eastern)
Where: National Civil War Naval Museum, 1002 Victory Drive, Columbus, GA 31901
Cost: FREE and open to the public
Born in early 1812 in Crawfordville, Georgia, Alexander Stephens grew up in an antebellum South that would one day inform the themes of his famous Cornerstone Speech. While Stephens made many speeches throughout his lifetime, the Cornerstone Speech is the discourse for which he is best remembered. Stephens delivered it on March 21, 1861—one month after his appointment as vice president of the Confederacy—asserting that slavery and white supremacy comprised the cornerstone of the Confederate States of America. Following the war and the defeat of the Confederacy, Stephens claimed that his assertions in the Cornerstone Speech had been misrepresented, his meaning misunderstood, as he sought to breathe new and different life into an oration that may have otherwise been forgotten. His intentionally ambiguous rhetoric throughout the postwar years obscured his true antebellum position on slavery and its centrality to the Confederate Nation and lent itself to early constructions of Lost Cause mythology. Hébert's presentation examines how Alexander Stephens originally constructed, and then reinterpreted, his well-known Cornerstone Speech. Hébert illustrates the complexity of Stephens's legacy, meticulously tracing how this speech, reverberated in the nation's consciousness during Reconstruction, through the early twentieth century, and in debates about the commemoration of the Civil War. The speech's implications span far beyond the memorialization of Confederate symbols. As our nation grapples with the animating ideas of the past and discovering how these ideas continue to inform the present the Cornerstone Speech remains an important part of American culture.
Keith Hebert is the Draughon Associate Professor of Southern History at Auburn University. He received a PhD in History from Auburn University. He is the author of several books including Cornerstone of the Confederacy: Alexander Stephens and the Speech that Defined the Lost Cause (University of Tennessee Press, 2021). Hebert is a Georgia native who currently lives in Prattville, Alabama.
About the organizer
Contact 706-327-9798
www.portcolumbus.org
1002 Victory Drive Columbus, GA 31901