Description
Danny Newberg and Nialls Fallon bring their nomadic and collaborative pop-up joint venture to the Farm on Kent for a two-part series. Expect seafood, seasonal produce & foraged ingredients thoughtfully prepared with the aide of smoke & fire.
/////////////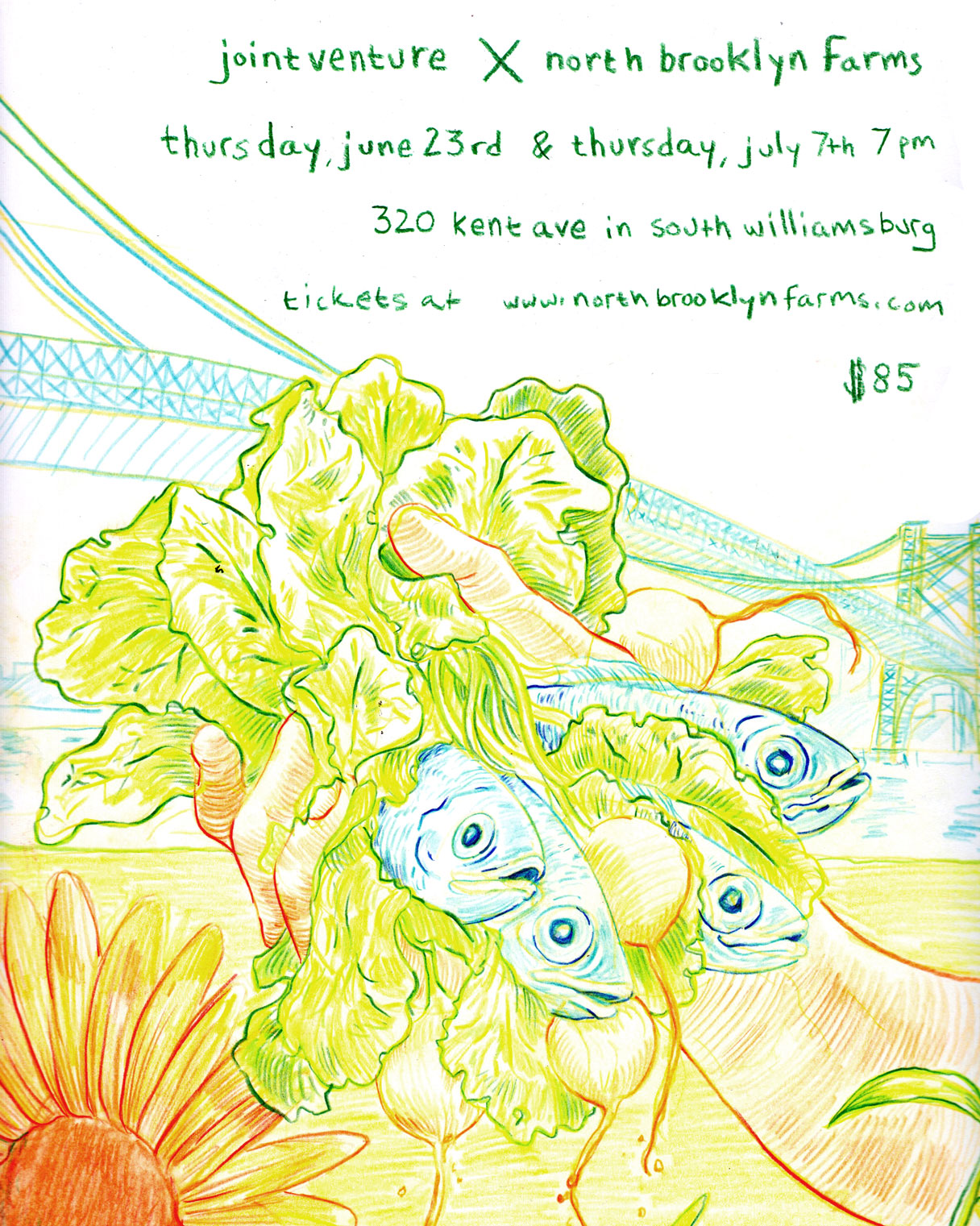 joint venture was founded by Nialls Fallon and Danny Newberg in March of 2015 as a pop-up series while we planned our brick and mortar seafood restaurant. After a few successful pop-ups during the largely disappointing search for a space, we decided that joint venture might just be something that we could do full time.
We have been fortunate enough to work with extremely talented people in our years in and out of the industry, with chefs, winemakers, sommeliers, artists, farmers and fishermen, to create special experiences all over the country, in and outside of restaurant walls. Many of those friends that we have worked and sweated with, either on the line or the dining room floor, are inviting us into their current spaces to do collaborations.
joint venture is part of a new wave of small, unconventional business startups in the food industry. We think you will be seeing a lot more of these types of nomadic pop-ups, and a lot more of joint venture in the near future.
Danny Newberg
Born and raised in St. Petersburg, Florida, Danny has spent the past decade working in kitchens around New York City and abroad. After attending the French Culinary Institute, Danny worked at Momofuku Ko. After two years at Ko, he decided to do some recon, eating his way through South East Asia and working in kitchens in Vietnam and Thailand. After returning to the States, he worked at Cabane à Sucre Au Pied de Cochon in Montreal, Isa in Williamsburg and as sous chef at estela. Most recently in 2015 he co-founded joint venture.
Nialls Fallon
Nialls Fallon has over 14 years of experience in the food and beverage industry working for a handful of highly regarded restauranteurs and hoteliers in Miami, Portland, Oregon and New York City. He owns and operates the bar Maiden Lane in Manhattan as the chef and wine director. It has been lauded by the New York Times, the New Yorker, Vogue, Traveler, and Bon Appetit, among others, as America's first tinned seafood bar.
In 2014 he founded Minnow, an importing and consulting firm that focuses on preserved seafoods from Portugal. In early 2015 he co-founded joint venture.
No substitutions please. Drinks are provided. Vegetarian option available.
FAQs
What is your policy for substitutions/dietary restrictions?
This is a fixed menu with no substituions. We will try our absolute best to accommodate any allergies and/or dietary restrictions. The meal can be prepared for vegetarians will advance notice. Please email kenny@northbrooklynfarms.com with any dietary restrictions or allergies.
What if I cannot make it? What is the refund policy?
We're generally very understanding if something prevents you from attending supper. Tickets are fully refundable up to 7 days before the event. Refunds after that are at the discretion of the organizer. We are unable to issue refunds 48 hours before the event.
My friend/loved one/mom wants to come with me, but doesn't have a ticket and it's sold out. Can we add another ticket?
Yay! We're so delighted that you'd like to bring another person with you to supper! Unfortunately, we do have a fixed capacity for each dinner and once the event is sold out are typically unable to accomodate additional guests. You can email info@northbrooklynfarms.com and request to be added to the wait list in case of a cancellation or request to book a private dinner for 20 guests or more.