Event Information
Location
Bruce Museum
1 Museum Drive
Greenwich, CT 06830
Description
After shaking up other famous institutions from Shanghai to London, the famous Guerrilla Girls are taking on Greenwich!
The Guerrilla Girls are anonymous feminist activists who expose inequality in the art world. Their visit will no doubt open minds and rattle the grounds!
GO FULL GUERRILLA tickets for non-members $95 and $80 for Bruce Museum members 6:00 p.m. - 10:00 p.m. include:
Delicious Drinks and Dinner-bites in a sophisticated Jungle, mingling with the famous Guerrilla Girls 6-7.30 pm

An exciting panel conversation on the state of the Art World 7.30-8-30pm

And some more fun at our After-Glow party! 8.30-10:00 p.m.



GUERRILLA TOUGH TALK ONLY tickets $50 ($40 for students +21, with a valid ID) 7:30 p.m. -10:00 p.m. include:
Panel discussion
After-Glow and Drinks
Don't miss this exciting and memorable party Night Out in Greenwich!
Look forward to wild, witty and important discussions on the state of the arts!
Guerrilla Girls' Panel Discussion with:
Moderator - Katie Hollander, Creative Time
Curator - Mia Laufer, Co-curator of Her Crowd
Artist - Hilary Harkness
Art Dealer - Cristin Tierney, Cristin Tierney Gallery
Art Collector - Sandra Joys
The Guerrilla Girls' event ticket sales are providing a free Guerrilla Girls Art Activism workshop to Regional High School students, many of whom qualify for economic support scholarships.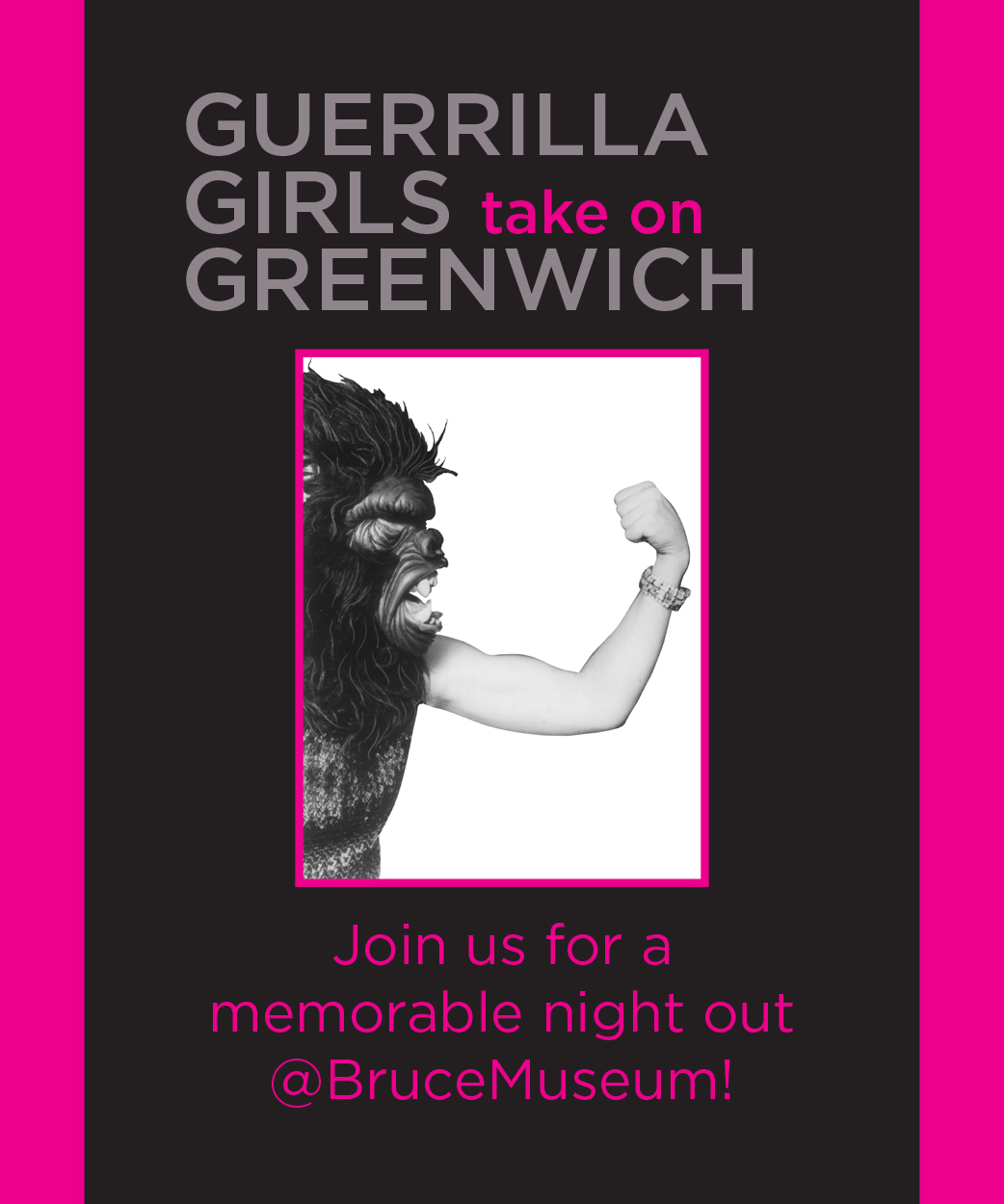 Date and time
Location
Bruce Museum
1 Museum Drive
Greenwich, CT 06830