Guerrilla Composers Guild - Vocal Music Showcase

Saturday, April 28, 2012 from 4:30 PM to 6:30 PM (PDT)
Event Details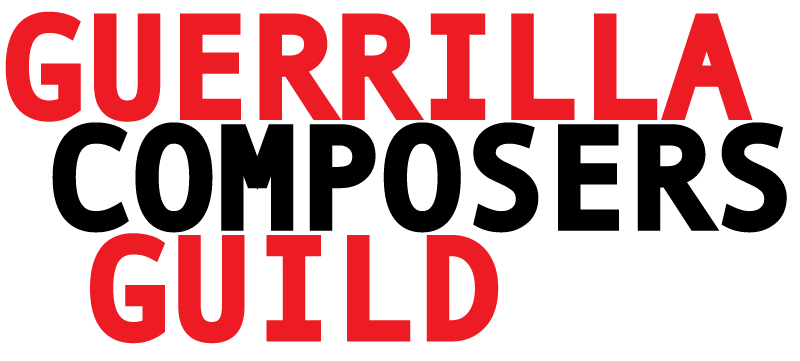 "Hey man, what are you doing today?"

"I'm going to start a war on emotionless, culturally detached music by organizing clandestine, amazing concerts full of soul and conversation. Oh, and pizza. You?"

"Well, I WAS just going to make pesto tonight and listen to 'My heart will go on', but I'm up for starting a war. Is there anything in particular I should bring?"

"Just your undying devotion to the arts, and maybe a bandana and camo pants."

"In."

The Guerrillas are out to stuff your ears with some new sounds, presenting their first vocal music concert featuring pieces by local composers. With performers hailing from the San Francisco Symphony Chorus, and the International Orange Chorale of San Francisco, it will be a unique opportunity to hear some of the best up and coming singers in the Bay Area in an intimate setting at Musically Minded Academy (www.musicallyminded.com). You'll be shocked and amazed by the wealth of vocal writing talent from around the Bay Area. You may be moved by the music you hear, and you might even find yourself with sudden and strange urges to hear more. Don't worry, that's normal... we think. Curious about what the composers or performers were thinking when writing and rehearsing this music? There will be opportunities for audience questions and a social hour (pizza unconfirmed) after the concert with the performers and composers.
About GCG

Spearheaded by Musically Minded faculty member, Nick Benavides, the Guerrilla Composers Guild is a bunch of Goons who organize all of the Guerrilla Gatherings and hold the thing together like Guerrilla Glue. By day they are presenters of new music, and by night they don their Guerrilla Garb and...are still presenters of new music. The Guerrillas believe there is a wealth of undiscovered talent in the Bay Area, and are on a mission to uncover passionate performers and composers and bring them together with their fans, the Guerrilla Groupies. With the primary goal of being a catalyst for collaboration, the GCG hosts listening parties, composition forums, and full fledged performances where musicians and audience members get together and make good stuff happen.

http://www.guerrillamusic.org

Featured performers:
Elizabeth Kimble - soprano
Danielle Reutter-Harrah - alto
Winton White - tenor
Nick Benavides - tenor
Matthew Peterson - bass
Anthony Porter - piano

With music by:
Nick Benavides (http://www.nickbenavides.com)
John Bennet (http://en.wikipedia.org/wiki/John_Bennet)
Danny Clay (http://dclaymusic.com)
Joseph Colombo (http://www.fifthfloorcollective.com)
Elizabeth Kimble
Gabriel Kyne
Leslie La Barre
Todd Lerew
Anthony Porter (http://www.tonesporter.com)
Lucas Ramirez
Brendon Randall-Myers (http://grainsband.com/brendonrandallmyers)
Nico Samanez
Jeremy White
Winton White (http://www.wintonwhite.com)
When & Where

Musically Minded Academy
5776 Broadway
Oakland, CA 94618


Saturday, April 28, 2012 from 4:30 PM to 6:30 PM (PDT)
Add to my calendar
Organizer
Musically Minded Academy
Email:admin@musicallyminded.com
Website:http://musicallyminded.org/organizer/musically-minded-academy-3/
Phone:510 601 5700
Guerrilla Composers Guild - Vocal Music Showcase