Description
The Frida Cinema, with the generous participation of Kino Lorber Films, invites you to a special fundraiser screening of Alonso Ruizpalacios' extraordinary, award-winning 2014 Mexican film Güeros, presented in support of Topos Mexico's continued relief efforts after last month's devastating earthquakes.
On Friday, September 8, an 8.2-magnitude earthquake struck in the Pacific Ocean off the southern coast of Mexico, causing the deaths of over 100 people and laying waste to the many of the buildings in the town of Juchitán de Zaragoza. As communities were still struggling to rebuild, on Tuesday, September 19 a 7.1-magnitude earthquake struck central Mexico, ultimately killing 369 people, injuring thousands, and trapping many citizens in the rubble of collapsed buildings. Nearly two-thirds of the fatalities were in the country's capital, Mexico City. Although the search for survivors among the devastation was officially called off earlier this week, the efforts of many non-profit and community organizations continue in providing much-needed aid to the injured, solace and assistance to those who have lost loved ones and homes, and the massive undertaking of rebuilding infrastructure. Support from around the world is urgently and continuously needed.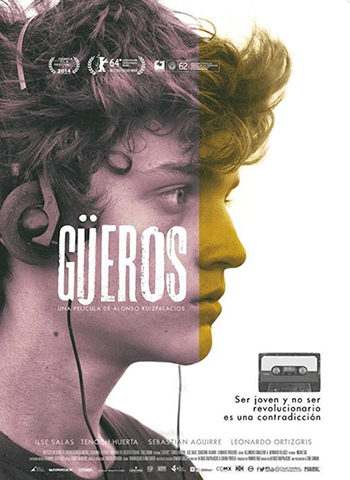 About Güeros
We thank Kino Lorber Films for answering our call to present their title Güeros - winner of five Ariel Awards (Mexico's most pretigious film award), including Best Picture in 2015. - as a fundraiser screening to help raise much-needed funds for the Mexico earthquake relief effort, and for offering to sponsor the licensing of their film so that more funds from the screening could be allocated to where it's needed. Filmed in Mexico City and set in 1999, Güeros is the story of Sombra and Santos, two friends who have been living in angst-ridden limbo since the National University strike broke out. Education-less, motionless, purposeless, and unsure of what the strike will bring, they begin to look for strange ways to kill time. But their idiosyncratic routine is interrupted by the unexpected arrival of Tomas, Sombra's kid brother. Unable to fit in amongst these older slackers, Tomas discovers that unsung Mexican folk-rock hero Epigmenio Cruz has been hospitalized somewhere in the city. Tomas convinces Sombra and Santos they must track him down in order to pay their final respects on his deathbed. But what they thought would be a simple trip to find their childhood idol soon becomes a voyage of self-discovery across Mexico City's invisible frontiers.

Güeros will be presented in Spanish, with English subtitles.
Click here to see the film's trailer: https://www.youtube.com/watch?v=cm49CH4qtSg.
About Topos Mexico
The group was founded after the 1985 earthquake that killed an estimated 9,500 people in and around Mexico City, after the government was criticized for a slow response. Two hours after simulations and drills marked the 32nd anniversary of that disaster, central Mexico on Tuesday was hit with a magnitude-7.1 quake. Since 1985, members of Los Topos have helped in earthquakes and other natural disasters in Iran, Nepal, Haiti, Indonesia and even Florida. Members of Topos are trained in first aid, climbing and maneuvering collapsed buildings, the use of rescue dogs and firefighting. A strictly volunteer endeavor, the members of Topos are not paid, and come from various backgrounds and skill sets, including doctors and paramedics, psychologists, lawyers, vets, engineers, and architects. Learn more, and donate directly, at http://www.topos.mx/.

Tickets
We ask that you give what you can to attend this screening - every dollar counts. We have priced our tickets at donations starting at $5, and ranging all the way up to $100, allowing those with less to give to still make an imortant impact and attend the screening, and encouraging those who can give a little more to give what they can - all donations will get you a seat to the screening, and 100% of ticket sales will be doanted to Topos Mexico. If you can't attend the screening but would still like to support this cause, please donate to Topos Mexico directly at http://www.topos.mx/.