Join us for this talk where our speakers will introduce strategies to meaningful networking based on shared values.
About this event
The talk will introduce strategies to meaningful networking based on shared values. It's for working professionals who want to find contacts with common interests and form strong partnerships to level up their network. You will leave the talk with confidence to identify and design your tailored approach to networking with new people who can accelerate your career, prospects and business.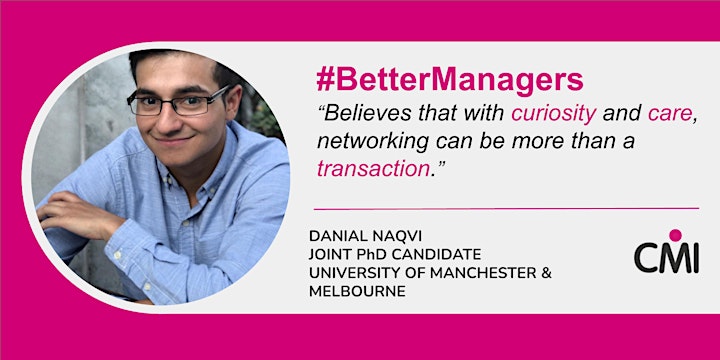 Danial Naqvi
Joint PhD Candidate, Universities of Manchester & Melbourne
Danial graduated with a First Class Honours degree in Human Geography from Queen Mary University of London in 2019 winning the Student Service and Contribution Prize. Danial graduated with a MSc Distinction in Science, Technology and Society from University College London in 2020. Now, Danial is in his first year of a Joint PhD in Business & Management at the Universities of Manchester and Melbourne. He researches how changing models of urban governance and business strategy impact the ability for emerging digital platforms to integrate with sustainability targets.
Apart from academia, Danial has worked across sectors from business intelligence to urban data analytics and has served on many advisory boards. He understands what it takes to make an impression and how important everyday conversations and interactions can be to elevate your opportunities. Danial has taken to passing on his knowledge of networking to others and has delivered over 10 presentations to a variety of audiences. His 'Networking Guide', which breaks down the steps to build a strong network, has now been seen by more than 500 people.
Danial believes that with curiosity and care, networking can be more than a transaction where both parties get mutually assured benefit. He strongly positions networking as a life skill, which can help young people communicate with influential people and shift the needle in the right direction.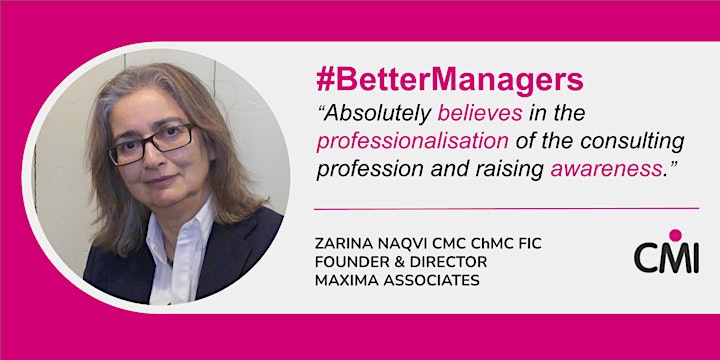 Zarina Naqvi CMC ChMC FIC,
Founder & Director, Maxima Associates
Zarina Naqvi is a Chartered Management Consultant, Non Executive Director and has established and grown Maxima Associates since 2001. She was in the first cohort to receive the Chartered Management Consultant (ChMC) award 2019, is a Certified Management Consultant (CMC) an international accreditation from the International Council of Management Consultants and is a fellow of the Institute of Consultants (FIC) .
Prior to formally launching her career as a Management consultant, Zarina held dynamic roles in the private sector in international companies where consultancy skills were deeply embedded into each role.
Leaving the corporate world she became an entrepreneur in 1993 and built a successful business which she sold in 2001 after over 7 years of constant expansion, following which she took her traditional business skills and entrepreneurial spirit into the incubating Technology and Internet sectors and became a full-time consultant working mainly with technology and internet , privately owned VC backed businesses, to improve operations, build structure, secure funding or leverage their core business. She now works with many other sectors and has a broad portfolio of clients.
Apart from working, Zarina has made a point throughout her career of supporting charities by taking a place on the board and influencing operations and stratagems that have had impact across decades.
Zarina absolutely believes in the professionalisation of the consulting profession and raising awareness of the benefits of a well matched qualified consultant to the market. She sits on the London IC Hub, is the IC Champion on the London Regional Committee of CMI, and a member of the Institute of consulting advisory Council (ICAC) to further this goal.
In the meantime...
If you're an IC member, or subscribe to our content, don't forget you can find thousands of exclusive, practical development resources in ManagementDirect. Log in here and search for a topic to get started.
Not yet subscribed?
From free newsletters packed with the latest trends, insights and tips for managers and leaders, to the full suite of invaluable tools and benefits that come with being a CMI member, we've got something for everyone. Visit our website to find out more about IC membership.