About this Event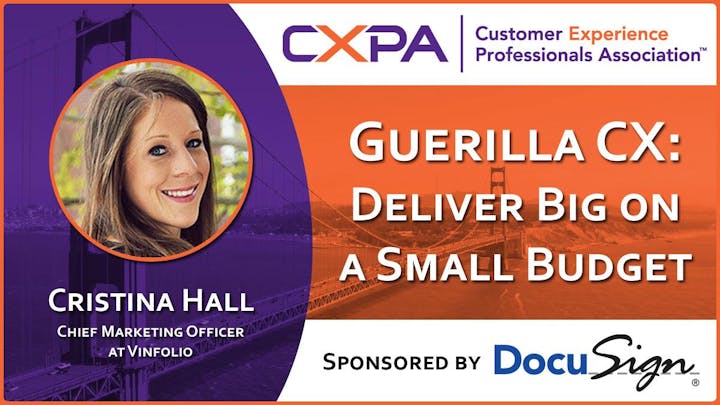 They say good is the enemy of great, but great can be the enemy of good if wanting everything to be great causes you to do nothing at all! Sometimes you've just got to get creative and do what you can with what you've got. When it comes to CX, a scrappy guerilla approach is often the best strategy.
Join us for an evening with guest speaker Cristina Hall, Chief Marketing Officer at Vinfolio. Cristina has spent her entire career working on CX, from inadvertently building operational skills at RueLaLa, to formalizing her knowledge at Forrester Research, to evangelizing CX as a critical business strategy to her Harvard Business School class, to applying CX to a range of Bay Area tech startups. Her biggest lesson learned? You might not have dollars, but you most definitely have an abundance of CX resources at your disposal. You just need to know where to look.
Cristina's discussion will identify the most common blockers to delivering an exceptional experience, and provide recommendations on how to navigate around or cut right through them.
As always, join us for a fantastic evening of food and drink, amazing views, great conversation, and learning! Thank you for supporting SF CXPA. We are a community of customer experience professionals and leaders.
Agenda:
5:30 - 6:15pm: Open networking
6:15 - 7:00pm: Speaker presentation
7:00 - 7:30pm: Final networking
Best regards,
CXPA San Francisco Local Networking Team
A special thank you goes to DocuSign for hosting this event at their spectacular Executive Briefing Center!