Description
Scrum@Scale Certifed Practitioner - Class Description
Guaranteed to run - Register with Confidence. Review Detailed outline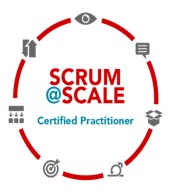 What is Scrum@Scale®?
Scrum@Scale is a framework within which networks of Scrum teams operating consistently with the Scrum Guide can address complex problems, while creatively delivering products of the highest possible value. These "products" may be hardware, software, complex integrated systems, processes, services, etc., depending upon the domain of the Scrum teams.
Why Scrum@Scale®?
Scrum@Scale enables the transformation of every division, department, and service in any organization and can efficiently coordinate an unlimited number of Scrum teams through its use of a "scale-free" architecture. Scrum@Scale naturally extends the core Scrum framework and was created by Dr. Jeff Sutherland, the co-creator of Scrum.
Find Scrum@Scale Case studies: https://www.scrumatscale.com/case-study-library/
From Fortune 100 companies to start-ups, Scrum@Scale® transforms organizations into Agile enterprises. The Scrum@Scale framework is the brainchild of Dr. Jeff Sutherland, the co-creator of Scrum and the founder of Scrum Inc.
Scrum@Scale naturally extends the core Scrum framework to deliver hyper-productive results across industries and disciplines, including software, hardware, services, operations, and R&D. In our 2-day course, you will learn how to apply fundamental Scrum and Lean product development skills to scale Scrum from one to many teams across any sized initiative.
Recommended Experience – Pre-requisite:
A two-day Certified Scrum Master Course or comparable real-world experience implementing Scrum. Completion of a two-day Certified Scrum Product Owner course is encouraged but not required. Must be familiar with Scrum - please read scrum guide http://www.scrumguides.org/ prior to attending this course.
Scrum@Scale Practitioner course is advanced level course and we don't cover team level scrum foundations. Pre-class reading: https://www.scrumatscale.com/scrum-at-scale-guide/
Scrum@Scale: The Scaling Framework from the Co-creator of Scrum
Our Scrum@Scale courses are interactive and teach how to scale Scrum through a combination of lectures, hands-on exercises, and real-world case studies. Our instructors are S@S experts who, when not in the classroom, are actively coaching, training, and transforming teams at Fortune 500 companies around the globe. All of our instructors are trained and certified by the co-creator of Scrum and creator of Scrum@Scale, Dr. Jeff Sutherland.
As a Certified Scrum@Scale Practitioner you will be prepared to: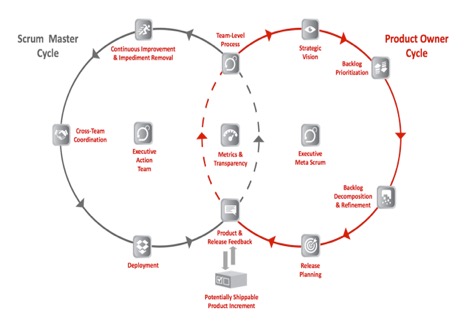 Facilitate cross team collaboration and release planning with tens, hundreds or thousands of people

Create and prioritize a transformation Backlog to overcome impediments to scaling

Measure and improve key Scrum metrics at an Enterprise level

Deliver 5 times as much work without adding new teams
The Scrum@Scale® course teaches the responsibilities of the Product Owner, individual Scrum teams, and enterprise leadership in a variety of large-scale contexts.
Agenda: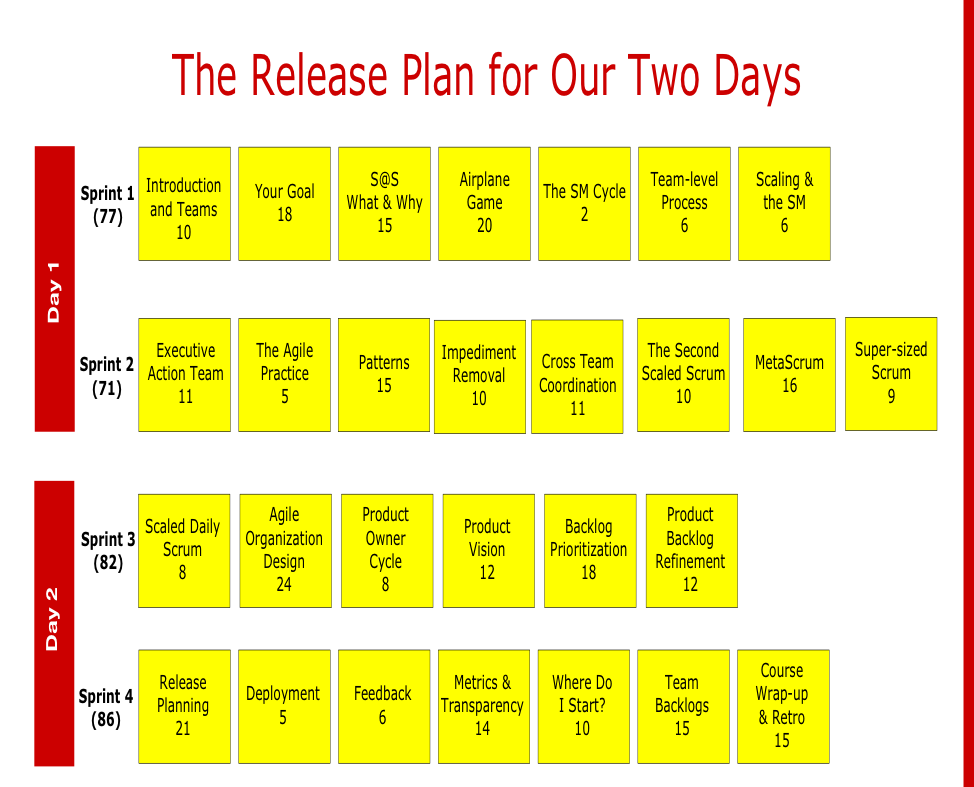 Earn Scrum Education Units and Professional Development Units
Upon completion of this course and the official Scrum@Scale exam, Scrum Inc. will provide a Certified Scrum@Scale™ Practitioner certificate signed by the creator of Scrum. The Scrum Alliance has also approved Scrum@Scale as a Continuing Education course. You can get up to 16 Category B Scrum Education Units (SEUs) in addition to 16 Project Management Institute PDUs by participating in our two-day course.
Frequently Asked Questions:
1.
Do you offer group discounts?
a.

Yes, we offer group discounts with our Team Training Program. Please contact us at: info@dailyagile.com. We also offer hardship discounts for students, current or ex-military services, travel from another country, and job seekers.
2.
What time does the course begin?
a.

Certified courses begin promptly at 9:00 a.m. and run until 5:00 p.m. For participants seeking certification, you cannot miss more than 1 hour of the course over both days.
3.
How should I dress?
a.

There is no dress code. Most attendees wear business casual, jeans are fine. We suggest layers in case the room temperature becomes uncomfortable for you.
4.
Is food provided?
a.

We will provide continental breakfast (8:30 - 9:00 am) along with coffee, beverages, and snacks. Please let us know if you have any special dietary restrictions or considerations, so we can alter our catering order to better meet your needs.
5.
What if I need to transfer to a different date?
a.

If you need to change your class, we can move you to another class taught by the same instructor. You can also transfer your registration to another person. Please contact us to transfer.
6.

What is a Certification Process?
a.

Student must complete two-day class with Scrum@Scale Trainer and pass an online test within 30 days to earn Scrum@Scale Practitioner certification. Certification is valid for 2 years. Exam is based on Scrum@Scale guide https://www.scrumatscale.com/scrum-at-scale-guide/
7.
What is your cancellation policy?
a.

If you cancel more than 15 days before the course start date, we offer a 90% refund. For cancellations within 10 days of the course start date, we do not offer refunds. However, we are happy to transfer you to a future class at no cost. If you need to cancel, please contact us at: info@dailyagile.com
8.

Can I find additional reference material on Scrum@Scale?