Guaranteed compounding to grow your bank change daily at 2.2% minimum. Come see this best kept secret since November 2019.
About this event
Come learn a free way to invest your money for a guaranteed 2.2% daily return.
Text "MYWEALTH" to 22828 to be added to our bi-monthly emails.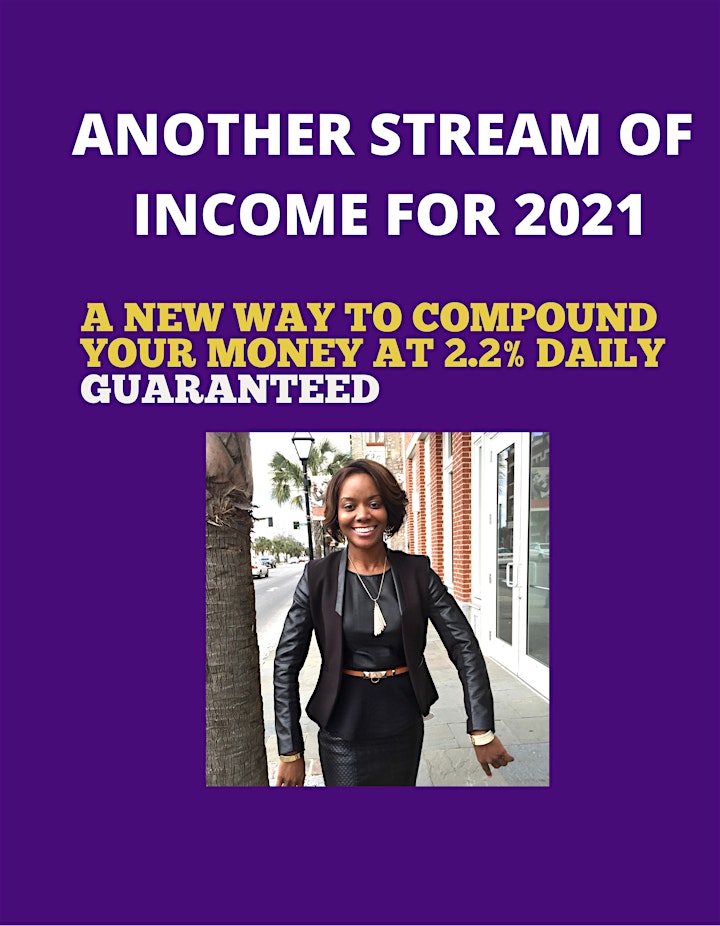 Organizer of GUARANTEED COMPOUNDING INTEREST FOR 2021
SHE (Shateka Husser Enterprises) Inspires' mission is to educate and empower thousands in their personal, professional, and financial development. 
Shateka Husser, founder of SHE Inspires, is a combat veteran and serial entrepreneur.  Her entrepreneurial endeavors include real estate investing, retirement consulting (using "catch-up" investment strategy), network marketing, and commodities investing. 
Shateka is also a licensed life insurance producer, ICF certified professional coach, international best-selling author, and combat Army officer veteran.
With the belief that purpose, health, relationships, and finance are the pillars of a wealthy life, Shateka started the Generational WEALTH show.  She also authored the first Generational WEALTH symposium event in Baltimore, MD.
To find out more, visit www.LNK.BIO/Shateka.
Shateka holds a Master of Business Administration from Devry' University's Keller Graduate School of Management, Bachelor of Science in Management from SC State University, and has been certified as a Professional Coach using WCI's International Coach Federation criteria.  She also serves on the board for Veterans Housing Solutions, Keep It Moving, and is a member of the Alpha Kappa Psi business fraternity.
Besides connecting people with industry resources, Shateka enjoys traveling, networking, and exploring new restaurants.