Guangzhou International Sanitary Ware Fair 2017(GSW 2017)
Description
2017 Guangzhou Int'l Sanitary Ware Fair (GSW2017)
Date: Maych 12th-14th,2017
Venue:
Poly World Trade Center, Guangzhou
GSW 2017

will be held on May, 12th-14th, 2017, at Poly World Trade Center, Guangzhou, China





In order to build a global sanitary ware showcase, GSW 2017 will be held on May, 12th-14th, 2017, at Poly World Trade Center, Guangzhou, accompanied by the 9th China (Guangzhou) Int'l Housing Industry Expo (CIHIE2017) and Asia Pool & Spa Expo 2017. It is a wonderful opportunity for the exportation of sanitary wares as well as an opportunity for visitors to experience made-in-China sanitary wares. A bridge between Chinese manufacturers and oversea buyers will be built and an opportunity to have face-to-face communication will be presented to insiders. This sanitary grand event is bound to become an annual international trade festival, adding luster to people's quality living.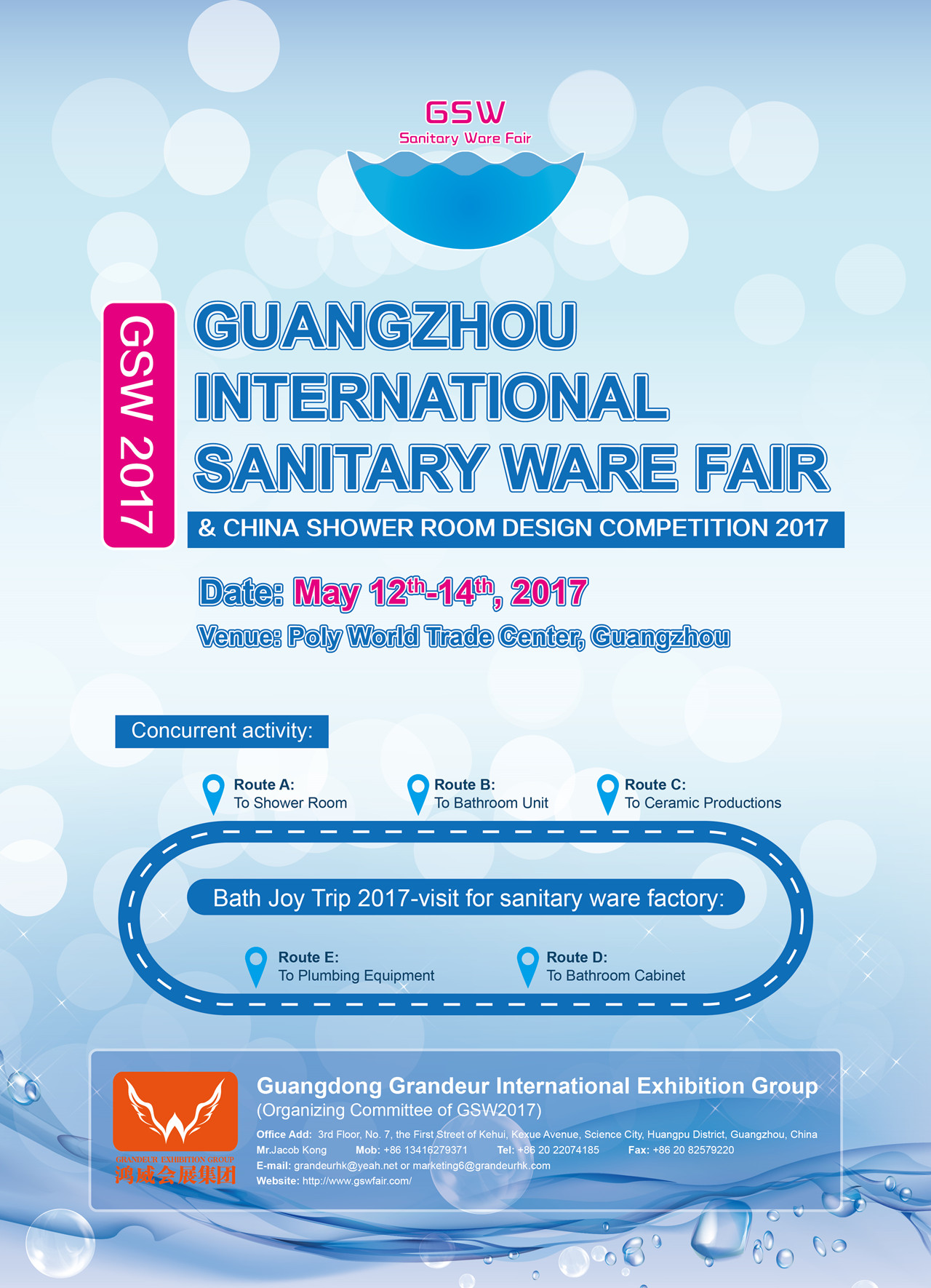 An International
T
rade
P
latform


China's sanitary ware industry has been booming in the last 30 years, which renders China the biggest production and consumption country of sanitary wares. What's more, Guangdong is the biggest sanitary ware manufacturing base in China or probably in the world. It is known for its excellent industrial foundation and large customer base. GIS2017 will be held in the provincial capital of Gunagdong which is Guangzhou, an international exhibition center city. We are committed to building an exportation and importation festival for the sanitary ware industry by gathering the most outstanding enterprises under one roof.
S

upports From Related Exhibitions and Media Home and Abroad


International promotion activities have been held on the sites of 20 international sanitary ware and building exhibitions such as International Builders'Show, The Big 5, INTERBUILD AFRICA, Korea Build, KAZBUILD, CIHAC,and so on.
More than 200 renowned media at home and abroad, such as SPA & BATH TIMES Magazine, Guangdong Television, Southern Television Guangdong, Guangzhou Daily, Yangcheng Evening News, Discover Sources Magazine, Outdoor Life Magazine, etc, will help promote our event in order to invite international quality buyers.


International Organizations:
Europe Sanitary Ware Manufacturer, Importer & Exporter Association
Hong Kong Plumbing & Sanitary Ware Trade Association
Philippine Sanitary Ware Manufacturer Association
Sri Lanka Tiles & Sanitary Ware Association
Organized by
:
Guangdong Grandeur International Exhibition Group
Shanghai Grandeur Exhibition Planning Co., Ltd.
【

Concurrent Expositions】




The 9th China (Guangzhou) Int'l Housing Industry Expo (CIHIE2017)

China Villas & Facility Exhibition 2017

Asia Pool & Spa Expo 2017



【

Concurrent Events

】



Ø

2017 China Shower Room Design Competition

Ø

New Products Launch

Ø

Wellness Experience

Ø

Happy Water Trip & Tour to the Local Factories

Ø

Villas, Hotels & Clubs Design Forum 2017


【

Exhibition Scope

】
Bathroom

equipment

:

sanitary wares, furniture, shower mats, shower rooms, integrated shower rooms, tubs, toilet bowls, bidets, faucets, shower heads, tiles, wall-mounted accessories, sensors,hand dryers, bathroom mirrors, bathroom cabinets, exhaust fans, hair dryers, curtains, partitions,pipes, sinks, lighting, decorative materials, other equipment, tools and accessories.
Hot tubs: hot tub spa, outdoor hot tub, inflatable bathtub, cast iron tub, wooden bath barrel, massage system, sauna, massage room, swimming pool equipment, etc;
Shower

cabins:

shower enclosure, steam shower cabin, computerized shower cabin, multifunctional shower enclosure, tempered glass, polystyrene, zinc alloy, stainless steel, handle, pulley, hinge, door stopper, etc;
Bathroom plumbing:

drain pipe, flush valve, sink, shower head, PP-R, PVC-U, faucet, pipe, valve, water tank, bathroom accessories, flange, compensator, flexible joint, etc;
Ceramics

:

ceramic tiles, wall tiles, paving tiles, mosaics, glass, metal and composite materials; all sorts of ceramic raw materials, ceramic pigment and glaze, chemical raw materials, molds, ceramics manufacturing equipment and paving tools, etc;
Accessories and components:

shower nozzle, pump, rolled steel, control box, air pump, pneumatic switch, cast iron, underwater spotlight, vapor generator, filter, etc.
If you are interested in this fair, please do no hesitat to contact Dora Leung at GSW2017@gmail.com
Contact Us:
Guangdong Grandeur International Exhibition Group
Add: Room 301, No. 1, the First Street of Kehui Jingu, No.100 of Kexue Avenue, Science City, Huangpu District, Guangzhou
Contact Person: Dora Leung
Tel: 86-20-29178995 Fax: 86-20-82579220
WhatsApp:+86 13066247489
Skype: Dora Leung
Email: gsw2017@gamail.com
Web:http://www.gswfair.com/index.php?lang=en