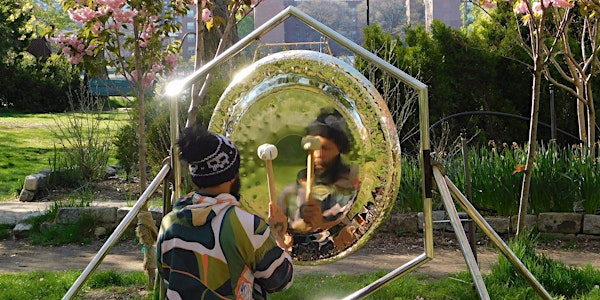 Guadalupe Maravilla's Planeta Abuelx Exhibition Opening Healing Sound Baths
Artist Guadalupe Maravilla offers healing sound baths activations at the opening of his exhibition 'Planeta Abuelx' at Socrates.
When and where
Location
Socrates Sculpture Park 32-01 Vernon Blvd Long Island City, NY 11106
About this event
Artist Guadalupe Maravilla's solo exhibition 'Planeta Abuelx' at Socrates Sculpture Park addresses and applies ancestral Indigenous practices of holistic healing. Learn more about the exhibition at socratessculpturepark.org/planeta-abuelx
At the Exhibition Opening event on May 15 from 2–6pm, Maravilla offers two 60-minute healing sound bath activations to registered participants: Healing Sound Bath 1 from 2–3pm and Healing Sound Bath 2 from 5–6pm.
To create a healing sound bath, the artist and trained sound healers play gongs, bells, and percussive implements in hypnotic sequences that build into an immersive soundscape.
Maravilla considers healing sound baths to be a form of mutual aid and care for the community. In this spirit, we are asking healing sound bath registrants to please make a $10–$20 donation to our community partner the Astoria Mutual Aid Network. Donate Now–>
HEALING SOUND BATH PARTICIPANT GUIDELINES
Before you go to the Park:
-The healing sound baths take place outdoors so are weather-dependent. Please refer to the Park's website and social media accounts within 24 hours of the program to confirm it is taking place, especially if there is inclement weather.
-Healing sound bath participants should bring their own yoga mat, blanket, or towel to lie on or chair to sit on. The Park has a limited supply of yoga mats and chairs that will be made available on a first-come, first-served basis. Please note that a mask covering the nose and mouth is required on-site at the Park and during the healing sound baths with an exception for children under the age of two. If you need an accommodation, please contact the Park at least 48 hours in advance at rsvp@socratessculpturepark.org.
-For transportation options and directions to Socrates, click here. There is no car parking on-site with the exception of vehicles with an accessibility permit. Street parking is available in the surrounding neighborhood.
-Pre-registered healing sound bath participants should plan to arrive at least half an hour before the start of the program. Fifteen minutes before the program begins, remaining spots will no longer be reserved for ticket-holders, and instead be filled on a first-come, first-served basis. No one will be seated after the program begins, regardless of whether or not they are a pre-registered ticket-holder.
When you get to the Park:
-When you arrive at the Park, please enter through the main entrance at the intersection of Vernon Blvd and Broadway. The Park's north entrance – located across Vernon Blvd from Château le Woof Pet Market & Cafe – will be closed during the event.
-Upon entering the Park, look for the check-in tents where a Socrates staff-member will take your ticket and direct you to the healing sound bath.
-If you are on the waitlist for a healing sound bath, or you were unable to get a ticket but would like to attend, please arrive at the Park early and wait in the designated line to be admitted fifteen minutes before the program begins. We cannot guarantee that all non-registered guests will be able to attend a healing sound bath, but we will do our best to accommodate as many people as possible.
-Sound bath seating will be pre-marked on the lawn for safe social-distancing. Please do not move sound bath seating markers. If you are attending the sound bath with one or more person that you do not need to social-distance from, then you can gather together in one pre-marked sound bath spot.
-Once the program begins, sound bath participants must remain quietly seated or laying down for the full duration of the 60-minute healing sound bath.