#GTFOH: Get the Furlough Outta Here Comedy Tour!

Multiple Dates
Event Details
 (Wikipedia: an inside joke is a joke whose humour is clear only to people who are in a particular social group, occupation, or other community of common understanding. It is an esoteric joke which is humorous only to those who know the situation behind it.)
Eddie Bryant & "Lazee" Lamont King's
Inside Jokes Presents:
#GTFOH
Get The Furlough Outta Here
Comedy Tour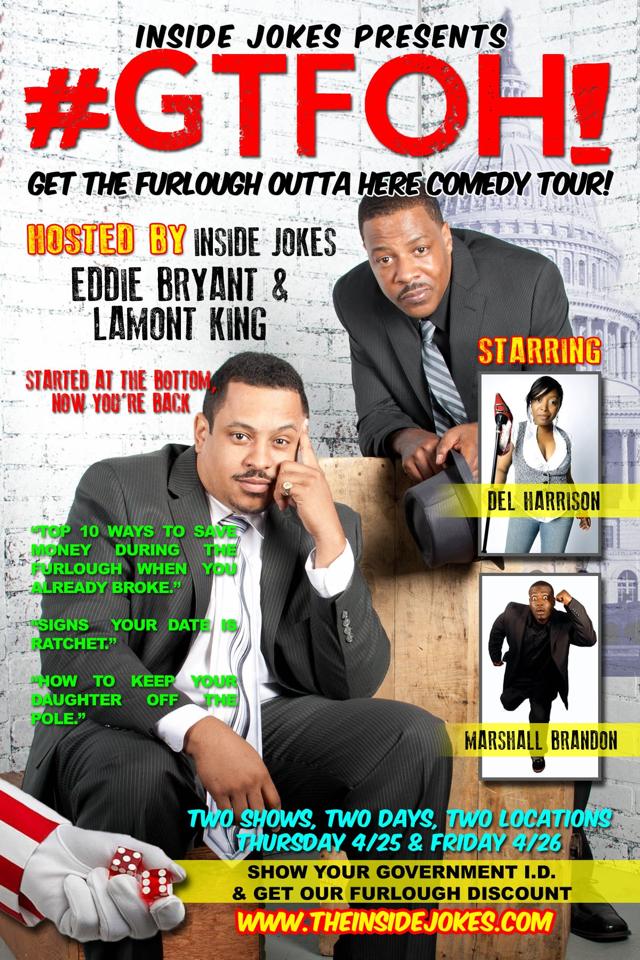 Featuring some of the funniest names in comedy as seen on
HBO, Showtime, Comedy, Central, Starz & BET!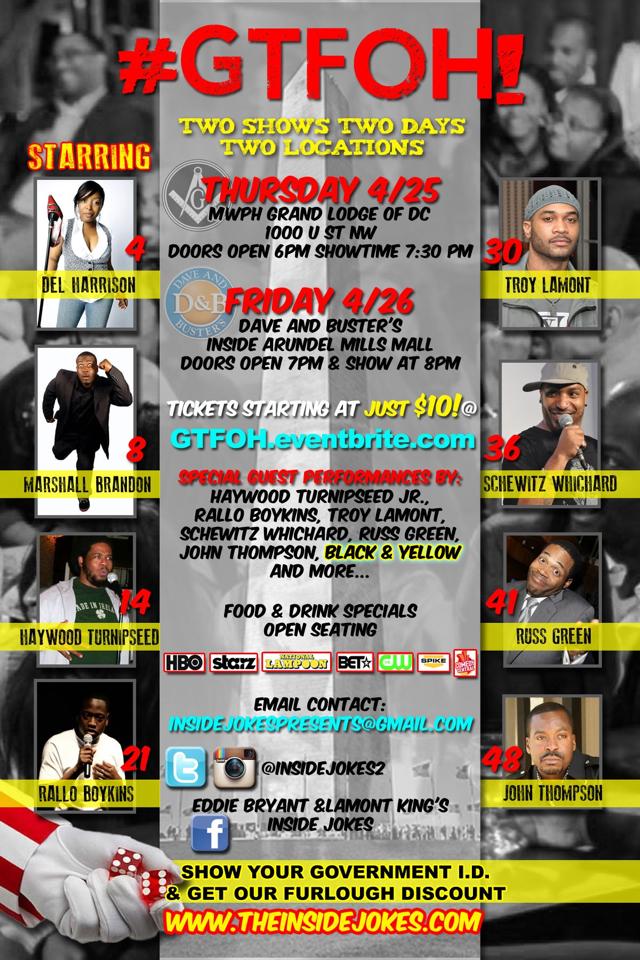 THU April 25
Masonic Temple
10th & U Sts NW
FRI April 26
Dave & Buster's
Arundel Mills Mall 
Show us your government ID for discounted "furloughed" admission!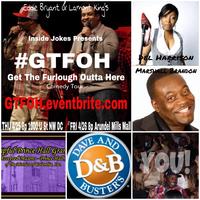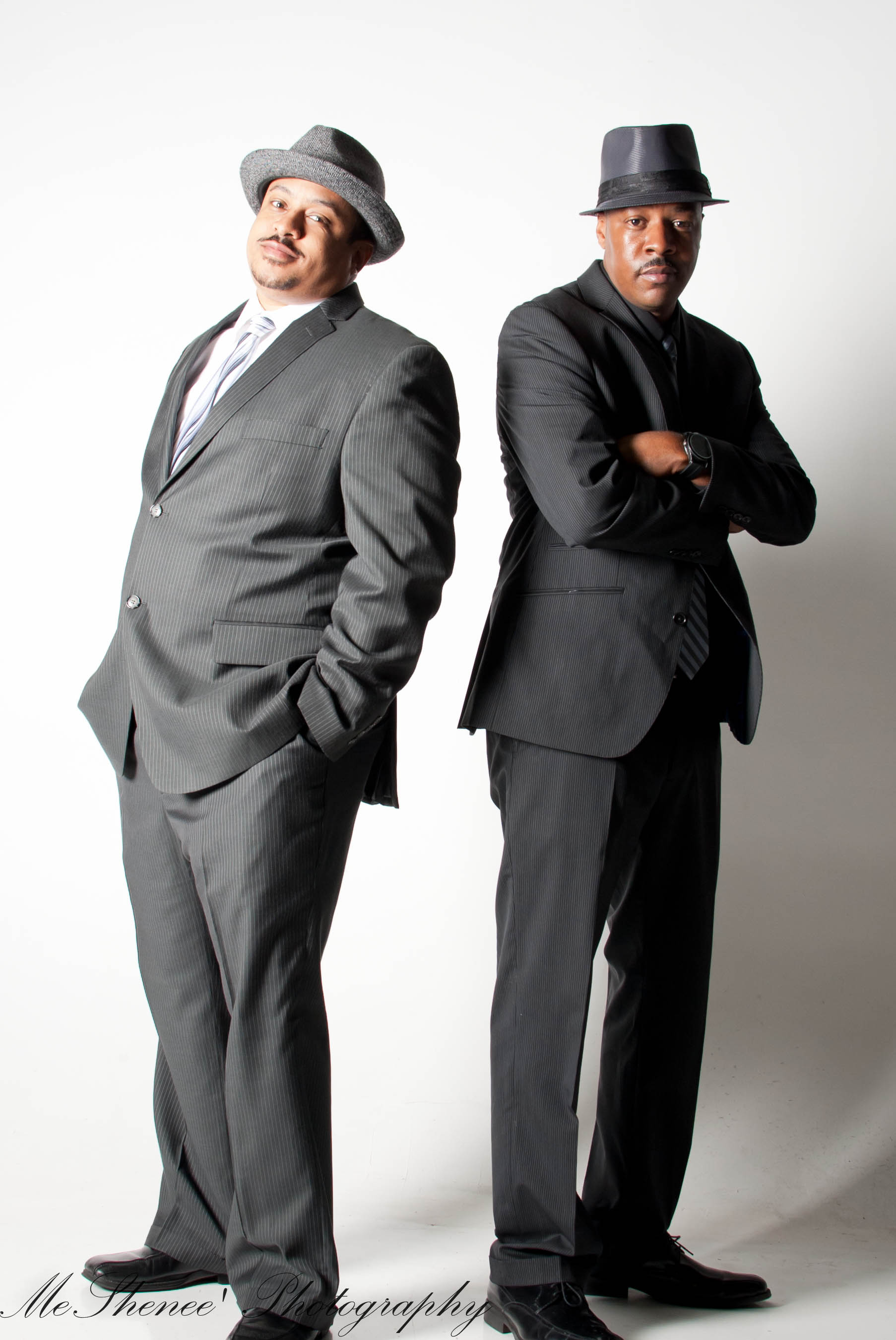 @LazeeLamont @EddieComedian
#FunnyTeam
Come and join two of DC's favorite funnymen as they bring you some of the funniest comics in the game alongside the hottest musical performances!
DC's #1 comedy/variety show for mature clientele!
With special guests from Starz' Martin Lawrence Presents 1st Ammendment Standup, BET, Comedy Central and HBO's Def Comedy Jam
 We brought you Live! At The Howard Theater
Click below to watch video!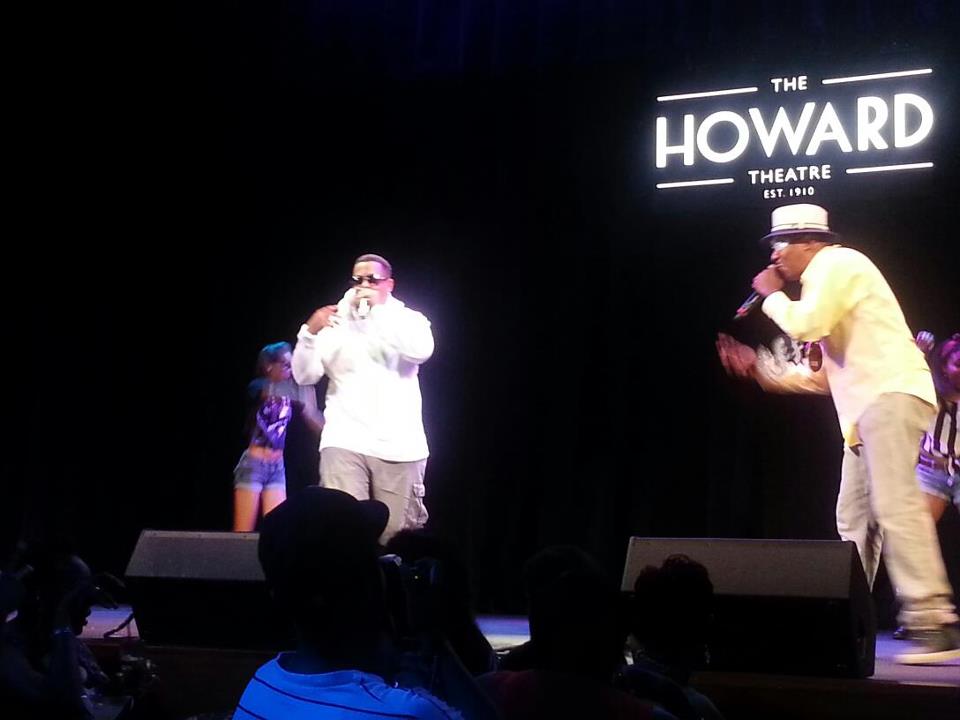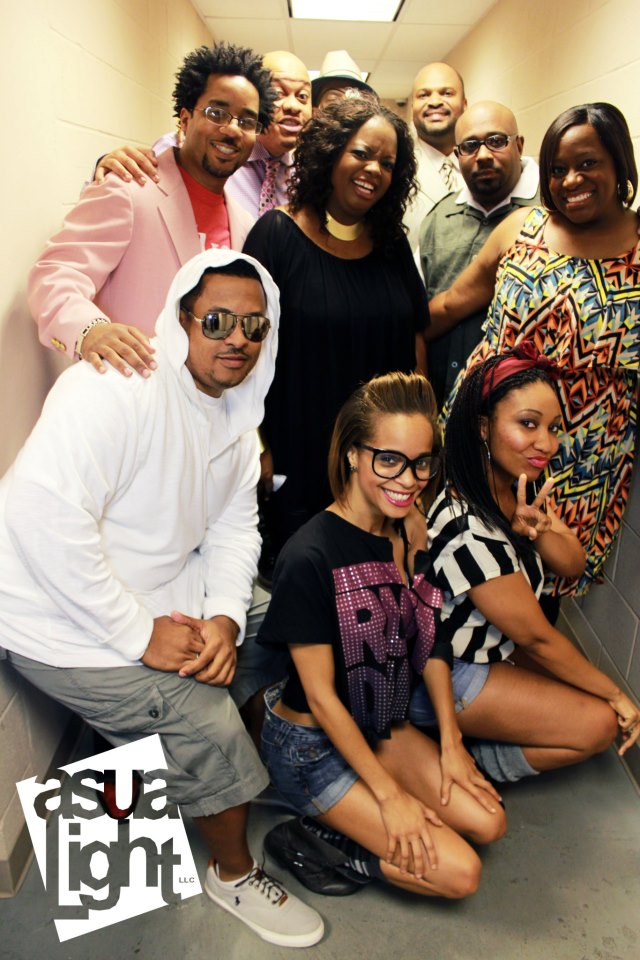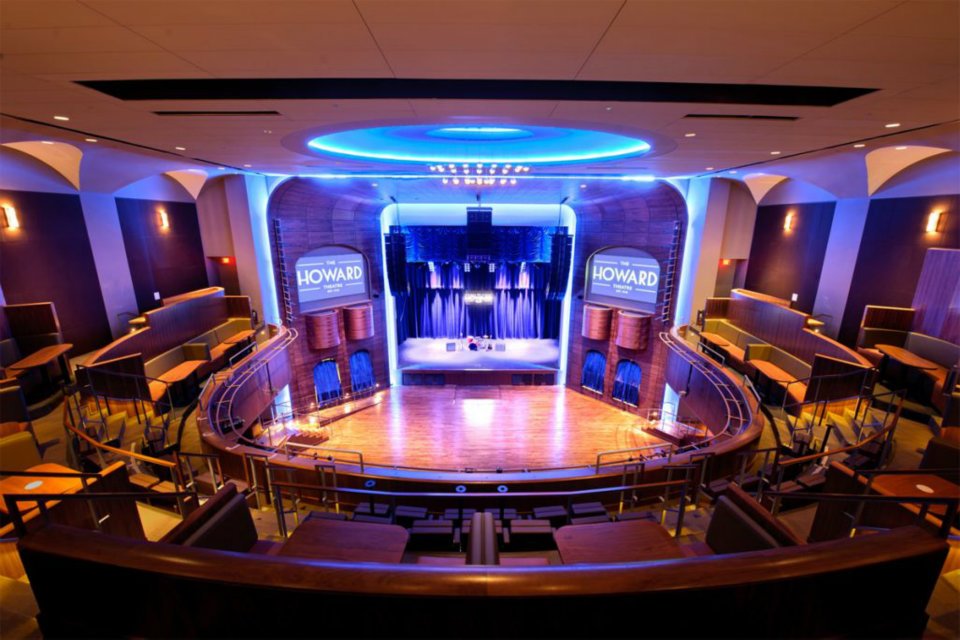 We brought you Trippin' On E!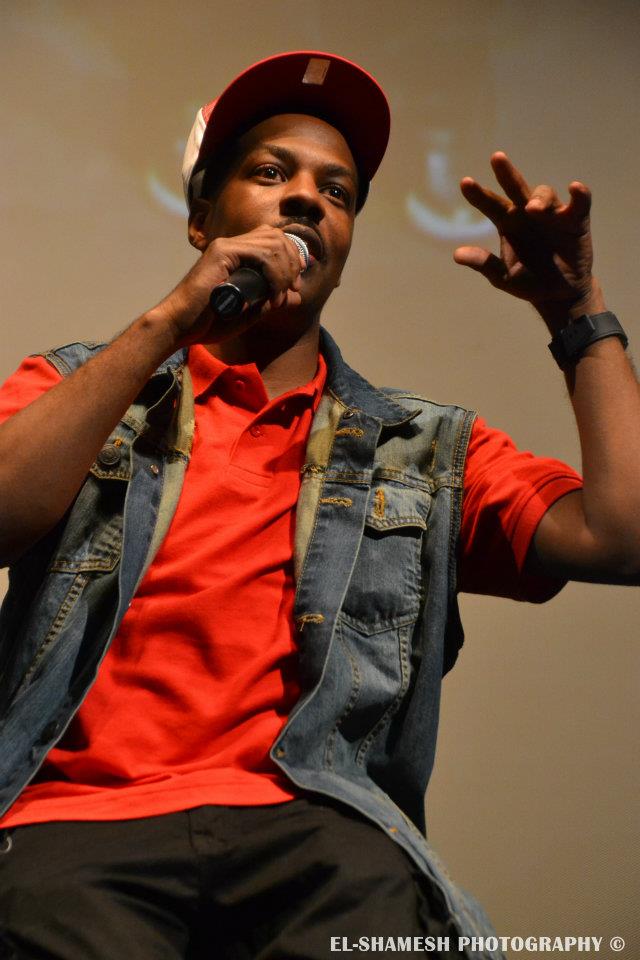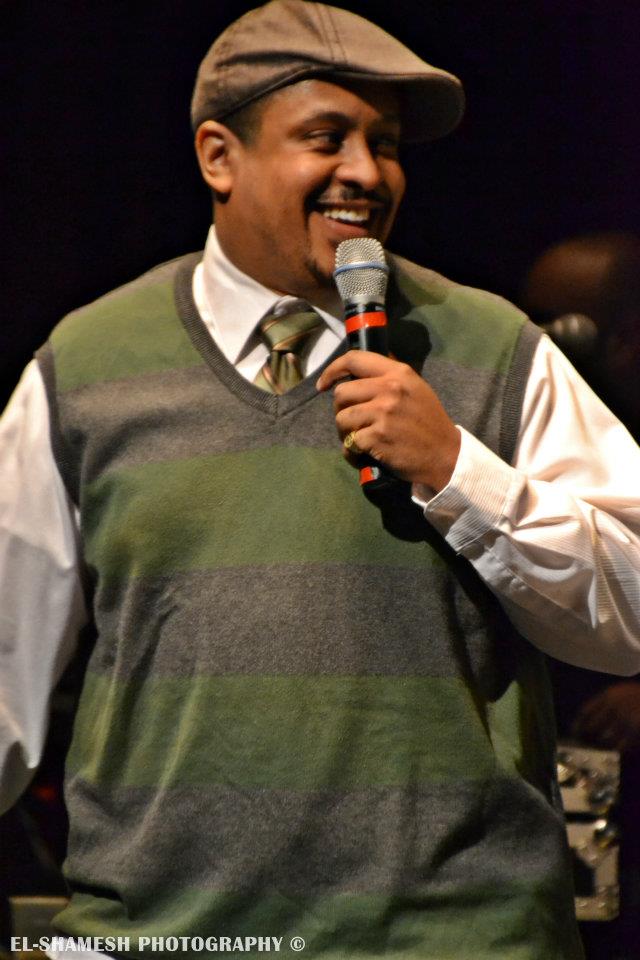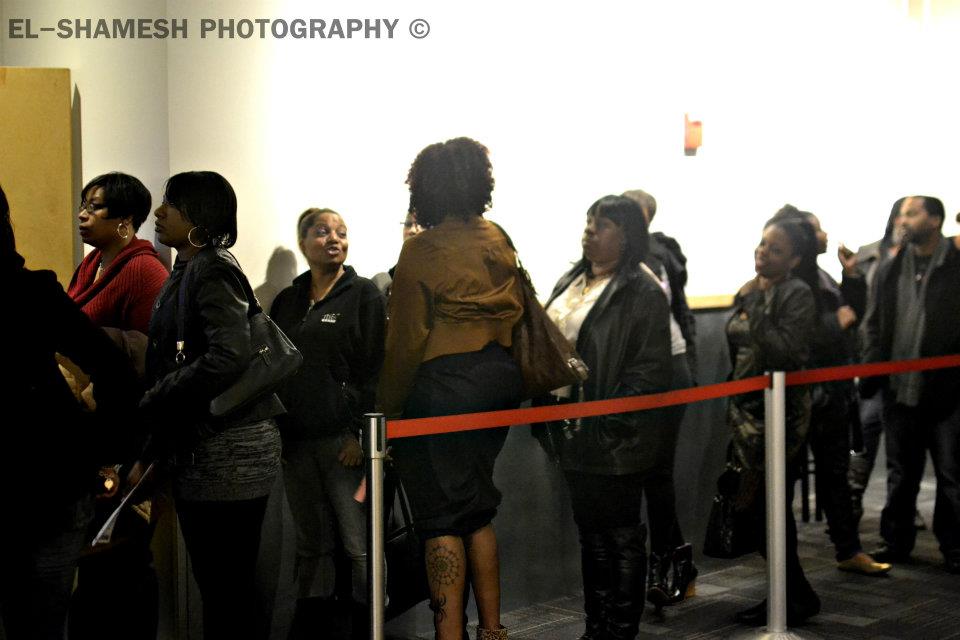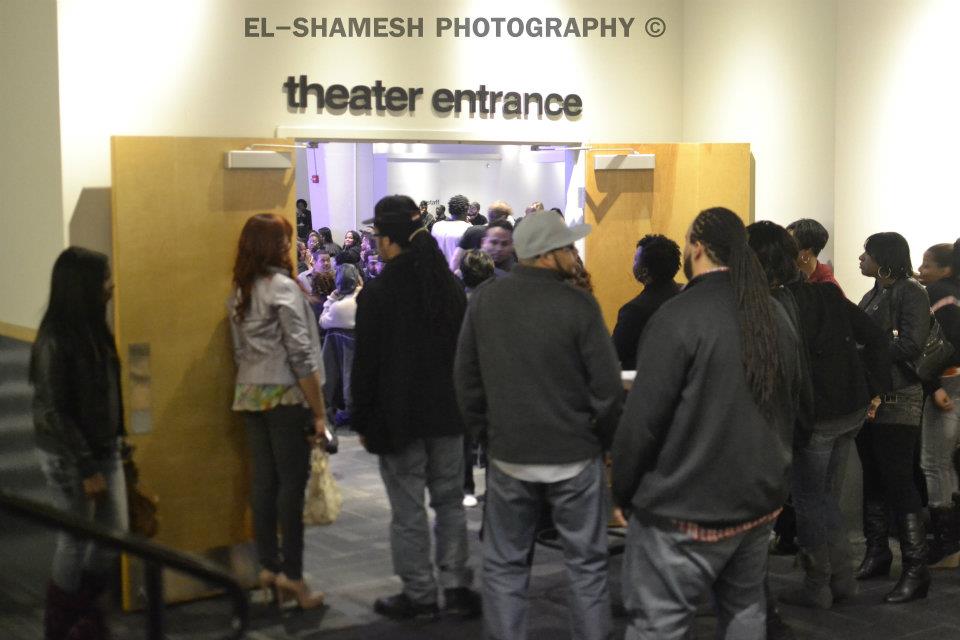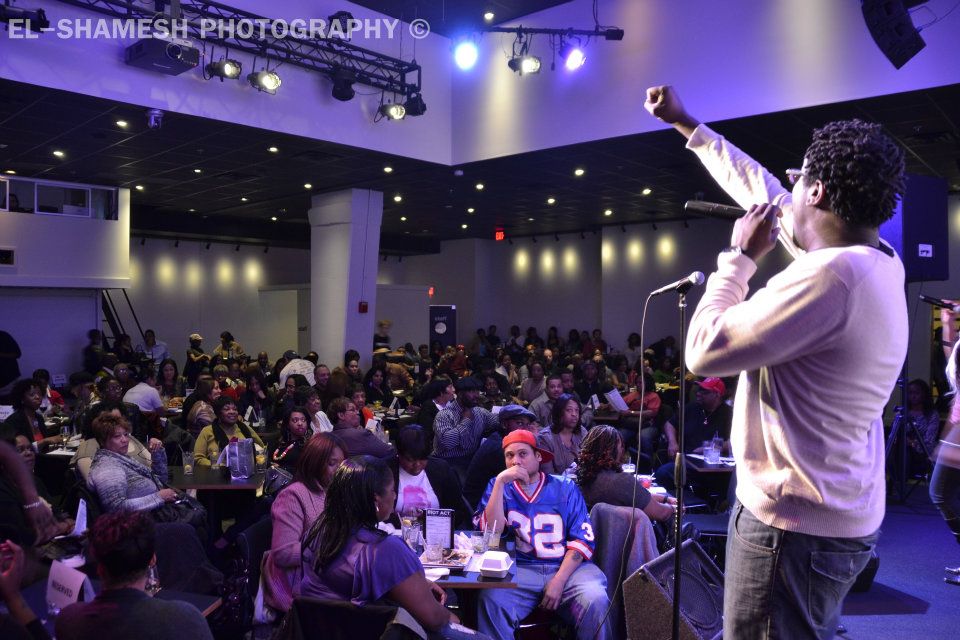 Two of your favorite comedians have joined forces to bring you an  incredible night of comedy, music, and poetry, once a month!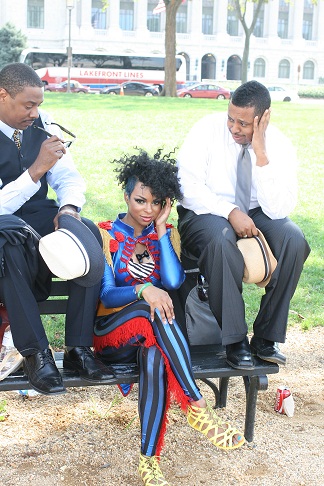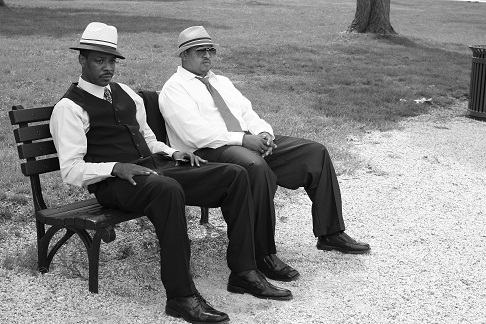 Eddie Bryant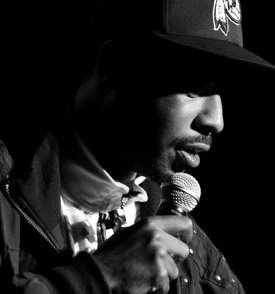 Creativity, perserverance, ingenuity and a sincere gift for tickling the funny bone are just a few characteristics to describe Eddie Bryant, of our nation's capital.  Coupled with a perfect sense of timing and delivery, 'Eddie B' can take the mundane particle of life and flip it into a side-splitting 'Where'd that come from?' work of art that gives critics cause to pause and take notice of this on-the-rise comedic talent. Eddie Bryant's comedic brilliance captures and retains the attention of audiences and takes them on a smooth ride to the other side of hilarity.  His talent takes him from writing impeccable material to stand-up, to the world of acting.  He currently is the owner/proprietor and weekly show host of the Laugh Out Loud Comedy Club--which is one of only six remaining urban comedy clubs in the country! Eddie has blessed stages across the nation winning a supportive fan base wherever he goes.  Comedy lovers of diverse backgrounds show him nothing but love because they recognize his unmistakable talent!  His credits include:  Martin Lawrence Presents the 1st Amendment Standup on STARZ; Finalist, Bay Area Black Comedy Competition-2008, Oakland, CA; HBO Mobile, (TV), WDC; Jamie Foxx's Laffapalooza! 2005 "Fresh Faces" Showcase, Atlanta, GA; Sierra Mist 2005 "Next Great Comic" Semi-Finalist, National Competition; BET's "Coming To The Stage" 2004.
Lamont King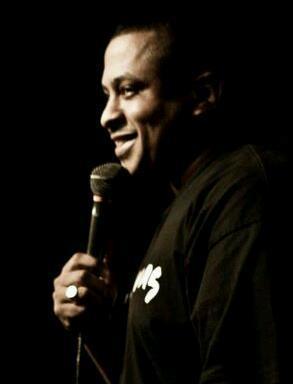 For years Lamont King was known as "Lazee Lamont" on nationally syndicated morning radio, but he is far from a slacker.  His cynical and irreverent persona compliments his nonchalant demeanor, which he is known for.  His clever yet conversational style on stage as a stand-up comedian has been winning audiences over for nearly a decade.  His skill at improvising, celebrity impressions, and original characters make for a hilarious mix of thought provoking observational comedy and side-splitting act outs.  Lamont has appeared on CBS (Gary Unmarried), UPN (All Of Us), Comedy Central (The Showbiz Show), SpikeTV (Manswers), BET (Comic View/Bring That Week Back) and co-stars in the movies Love For Sale and Something Like A Business.  He is an alumni of the National Lampoon's Lemmings sketch comedy troupe and was a writer for the legendary George Wallace.  You can read some of his hilarious social commentary as he is a regular contributor to The Humor Mill Magazine.  He has worked along-side some of the biggest names in the industry while still producing his own comedy shows in LA and DC.  On the radio Lamont also had recurring roles on The Tom Joyner Show's "It's Your World" radio soap, as a writer and voice actor, and was a co-host on The John Salley Block Party with Ananda Lewis on 100.3-FM The Beat in Los Angeles.  He made a name for himself with a nation-wide audience as a main cast-member on the nationally-syndicated Russ Parr Morning Show for six years, and he makes occasional appearances on Foxxhole Radio (Jamie Foxx's SiriusXM channel).  He produces comedy shows for diverse audiences and his wildy popular Instant Classic Show series has become a local sensation (http://youtu.be/CtNs38ARTrE).  Currently he hosts his own Hot-Talk radio show called Street Senators Radio which broadcasts from Washington, DC.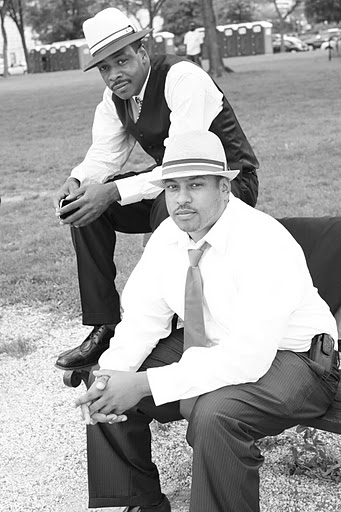 ********Sponsored by********
(Your company logo here!!!)
*some restrictions apply
Where

MWPH Grand Lodge of DC & Dave & Buster's inside Arundel Mills Mall




Multiple Dates
Add to my calendar
Organizer
Inside Jokes Presents:
Inside Jokes is the long awaited collaboration of funnymen Eddie Bryant & "Lazee" Lamont King. Two nationally working comedians who are hometown favorites and have significant followings in the DMV area!
#GTFOH: Get the Furlough Outta Here Comedy Tour!