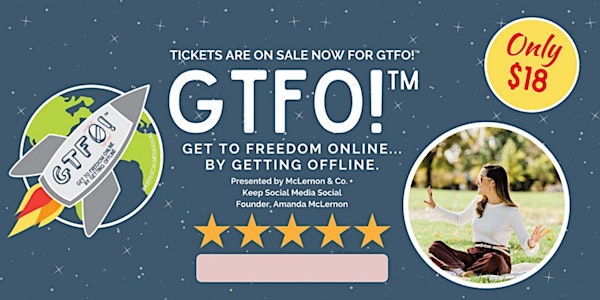 GTFO! Get to Freedom Online ™️
Too much time online is bad for your mental health. Join us for this motivational talk to take ownership of your time online and to GTFO!™️
About this event
GTFO!
No - not THAT GTFO! 😉
Get to FREEDOM Online…by Getting Off!™️ 🚫📱🚀🌎
If you're feeling pretty burnt out on social media by this point in 2021, you're not alone.
What:
Join the Keep Social Media Social™️ community for a digital workshop led by Amanda McLernon, CEO and Founder of McLernon & Co. and Keep Social Media Social™️, about why we all need to get offline - NOW.
Getting offline and safely reconnecting in our physical communities is absolutely critical for our mental health, our family's mental health, our team members' mental health, and the collective mental health of our country!
We will learn actionable steps to consciously step away from our digital worlds to reconnect with ourselves, our community, and our world IRL. (And we'll learn how to set healthy boundaries that let us continue our work, school and social lives!)
Who:
This event is ESPECIALLY important for:
Marketing Leaders
Social Media Managers or Content Creators
Online Business Owners
Influencers
Bloggers
Online Teachers
P.S. This is a family-friendly event!
"The GTFO™️ program & seminar was a powerful reminder that we are in control of how we spend our time online, and that getting OFF allows for us to enjoy our time on, more. I walked away with a ton of inspiration to take control back and be more intentional — online AND off." - Ruthanne Z, Entrepreneur
Cost:
$18 per session per person
When:
Monday, Aug. 30
5:30-7:00 pm MST
This event is "video-on encouraged" - we'd love to have you physically present for the conversation, but you can choose to turn your video off if you're more comfortable.
Learn more about McLernon & Co., a social media agency, at mclernonandco.com, and connect with us on Instagram @mclernonandco and @keepsocialmediasocial!