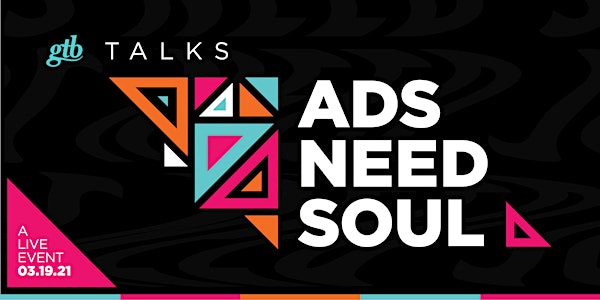 GTB Talks: Ads Need Soul
Symposium on Advertising's Racial Inequality
About this event
As part of GTB's ongoing commitment to drive change, Ads Need Soul is a symposium that brings academics, creatives and industry voices together to address the past, present and future of advertising.
Program Details
SESSION 1: "Possibility in the Ad Industry"
9:40 a.m. ET
Lynita Taylor, Diversity & Inclusion Program Manager at the Mike Ilitch School of Business at Wayne State University
Teresa Mastin, PhD, Chairperson in the Department of Advertising & PR at Michigan State University
SESSION 2: "Past, Present, Future of the Color Line"
10:20 a.m. ET
Jason P. Chambers, PhD, Associate Department Head, Charles Sandage Department of Advertising at University of Illinois at Urbana-Champaign
Christopher Boulton, PhD, Associate Professor of Communication at University of Tampa
SESSION 3: "Black & Creative: Pushing for Progress"
11:20 a.m. ET
Walter T. Geer III, ECD Design, VMLY&R
Deadra Rahman, VP Brand Strategy, Huge
Mychael Metcalf, Creative Director, VMLY&R
Justin Trapp, Senior Multicultural Copywriter, GTB
Spoken poetry with Mama Sol and DJ Tombi Mix