Symposium on Advertising's Racial Inequality
About this event
As part of GTB's ongoing commitment to drive change, Ads Need Soul is a symposium that brings academics, creatives and industry voices together to address the past, present and future of advertising.
Program Details
SESSION 1: "Possibility in the Ad Industry"
9:40 a.m. ET
Lynita Taylor, Diversity & Inclusion Program Manager at the Mike Ilitch School of Business at Wayne State University
Teresa Mastin, PhD, Chairperson in the Department of Advertising & PR at Michigan State University
SESSION 2: "Past, Present, Future of the Color Line"
10:20 a.m. ET
Jason P. Chambers, PhD, Associate Department Head, Charles Sandage Department of Advertising at University of Illinois at Urbana-Champaign
Christopher Boulton, PhD, Associate Professor of Communication at University of Tampa
SESSION 3: "Black & Creative: Pushing for Progress"
11:20 a.m. ET
Walter T. Geer III, ECD Design, VMLY&R
Deadra Rahman, VP Brand Strategy, Huge
Mychael Metcalf, Creative Director, VMLY&R
Justin Trapp, Senior Multicultural Copywriter, GTB
Spoken poetry with Mama Sol and DJ Tombi Mix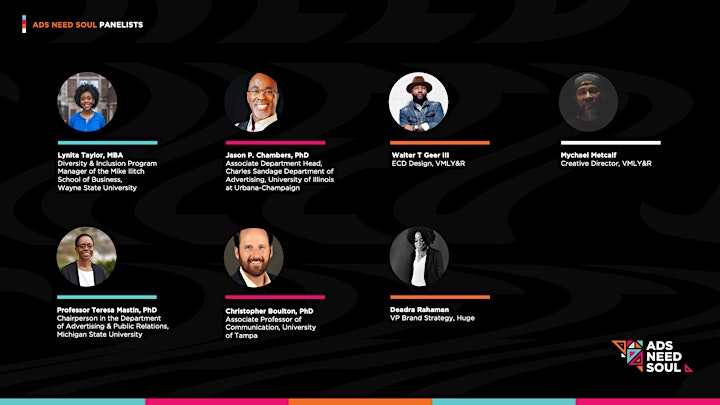 Organizer of GTB Talks: Ads Need Soul
GTB is a global performance marketing agency, focused on inspiring action for its clients. Founded in 2007 to accelerate performance for some of the world's most iconic brands, GTB is part of WPP's industry-leading network of companies driving creative transformation. GTB works across 6 continents with offices worldwide. Learn more at GTB.com.