GT WAN 2018 Women's Day Forum

Saturday, March 3, 2018 from 8:30 AM to 3:30 PM (EST)
Event Details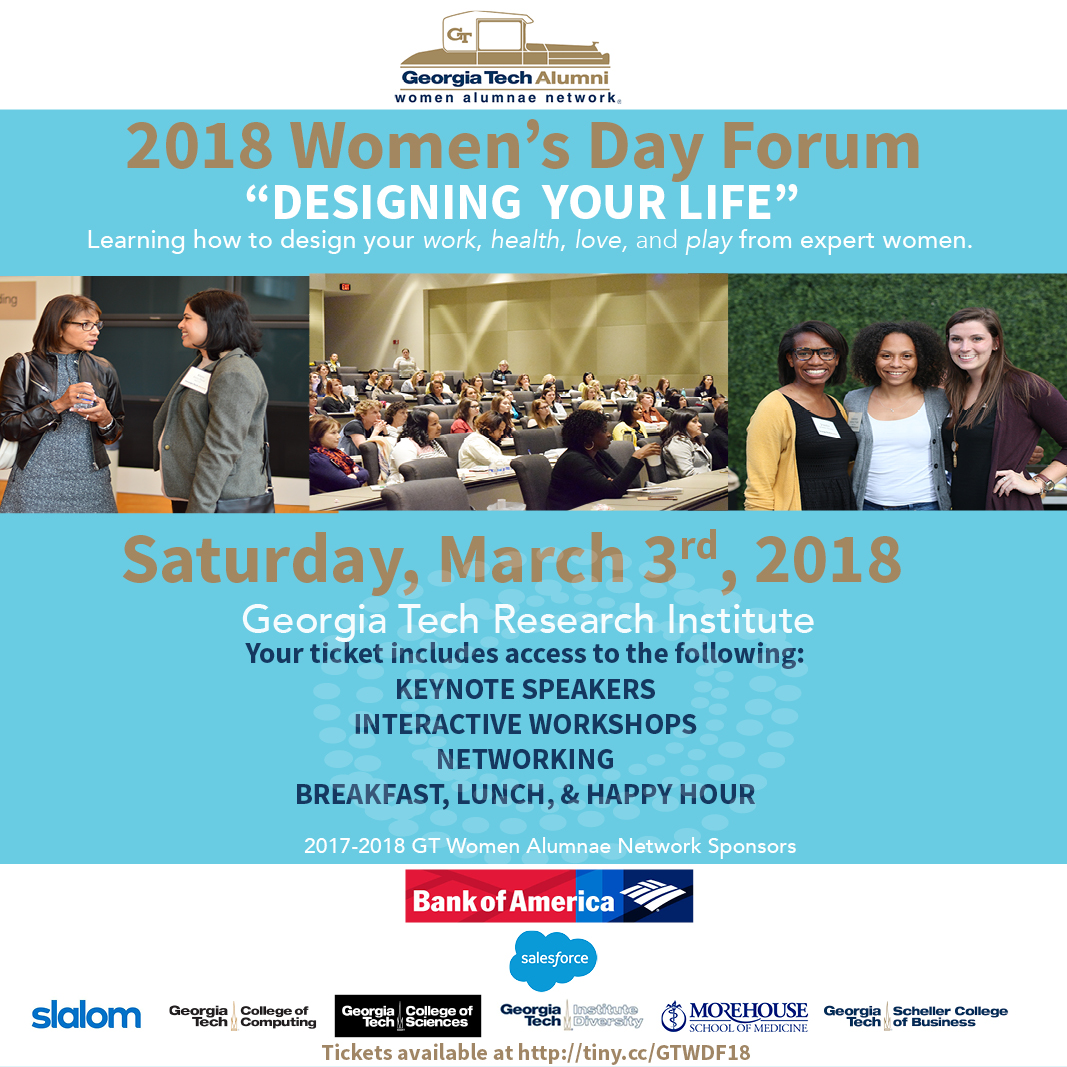 Join us for the Annual Women's Day Forum!
Designing Your Life! Learning about work, health, love & play from other women
Your ticket includes access to the following: Keynote Speakers, Interactive Workshops, Networking, Breakfast, Lunch, and Happy Hour.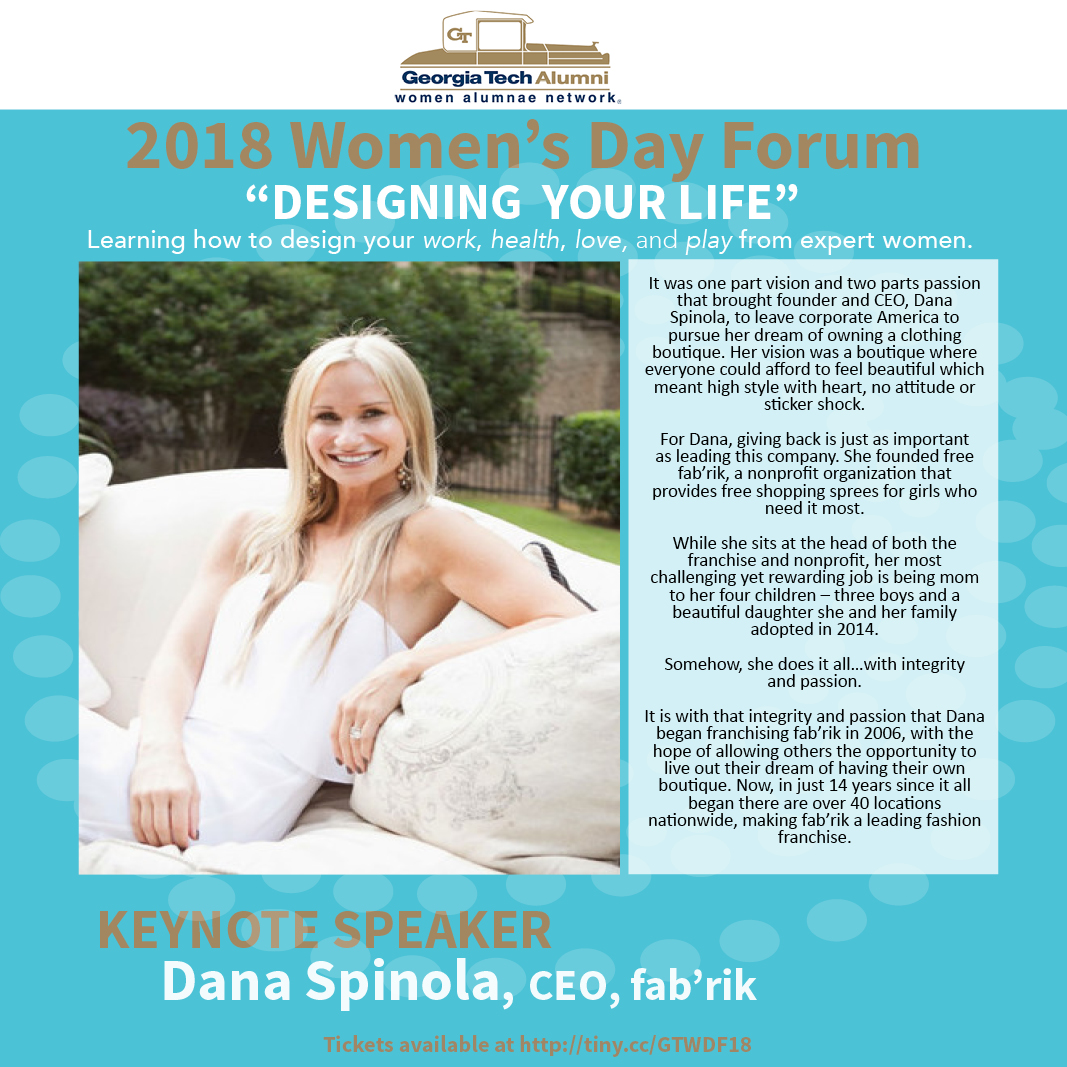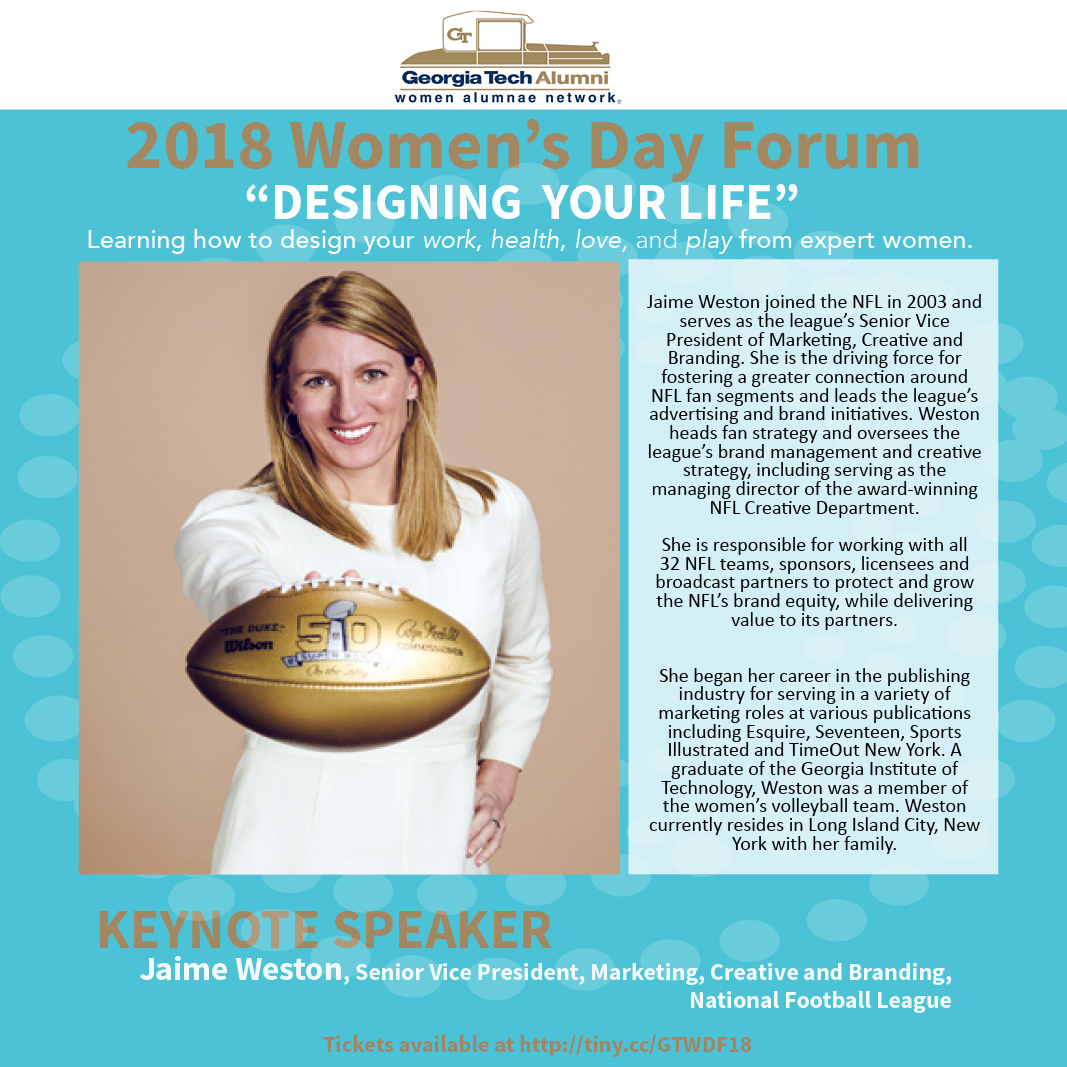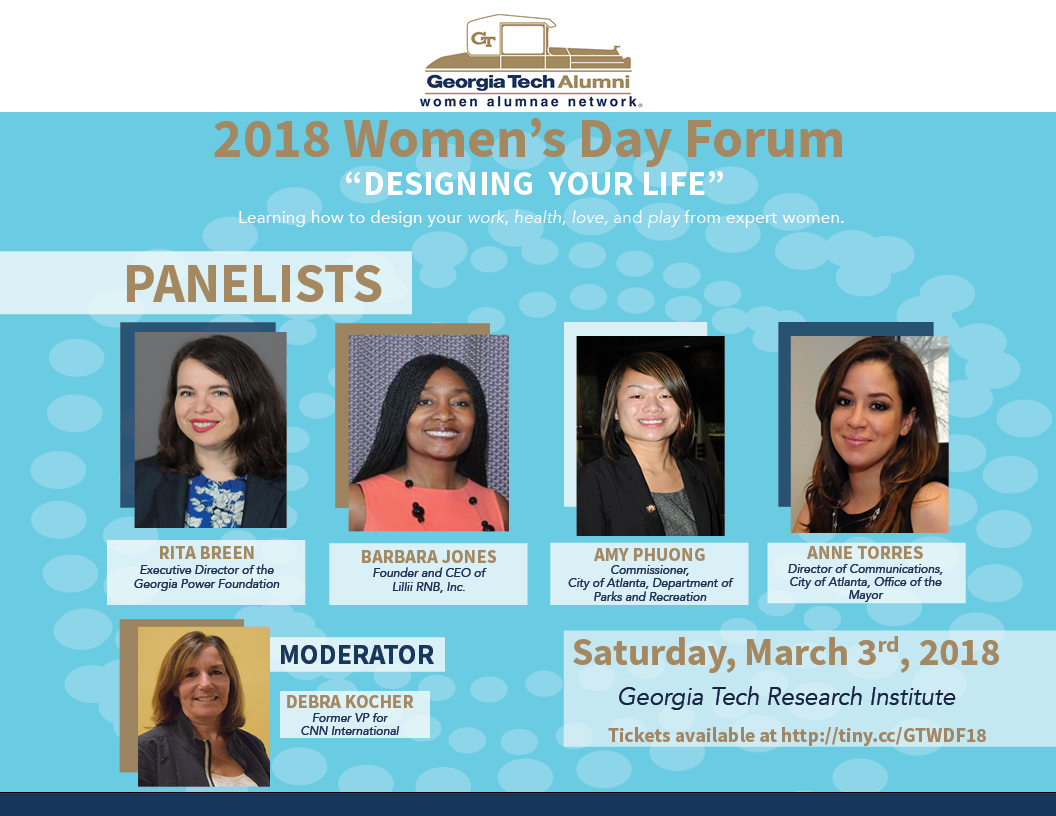 Read below to see what workshops we are offering this year:
Designing a Healthier and More Mindful Lifestyle
Learn how to easily incorporate healthy habits into your busy lifestyle. This session will kick-off with a mindfulness exercise before our health and wellness experts explore a range of topics and tips you can apply to your life's design.
Speakers: Rutu Chaudhari, Certified Yoga Teacher, All Life Is Yoga; Reginald D. Mason, MD, Pulmonology, Kaiser Permanente; Elizabeth Walton, MD, Internal Medicine, Piedmont Internal Medicine
Being a Mom and Starting/Managing a Business
Are you a mom considering starting a business or seeking tips for how to better manage your business or work life? Lucy will share her personal story of how motherhood prepared her to lead and grow a business.
Speaker: Lucy Fry, Co-Founder & Creative Director, Biscuit Studios
Making a Career Change and Becoming a Servant Leader
If you are preparing for a career change or just looking for ways to incorporate servant leadership into your life's design, attend this workshop led by an attorney and nonprofit leader of more than 30 years.
Speaker: Sandra Barnhill, Founder and National President, Foreverfamily
Campaigning for Yourself: In Work and Politics
Whether you're thinking about running for public office or interested in crafting a campaign for your professional or personal life, these speakers will help you with the design process. 
Speakers: State Representative Bee Nguyen and Adrienne White, VP of Strategy/Business Development, Citizens Trust Bank 
Designing a Strategic Network for Your Success
Who is on TEAM YOU? Learn how to strategically build a team of advisors, mentors, and sponsors who can take you to the next level of your success. Sponsored by Bank of America.
Speakers: Stephenie Whitfield, Senior Vice President/SBA Lending Market Manager, Bank of America and Danielle Cheung, Senior Vice President/Market Executive, Business Banking, Bank of America
The Balancing Act: Designing a Well-Rounded Life
Finding the right balance between work, love, health, and play can be a challenge. In this engaging and interactive workshop, you will discover the right equation for your life.
Speaker: Becky McDuffie, Senior Associate, Lord Aeck Sargent
When & Where

GTRI Conference Center
250 14th Street Northwest
Atlanta, GA 30318


Saturday, March 3, 2018 from 8:30 AM to 3:30 PM (EST)
Add to my calendar