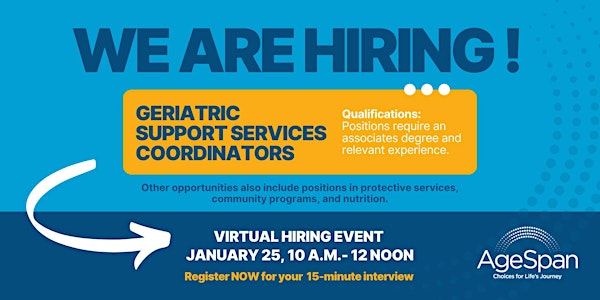 GSSC Virtual Hiring Event - AgeSpan
We're hiring! We invite you to attend our Virtual Hiring Event. Register to schedule a 15 min Zoom interview with our Human Resources team.
About this event
AgeSpan is hiring Geriatric Support Services Coordinators!
Interested in having a job that makes a difference, at an innovative agency that helps your community? Our Geriatric Support Services Coordinators (GSSCs) work with managed care professionals inside and outside our agency to provide critical support and advocate for individuals while ensuring they also receive non-medical services, such as housing, homemaking, meals, and more.
Each GSSC's work includes:
Conducting initial and ongoing assessments.
Collaborating with the managed care Registered Nurse and Care Manager to develop care plans.
Visiting members in their homes to make sure the plans and contracts we've created are succeeding.
Arranging for members' non-medical services.
Qualifications: BA/BS in social work, human services, or related field plus experience with older adults in a Health Care setting strongly preferred. Associates Degree with significant relevant work experience may be substituted for a portion of degree. Strong written, verbal, and computer skills necessary to work successfully in an interdisciplinary team required. Must have valid driver's license and reliable transportation. Bilingual applicants in Spanish or Khmer are encouraged to apply.
Interviews are held via Teams on Wednesday, January 25th from 10:00 am to 12:00 pm.
Register to reserve your 15-minute interview. You will receive a Teams Link to access your interview via email within 2-5 days after registering.
For more information or assistance, please call our recruiter at 978-651-3069.
Learn more about our agency at: https://www.agespan.org/
*If the event is sold out, please contact us directly to make an appointment.