GSP Laptop Saturday

Saturday, December 3, 2011 from 10:00 AM to 1:00 PM (EST)
Event Details
Join GSP on Saturday, December 3rd for Laptop Saturday
10:00 AM until 1:00 PM

Spend a few hours with the GSP staff and researchers exploring genealogical resources online (Pennsylvania and otherwise...).
We'll talk about resources and possible research strategies to help solve your thorny research problems, and anything else on your mind. Share your experiences and knowledge with others, and ask those burning research questions that have been bugging you forever!

Unlike the queen below, there is no dress code; wear your Saturday jeans if you would like.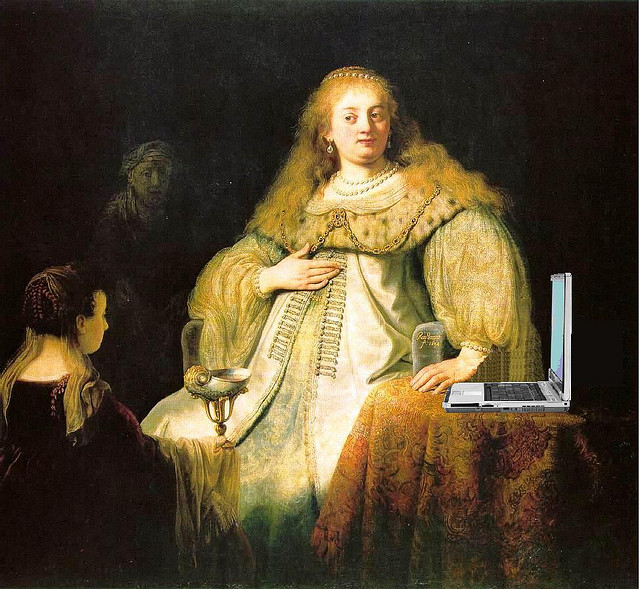 You are welcome to bring your own lunch, but we will be ordering pizza from Mix Brick Oven Pizzeria (mmm...) which you are invited to share with us.
GSP has wireless internet service, and while we do hope you'll bring a laptop, (and it will be helpful for you if you do), it is not mandatory. 
Space is limited and GSP members register FREE, so mark the date!
(And maybe do some Holiday shopping afterwards; lots of great shops in the Rittenhouse Square area!)

(Photo image courtesy of Mike Licht, NotionsCapital.com, posted on Flickr Creative Commons, 2 March 2008.)

When & Where

Genealogical Society of Pennsylvania
2207 Chestnut Street
1st floor conference room
Philadelphia, PA 19103


Saturday, December 3, 2011 from 10:00 AM to 1:00 PM (EST)
Add to my calendar
Organizer
The Genealogical Society of Pennsylvania
Founded in 1892 as a non-profit organization, the Genealogical Society of Pennsylvania (GSP) was among the first in the United States to recognize the value of collecting and preserving the vital and personal records of those ancestors whose lives now comprise our American History. GSP is committed to preserving and publishing heretofore unpublished primary sources. The continuing dedication to this service enables the Society to make an increasingly significant contribution to the cultural life of our city, state, and indeed the whole country.