GSID Brunch: 2017 Award Recipient Council Member Dan Garodnick
Description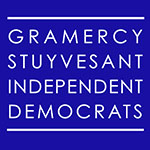 GSID is celebrating our 42nd Birthday! This year's brunch will honor Council Member Dan Garodnick with the Sylvia Friedman Memorial Award.
Tickets must be purchased in advance - $50 for Current Members, $65 for New Members (includes 1 year of dues), $125 for Non-Members and $250 for Sponsors (who will be highlighted at the event and in the program).
Those that prefer submitting a check, can do so by sending it to Scott Caplan at 201 East 17th Street #3D, New York, NY 10003.