Sales Have Ended
Ticket sales have ended
Online registration has ended. Onsite registration opens at 11:15am and costs $30.
Sales Have Ended
Ticket sales have ended
Online registration has ended. Onsite registration opens at 11:15am and costs $30.
Description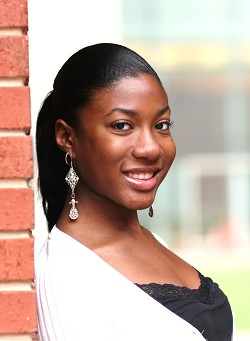 Raven Magwood is an author and motivational speaker who is truly a force to be reckoned with. By the time Raven turned 19 years old, she had accomplished more than most do in their lifetime. At age 11, she was a national gymnastics champion. At 13, she had published her second book. At 15, she was a state titleholder in track-and-field competing nationally. At 16, she had graduated from high school number one in her class with a 5.1 GPA. By 19, she had graduated from Clemson University summa cum laude, while touching over ten thousand youth in middle and high schools with her inspiring testimony and captivating personality. Raven's book "The 7 Practices of Exceptional Student Athletes" sent shockwaves throughout the nation and has helped dozens of student athletes achieve their goals. Recently, Raven started her own clothing line called I AM A TEN, which seeks to help build the self-esteem of girls and women around the world. In 2015, Raven founded the Student Athlete Summit, which provides youth with the tools to reach their full potential in school, in sports, and in life. When asked about all of her success, Raven humbly replies: "When you're dedicated to something you love, determined to work hard, and disciplined to plan how you'll get there, then you can achieve success."
The GSATC invites you to experience Raven Magwood's story at our June Learning Lunch. Sign up today!
Agenda
11:30 - 12:00 Registration, Networking, Lunch
12:00 - 12:15 Announcements
12:15 - 1:15 Presentation and Questions
1:15 - 1:30 Door Prizes, Adjourn
This meeting features easy access from I-385, plenty of free parking, ample networking opportunities, a great presentation and an awesome lunch.
Onsite registration is available. Lunch is $30 at the door.