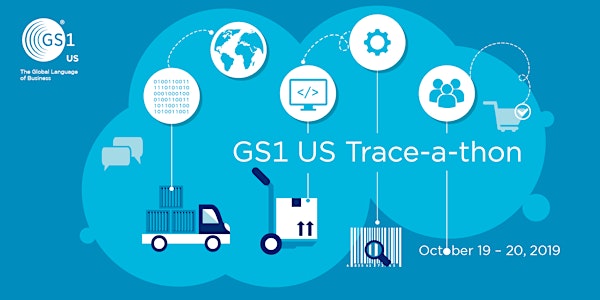 GS1 US Trace-a-thon
When and where
Location
Broadway Studios Venue 435 Broadway San Francisco, CA 94133
Description
Consumers want the full story of the products they purchase. Traceability and transparency are essential to building trust!
The Hackathon
More and more, consumers are demanding access to the full story of the products they purchase and are expecting a new level of transparency from brands and retailers. For brands, traceability is essential to building trust with consumers, and it also enables quick responses to recalls or issues at any point in the supply chain.
When and where were the ingredients or components of a product created? Did sensitive ingredients or components experience unsafe temperature fluctuations? What supply chain path did this product take? Is this product being recalled and how quickly can the brand react? Were regulatory and compliance requirements met? The answers to these and similar questions can only be determined with accurate, verified data that is traceable along the entire supply chain.
These demands have created new challenges for companies of all sizes from a wide variety of industries including retail, healthcare, transport and logistics, and food service.



The Challenge
For this hackathon, how can you use technology to create solutions that address critical supply chain issues related to visibility and traceability? How do we make the supply chain more visible, take advantage of the data generated, and ensure that data can be trusted and shared from start to finish? End to end supply chain visibility requires technology interoperability to ensure solution choice and to avoid vendor lock in, and GS1 Standards exists to facilitate interoperability. As such, solutions should focus on leveraging the GS1 system of standards to solve challenges like:
Engagement of upstream supply chain partners (growers, fishermen, raw material manufacturers) with limited technical capability and connectivity

Temperature and other environmental condition monitoring

Product transformation traceability

Manufacturing regulatory and standard practice compliance attestations

Creating a mechanism that finds and connects all the parties involved in a supply chain path, since not all parties may even be aware of one another
Technologies such as (but not limited to) blockchain, AI, and ML may be leveraged to build an innovative solution that brings visibility to the supply chain and makes traceability easy and simple for the consumer or business. Your solution should document the various stages a product goes through in the supply chain, from the average commercial fishermen with limited technology experience to the large corporations with sophisticated ERP systems. The solution must demonstrate interoperability capability.
Developers with skills in supply chain application development, Data Science, Artificial Intelligence, Machine Learning, Blockchain, and various coding languages such as JSON, XML, JavaScript and others who are interested in solving these problems are invited to a fun and challenging hackathon in San Francisco on October 19th and 20th. You will be provided with resources and support from mentors from various industries to help you create solutions that can help solve the traceability issues in supply chains, as well as bring more visibility to the life of a product as it goes from creation, to production to consumption.

The Prizes
The Challenge is endowed with a $20,000 prize pool:
1st Prize: $10,000
2nd Prize: $4,000
3rd Prize: $2,000
Additional category prizes will also be awarded. Projects that win 1st, 2nd or 3rd place are NOT eligible to win the category prizes. Categories are most innovative, best use of technology, and best presentation. All prizes will be divided equally between each member of the winning Team.
Most Innovative: $1,000
Best Use of Technology: $1,000
Best Presentation: $1,000
Random Drawing for All Qualified Solutions: $1,000

The Agenda
Day 1 | Saturday, October 19, 2019
8:00am - Doors open / Registration & Badge Pick-Up / Breakfast
9:00am - Kickoff and Introductions
9:30am - Ideation & Team Formation
11:00am - Crash Tests
12:00pm - Lunch
4:00pm - Activity
6:00pm - Dinner
7:00pm - Presentation Overview / Demo Tips
8:00pm - Team Registration Due
12:00am - End of Day 1
Day 2 | Sunday, October 20, 2019
8:00am - Breakfast / Technical Support Resumes
9:00am - Hacking Continues
10:00am - AV Checks & Pitch Practice
11:00am - Project Submission Due
12:00pm - Lunch
2:00pm - Final Presentations
4:00pm - Judges Deliberate
5:00pm - Winners Announcement
6:00pm - End of Day 2

Register here today! For more hackathon info, visit:
By registering for this event, you agree to adhere to the terms and conditions of the Official Rules for the GS1 US Trace-a-thon.
If you have any questions, please contact lucas.b@bemyapp.com