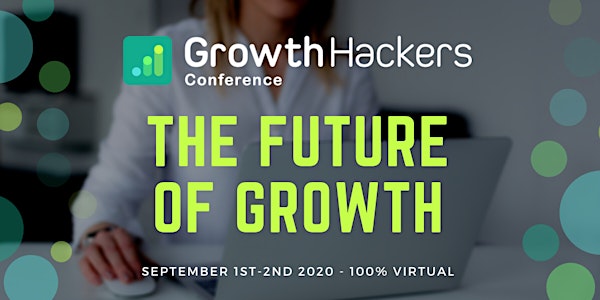 GrowthHackers Conference 2020 - #GHConf20
THE ONLINE GATHERING OF THE WORLD'S LARGEST COMMUNITY FOR BUSINESS GROWTH.
About this event
The GrowthHackers Conference 2020 is a two day online event for professionals and entrepreneurs who are looking to push the boundaries of growth innovation.
These range from growth-stage startups (Series B and C funded) to large public corporations. Some large companies that have embraced growth hacking include Wal-Mart, IBM, and Microsoft, who recognize that their stock prices are driven by customer and revenue growth and want to tap into the potential that the growth hacking process has delivered for their upstart competitors.
At this conference, attendees will get in touch with The Future of Growth! Our great lineup of speakers will share their first-hand knowledge and experience gained from growing some of today's fastest growing companies.
More information at www.growthhackersconference.com
▁▁▁▁▁▁▁▁▁▁▁▁▁▁▁▁▁▁▁▁▁▁▁
Due to COVID-19 outbreak the GrowthHackers Conference 2020 will happen 100% online on September 1st-2nd 2020. All previously purchased tickets will be honored at the online conference. We will be back together in-person next year for #GHCONF21, at the SFJazz Center on June 3rd 2021. Stay safe and take good care!
All previously purchased tickets will be honored both on at the online and the rescheduled conference.
Questions? Contact us at conference@growthhackers.com
Stay safe and take good care!
▁▁▁▁▁▁▁▁▁▁▁▁▁▁▁▁▁▁▁▁▁▁▁
 ⭐ AGENDA #GHConf20 ⭐
★ Sean Ellis - GrowthHackers★ Nancy Hensley - Stats Perform★ Kevin Ma - Wish ★ Hila Qu - GitLab★ Nathan Latka - GetLatka.com★ Raakhi Agrawal - BCG Digital Ventures★ Chris More - Mozilla★ Mary Drumond - Worthix★ Simon Dahla - Spotify★ Stephanie Evans - Segment★ Martin Gontovnikas - Auth0★ Jeff Hardison - Clearbit★ Rachid Harrassi - Delivery Hero★ Zoltan Szalas - IBM★ Niyati Parameswaran - IBM★ Scott Kritz - Ziff Media★ Nicholas Garofalo - Automattic★ Eric Keating - Appcues
SEPTEMBER 1ST
8:30 AM PT - WELCOME #GHCONF20
8:40 AM PT - Sean Ellis (GrowthHackers): Driving Breakout Growth by Understanding and Amplifying Your Core Product Value
9:25 AM PT - Hila Qu (GitLab): Master Inner Growth: Repeatable Frameworks To Drive B2C & B2B Product Retention
10:30 AM PT - Zoltan Szalas & Niyati Parameswaran (IBM): The Step by Step Process That Helped Scale Growth For +20 Products at Once
11:05 AM PT - Nathan Latka (GetLatka.com): 10 Unusual Growth Hacks That Led to $500k in New Revenue Each
12:10 PM PT - BREAK AND NETWORK
12:45 PM PT - Rachid Harrassi (DeliveryHero): How GrowthHackers Experiments Can Help Product Teams Drive Growth in Fast-Paced and Outcome-Driven Organizations
1:20 PM PT - Martin Gontovnikas (Auth0): How Auth0 Aligned Marketing and Product Growth to 2x Pipeline Opportunities
1:45 PM PT - Raakhi Agrawal (BCG Digital Ventures): The Value of In-Market Experimentation to Inform GTM
2:30 PM PT - Nicholas Garofalo (Automattic): Know When to Dold 'Em: Weighing Risk and Reward in Experimentation
3:05 PM PT: Jeff Hardison (Grain): How to 10X Growth with Customer-Research Experiments
4:10 PM PT - BREAK AND NETWORK
4:40 PM PT - Eric Keating (Appcues): Product On-boarding As The New Landing Page
5:15 PM PT - Nancy Hensley (Stats Perform): Your First 100 Days: A Framework to Set a Growth Team Up for Success
5:45 PM PT - Stephanie Evans (Segment): Using Data to Make Smart Product Bets
6:30 PM PT - HAPPY HOUR
SEPTEMBER 2ND
8:50 AM PT - WELCOME TO THE MASTERCLASSES
9:00 AM PT - Sean Ellis (GrowthHackers): Step by step to setup and get company-wide adoption.
11:00 AM PT - Eric Keating (Appcues): Mastering Product-Led Growth through automated and personalized onboarding.
2:00 PM PT: Andy Boyd (IBM): The Enterprise Growth Playbook: how to build a high-performing growth team at large organizations.
4:00 PM PT: Sam Richard (OpenView Partners): Acquisition and Retention best-practices based on 150+ companies benchmarks.
▁▁▁▁▁▁▁▁▁▁▁▁▁▁▁▁▁▁▁▁▁▁▁
 ⚡ Do you want to sponsor the #GHConf20 ? ⚡
                     Mail: sponsorships@growthhackers.com
▁▁▁▁▁▁▁▁▁▁▁▁▁▁▁▁▁▁▁▁▁▁▁