Location
SF Jazz Center
201 Franklin St
San Francisco, California 94102
Description
The GrowthHackers conference is a full day event for companies or people that are looking to push the boundaries of growth innovation.
These range from growth-stage startups (Series B and C funded) to large public corporations. Some large companies that have embraced growth hacking include Wal-Mart, IBM, and Microsoft, who recognize that their stock prices are driven by customer and revenue growth and want to tap into the potential that the growth hacking process has delivered for their upstart competitors.
At this conference, attendees will learn what is required to develop a high-performance growthteam and program across the disciplines of product, design, and marketing.
Our great lineup of speakers will share their first-hand knowledge and experience gained from growing some of today's fastest growing companies.
AGENDA #GHConf19
8:30am - 9:30am
Registration. Breakfast served
9:30am - 9:40am
Welcome - Sean Ellis (Founder@GrowthHackers)
9:30am - 10:10am
How to Grow - The Foolproof Formula for Finding Product-Market Fit - Sean Sheppard (Founder@GrowthX)
10:10am - 10:40am
Prioritizing growth efforts: know what to test, and what to scale - Emily Kramer (VP of Marketing@Carta)
10:40am - 11:10am
Growth Marketing is Only as Powerful as Your Product Relevancy - Tyson Quick (CEO@Instapage)
11:10am - 11:40am
Scaling from $1M to $500M in ARR: 5 strategies to drive your next wave of growth - Karen Peacock (COO@Intercom)
11:40am - 12:00pm
Why growth hacks are not enough anymore - Live Podcast The Startup Chat - Hiten Shah (Co-Founder@FYI)
Steli Efit (CEO@Close.io)
12:00pm - 1:20pm
Lunch served
1:20pm - 1:50pm
IBM Growth Journey: team alignment around high velocity testing - Jason Barbato (Growth Leader@IBM)
1:50pm - 2:20pm
From AAA to B2B: Applying Gamification to Enterprise Growth - Reyana Fayyaz (Group Product Manager@Box)
2:20pm - 2:50pm
Mobile Strategies to 2x MAU and Build an Impactful Experience - Mada Seghete (Co-Founder@Branch)
2:50pm - 3:20pm
Growth hacking SEO and Conversion Rates in 2019 - Panel
Moderator: Hailey Friedman (Co-Founder@Growth Marketing Pro)
Adam Stone (CEO@Speedlancer)
Shanik Patel (Head of Acquisition $ Growth Marketing@Grammarly)
3:20pm - 3:50pm
Break. Snacks served
3:50pm - 4:20pm
Trial and Error: Lessons learned from testing and experimentation at Instacart - Anna Shen (Marketing Manager@Instacart)
4:20pm - 4:50pm
The Growth culture journey inside Microsoft Office - Alexandre Leite (Principal PM Manager@Microsoft Corporation)
4:50pm - 5:20pm
Holistic Growth, from startup to Enterprise - Sean Ellis (Founder@GrowthHackers)
5:20pm - 5:30pm
Closing
5:30pm - 7:00pm
After Party. Light food and drinks served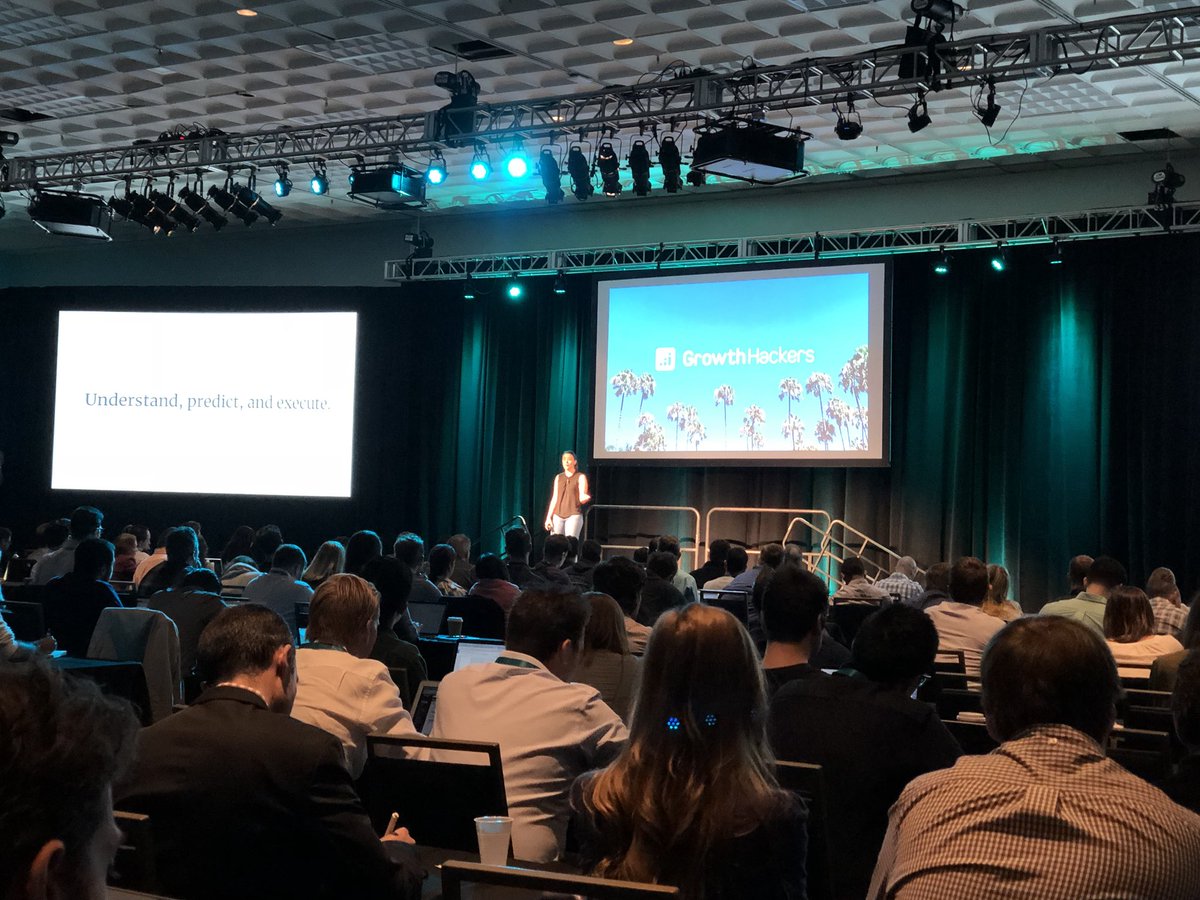 Foto by @bmrothenberg - #GHConf18
Hosted by Sean Ellis and the GrowthHackers Team. The GrowthHackers Conference is a full day of learning and networking with the top growth experts from around the globe.
Tickets for the GrowthHackers Conference are non-refundable. If you would like to transfer your ticket to someone else, email conference@growthhackers.com .
Speaker line-up subject to change.