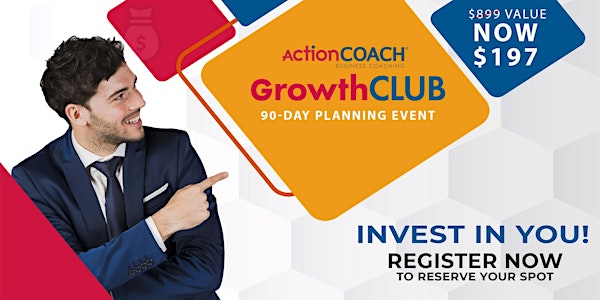 GrowthClub: Prepare your Business Plan for 2021
GrowthCLUB is a once a quarter workshop that makes creating tactical plans for your business both educational and fun.
Refund Policy
Contact the organizer to request a refund.
Eventbrite's fee is nonrefundable.
About this event
About this Event
Create the Roadmap to Your Success
In reality, failure to plan is a plan to fail and for many business owners, who are caught up in the day to day of their business, finding time to plan for your business can seem impossible, and finding the time to reflect on what's working and what isn't can be extremely difficult. But what if you could step out of your business, one day every three months, and get laser-focused on what you need to do to grow your business? One day to plan for success is a small price to pay for what you can get.
By the end of your first GrowthCLUB, you will have a clear picture of where your business will be in 90 days and a step-by-step plan to get you there. During this high energy day, you will:
• Create a 90-day plan
•Take control and get organized
• Learn proven profit strategies
Here's what clients are saying about GrowthCLUB:
"As a business owner, I thought I was being proactive in planning my business. Then I enrolled in the ActionCOACH 90-day workshop led by Coach Lee Gray. Wow! I immediately realized this was the help I needed! Since then, I've been able to increase my revenue and sharpen my thought processes. And I get a chance to refresh my mindset as my business evolves - every 90 days! What a Great addition to my team!" — Accountant
"Honestly, the best corporate-style training I've ever attended. If you're wanting to grow your business and/or figure out what you're trying to do, you need to go to this workshop." — Kevin Ulwelling, Midwest Single Source
"It was awesome! I got a specific plan and learned from others what I can be doing. Also lots of clarity!" — Rachel Murphy, Thomas Grey Interiors
What is GrowthCLUB?
GrowthCLUB is a once a quarter workshop that makes creating tactical plans for your business both educational and fun. In GrowthCLUB, you are trained on strategies that will help you master your time, be clear on your priorities, equip you with the mindset and tools you need to achieve your goals. Here's how it works:
• 1 Day Planning each Quarter will map out your next 90 days
• Access to your ActionCOACH Business Coach
• Learn from the strategies implemented in other businesses
• Broaden your sphere of contacts by networking with other business owners in your area
• Hear valuable guest speakers at each of the Quarterly Sessions
• Free email support from an experienced ActionCOACH Business Coach
By the end of this action-packed day, you will have a clear focus on where your business will be after 90 days as well as a plan to get you there, so what are you waiting for?
To claim your spot in our next GrowthCLUB, just select one of the packages and get registered. If you have any questions or want to learn more,