GrowthCLUB: 90 Day Planning

Friday, April 19, 2013 from 9:00 AM to 3:00 PM (CDT)
Event Details
We all know that every business SHOULD have a 90-day plan but somehow there never is the time to create or update your plan. Only 3% of the businesses in the US have written business plans - and yet those 3% control over 90% of the wealth in the US!
We'll be joined by Jeff Quandt who will give us a 90 Day Path to Better SEO (Search Engine Optimization) and Danny Stewart will share his experience in making the most of trade and consumer show booths. Each will present about 30 minutes on their expertise. See below for more details.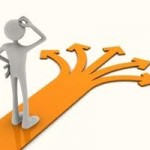 GrowthCLUB is your chance to step out of the business and get focused. We'll work with you to map out a winning game plan for the next 90 days. Plus, with proven strategies and expert training, you and your team will get back to your business with clear direction and new tools to achieve your goals faster.
• Energy, vision and focus for the next 90 days in your business.GrowthCLUB creates Massive Results.• Take home strategies to build your profits right away.
• A ready-to-implement 90-day plan.
• Powerful confidence, leadership and decision making skills to take your business even further.
Learn the proven strategies business owners have used in the last 90 days to increase profits, build winning teams and work fewer hours. Listen hard. Take notes. Then adapt & adopt to get them working for you.
Our Presenters
Jeff Quandt - On-Q Marketing
Description and Outcomes:
Search Engine Optimization may be a term a small business owner is familiar with, but rarely understands how to take advantage of it. Today more and more businesses and consumers are tuning out of traditional media in favor of conducting Google searches for finding solutions to business problems or making purchase decisions.
Jeff Quandt will cover why this is a critically important marketing area for your business. You will come away with ways you can better understand how you can improve "organic" traffic to your website, measure effectiveness of your efforts, and see where you can continually improve SEO.
Bio:
Jeff Quandt has more than 30 years of marketing experience, most if which has been spent in the world of traditional marketing or what he likes to call "Shout Marketing." In 2008 he underwent a transformation in thinking and changed his focus to "Inbound Marketing" how businesses can improve sales through being "found on a Google Search." Since 2010, he has worked as an Inbound Marketing Consultant with his company On-Q Marketing and has helped businesses improve their "web presence" and effectiveness which has resulted in increased sales. Jeff is a transplant to Nebraska from Wisconsin, but has lived here for more than 25 years; he is still a "Cheesehead Packer fan and almost a Husker fan. You might find him out walking trails or riding his bike. He resides in Omaha with his wife of 35 years and has two sons and a grandson.
Danny Stewart - Corporate Creations
"Maximizing Your Trade Show Investment"
Danny has years of experience working trade and consumer shows and I've asked him to share his experience with you. Danny will cover these important topics:
How to Prepare For A Trade Show

What Products and Services To Focus On

Determining Your Target Contacts

Defining Your Ideal Outcome

How To Connect With Prospects
This is the season, so bring your questions for Danny.
When & Where

Garden Cafe Catering
11040 Oak St
Omaha, NE 68144-4826


Friday, April 19, 2013 from 9:00 AM to 3:00 PM (CDT)
Add to my calendar
GrowthCLUB: 90 Day Planning