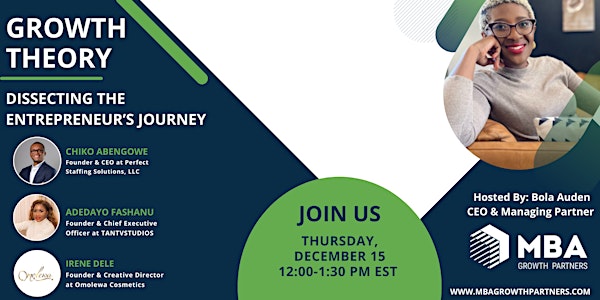 Growth Theory - Dissecting the Entrepreneur's Journey
Discussing the unique entrepreneurial challenges and key activities to manage a thriving business.
About this event
Successful entrepreneurship comes from embarking on a journey of continuous self-reflection and growth. Entrepreneurship is all about being a problem solver and tackling new challenges every day. This can be stimulating and exciting if you learn to embrace the challenges and enjoy the journey.
This means surrounding yourself with like minded individuals to ensure you are a constant learner and consistently evolving.
Join in on the discussion as we explore our panelists journey as they share stories from their triumphs and provide insights into what motivated them to start their businesses, and the pivots and turns taken along the way to manage a thriving business.
Key Takeaways:
Hear the characteristic traits that help to make entrepreneurs successful
Understand the process for developing an entrepreneurial ecosystem of support, while overcoming the conditions for legitimizing the entrepreneurship journey.
Hear about the tools for self-understanding and self-acceptance while working through self-sabotaging patterns
Moderated by Bola Audena , CEO & Managing Partner of MBA Growth Partners
We will be joined by the esteemed panelists: