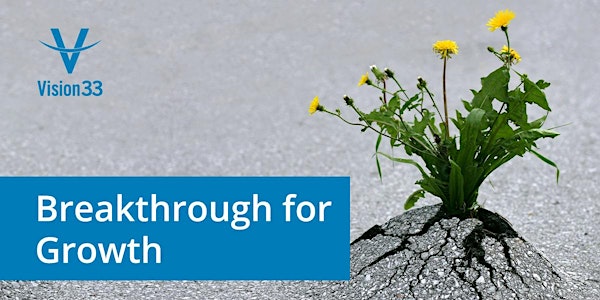 Growth Show Un-Seminar - Dover, DE
Join our 'un-seminar' and learn practical strategies that will help your organization break the barriers to growth that are holding it back
When and where
Location
Dover Downs Hotel & Casino 1131 Dupont Hwy Dover, DE 19901
About this event
Growth Show Un-Seminar
Breaking Through the Barriers Holding Back Your Business Growth
Growing your small or midsize business is not easy. On any given day, you will be bombarded with barriers holding back growth: marketing issues, cash flow headaches, geographic expansion logistics, and inventory reporting to name a few.
At the Growth Show, we want to help you navigate these barriers and prepare you to overcome them with confidence- and we will not do this by just 'speaking at you'. During your four-hour journey, a unique group of experts will work with you and provide you with practical solutions and strategies that they have honed through years of facing the same challenges that you are facing. Topics include:
How to market in a complex sales environment
Embracing technology and the unfamiliar to grow
Navigating the world of e-commerce
Adapting to the shifting world of tax compliance
Rebuilding and Reimagining your brand
Details
Time: 10:00 AM - 2:00 PM
Date: October 14 , 2019
Location: Dover Downs Hotel & Casino address, 1131 N Dupont Hwy, Dover, DE
Price: Free

Keynote Speaker: Samantha Stone, Author
Unleash Possible
There is no shortage of inspiring advice calling on you to transform your marketing efforts. They all preach, correctly, that B2B marketing has changed and buyers are in control.
The problem is- most advice tells you to transform, but does little to address the practical realities and challenges of making changes in organizations that have complex relationships with sales.
"Unleash Possible" changes that- it is a how-to manual for B2B marketers in complex selling environments.
Samantha Stone, the author of 'Unleash Possible', doesn't just tell you what to do, she shows you how to do it, and how to partner with sales to get the right results.
She is a revenue catalyst who takes her lessons to organizations with complex selling environments and helps them unleash the possible. She is a fast-growth, B2B marketing junkie, author, speaker, consultant, persona coach, and now- our keynote speaker at the Growth Show Un-Seminar.

Host: David Strausser, Intrepid Life Explorer
Embrace the Unfamiliar to Grow
At eighteen David packed up his life and moved to Tijuana.
Why? Because he was young and curious. He wanted to explore a life and culture entirely different than the one he was accustomed.
David's curiosity about the unknown has been the driving force behind success in his career. To David, every obstacle to growth presents an opportunity to explore and grow.
At the Growth Show Un-Seminar, you will have the opportunity to learn from David's experience in international trade and technology. See how his passion for music and a multi-cultural family give him a colorful and unique vision of what the future can hold and what your business could be.

Speaker: Ryan Ortiz, k-eCommerce
Unchain Your Market with E-commerce
Imagine an investment that attracts first-time buyers over the Internet, simplifies purchases with self-service ordering, and expands your market reach from local to global—all without hiring additional staff. An e-commerce channel offers significant competitive advantages for B2B companies— but it does present its own set of major challenges.
Ryan Ortiz has spent his career helping businesses leverage technology to help them streamline their businesses and prepare them for growth while helping them address the challenges that come with embracing new technology. At our Un-seminar, Ryan will walk you through
Optimizing business data management and reduce operational costs
Best practices in creating your B2C customer experience
The power of cloud-based SaaS platforms to expand and grow with your business.

Speaker: John Regan, Avalara
Untangle Tax Compliance
Last year the Supreme Court re-wrote the rules on sales tax compliance across the country based on the state of a seller's economic activity. States have had to rapidly adopt completely new tax laws to accommodate. Changes that form yet another barrier holding back your business growth.
How will the rulings impact my business and what do I have to watch out for as my business grows?
How will the affect businesses that use marketplaces like Amazon or eBay?
How can automation mitigate risk?
How can I get free automated compliance in 24 states?
John Regan is an award-winning technology solution advocate who has worked with Toshiba, Infini, CBS, and now with Avalara. His varied experience positions him as an ideal guide to help you navigate the impacts of these new state tax laws and the complex, error-prone world of tax compliance.

Thank-you to our Sponsors