Description
Growth Mornings: Your Quarterly Wake-up Call!


All our 2-Day Crash Course, 6-Week Evening Course and 3-Month Academy participants are invited to a dedicated Growth Morning on March 29th.
Why? Because we'd like to invite you to learn & share from our community of growth practitioners (1401 in total). You'll be gaining insights into the latest growth hacking trends, frameworks, tools and experiments.
The format of our Growth Mornings is an unconference-style event to encourage peer-to-peer learning as well as overcome common blockers in the Growth trenches.
The advantage of an unconference event is the opportunity of co-determining the agenda. of the day by means of a topic and format voting system.
We're limiting these events to 40 people to ensure everybody gets a say in the morning's program.
… Want to discuss new tools?
… Want to share learnings on your experiments?
… Want to find out what the impact of AI will be on Growth?
… Want to get feedback on your current growth challenges and/or overcome blockers?
… Want to ask an expert in the crowd to share his/her expertise?
You decide!
There is no set agenda. The program is determined by and for its participants!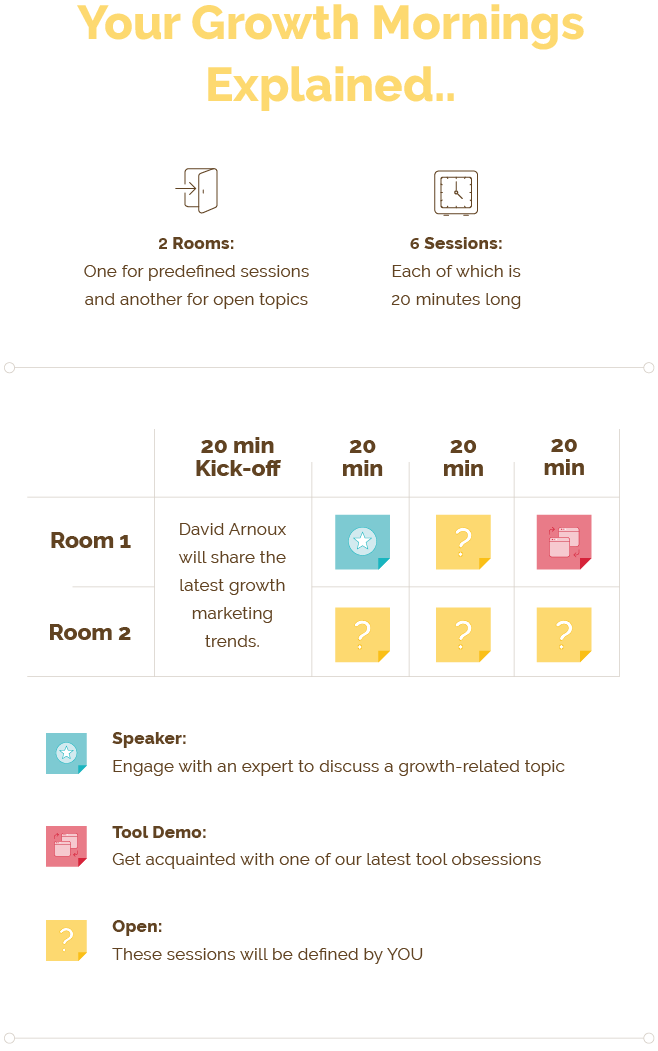 Unconference Agenda
8:30 - Welcome & Breakfast
9:00 - 9:20 - Kick-off with David Arnoux - Latest Growth Marketing Insights
9:20 - 9:30 - Explanation of the Unconference Format - Peter van Sabben
9:30 - 9:45 - Pitch the topics/ideas you want to discuss
9:45 - 10:00 - Voting - everybody gets the chance to pick their favorite topics to discuss!
10:00 - 10:30 - Round 1 - Room A or B
10:30 - 11:00 - Break
11:00 - 11:30 - Round 2 - Room A or B
11:30 - 12:00 - Round 3 - Room A or B
12:00 - 12:30 - Lunch & Final Remarks
What you will get out of this:
Feedback on your current growth challenges

The opportunity to add your own discussion topics to the agenda

Extend your network - Meet like-minded people - Connect with other Growth experts

Learn what others are doing in the world of Growth and see if you are on track

Discover the latest tools and newest approaches to run experiments
Why this event is exclusive to Growth Tribe Alumni:
Growth Tribe is a closed community of Growth experts, and to guarantee everybody makes the most of our Growth Mornings we're limiting these events to people who have followed our courses
Who this event is for:
Previous 2-Day Crash Course, 6-Week Evening Course and 3-Month Academy attendees

We'll also be sharing the contact details of the attendees shortly before the event to give you the opportunity to network in a targeted manner
Post Event (and maybe one of the most important perks of this event):
To make sure the plethora of learnings you'll gather during our Growth Mornings isn't lost in translation, we'll be documenting EVERYTHING discussed during the entire morning

Shortly after our get-together we'll share a report with you that you can get back to anytime to refresh your mind
Secure your spot now! We're limited to 40 spots.
Don't wait too long!
Questions or remarks? Feel free to reach out to academy@growthtribe.nl
Always be learning,

The Growth Tribe Team
Date and Time
Location
Growth Tribe Campus
Kattenburgerstraat 7
Building 027E - 2nd Floor
1018 JA Amsterdam
Netherlands