Description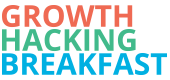 The next Growth Hacking Breakfast will be at the Cambridge Innovation Center in Kendall Square. The breakfast features actionable talks on applied PR, marketing, analytics, and product development tactics. At this free intimate breakfast, experts discuss case studies that show how they rocked customer acquisition.
Growth hacking is a trend in digital marketing that combines online marketing, analytics, and product development to build a scalable marketing machine. It has become a hot topic in the digital marketing space because it works. But, you cannot cut-and-paste growth hacking strategies from one business to another. Growth hackers typically must experiment with many tactics before finding something that works from them.
At this breakfast you will meet other innovative marketers all while learning about the growth hacking process and specific tactics to try in your business. Two presenters will discuss specific growth hacking case studies followed by a Q&A panel with both speakers, so bring your questions.
Event Agenda
8:00am - Start time with breakfast
8:15am - Networking with the experts
8:30am - Eric Enge will explain how he built his company's brand and his personal brand using online tactics. Eric is the lead author of the book The Art of SEO; a contributer to Forbes, Search Engine Land, Moz, Copyblogger, Marketing Land, and Social Media Today; and a regular speaker at industry conferences such as Search Marketing Expo, Pubcon, ClickZ Live, and many others.
8:50am - Marketers must be clear about what they have to offer and why people should care. Chuck Goldstone will discuss how the best companies are making sure that their stories are clear, engaging, and memorable and share some practices so you can do the same.
9:10am - Q&A panel with both speakers
9:30am - Event end
Directions to the CIC: http://cic.us/directions/
Parking: Street parking should be available in Kendall Square because this is an early event. Otherwise, use the One Broadway garage.
More information at
http://growthhackingbreakfast.com