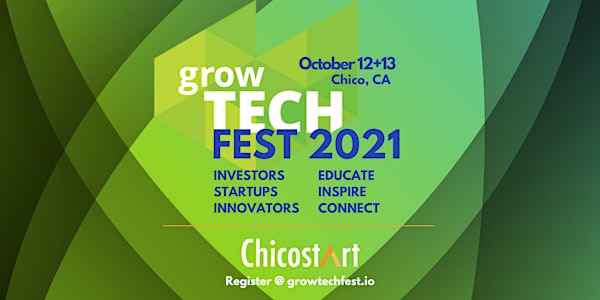 GROWTECH FEST 2021
Educate, Inspire and Connect at GROWTECH FEST
Location
El Rey Theater
230 West 2nd Street
Chico, CA 95928
GROWTECH FEST 2021 coming to Chico on October 12 at the El Rey Theater and October 13 at Stoble Coffee!
About this event
The largest and only entrepreneurial tech conference you will find in the NorCal region to bring together startups, investors, entrepreneurs, techies, students, educators, business owners and community leaders.
Ticket Pricing (Buy EARLY and SAVE!)
Early Bird (ends Sept. 15): $75 single day or $150 for both days
Regular: $100 single day or $200 for both days
Local Students are FREE (Please register for entry)
Day 1 (Oct 12) at the El Rey Theater includes conference, lunch, and non-alcoholic beverages at the El Rey Theater (11:30 AM - 5:00 PM). Plus, entrance and light hors d' ouevers to growTECH Fest Afterparty at Argus Bar & Patio (5:30 - 7:30 PM)
Day 2 (Oct 13) at Stoble Coffee includes afternoon workshops at Stoble Coffee (1 - 4:30 PM) and growTECH Fest Wrap Up dinner at the Blue Agave Room - Tres Hombres Chico (5:30 - 8:00 PM)
The full schedule for Day 1 and 2 can be found here.
Facilitated by Chicostart
Special thanks to our sponsors!
Powered By: Build with Ferguson
Grow Level: California Community Colleges • Red Bull
Start Level: Social High Rise • Tres Hombres • LRT Graphics • Butte College • CSUC College of Business • StartupSac • Chico Chamber • Sendoso • Five Star Bank • Explore Butte
Media Sponsors: Action News Now • KZAP 96.7 • Mix 95.1 • KPAY 93.9 • ChicoER