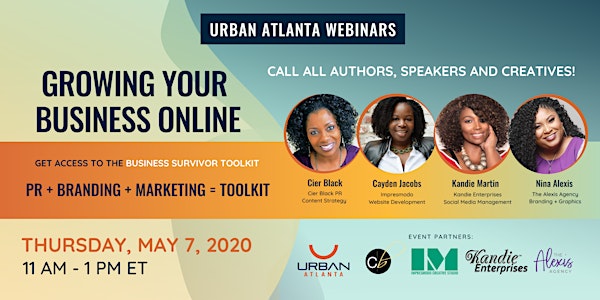 Growing Your Business Online | Presented by Urban
RECESSION PROOF YOUR BRAND DURING COVID19​
About this event
Authors, Speakers, and Creatives​!
1. Do you want to get your voice and message heard?
2. Do you struggle with building a consistent brand?
3. Do you want a professional online storefront?
4. Do you want to amp up your social media presence?
Then this event is for you!
Urban Atlanta's PR & Marketing Team​ is giving you tools to ​Grow Your Business Online
Come learn the core tactic in public relations strategy
Come learn how to find your voice through your content
Come learn why consistency is key in packaging your brand
Come learn how to maximize your positioning for lead generation
Come learn easy hacks and get noticed on social media
Our featured presenters have collectively over 25 years of experience in ​PR​, ​Branding​, and Marketing​ and have helped authors, speakers, and creatives build strong, memorable, and noticeable brands.
Visit UrbanAtlanta.org and sign up for our newsletter. We are a networking organization with the mission to bring black businesses together to do business!
See you on May 7th!
#authors #speakers #creatives #publicrelations #contentmarketing #branding #webdesign #socialmediamanagement #urbanatlanta #webseries #marketingtips #toolkits