Description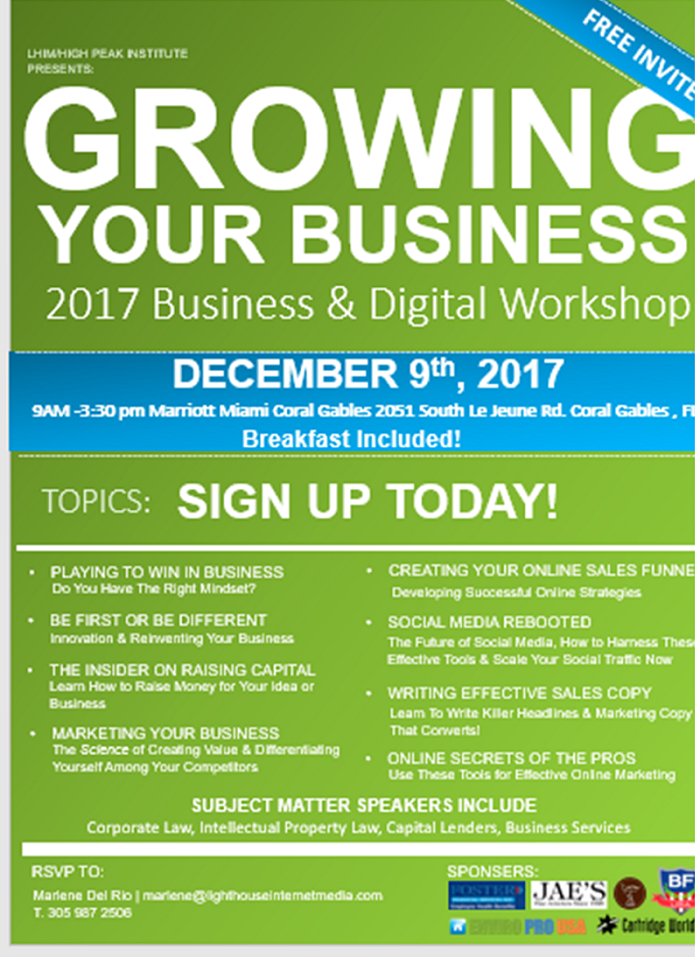 Come and experience a high powered business and digital boot camp workshop on Saturday, December 9th the Marriott Coral Gables 2051 South Lejeuene Road! Learn how to leverage new ideas and technology for fast tracking your business to success. Network with influential professionals and local successful business owners in this one time FREE event.
VIP Guest Speaker Includes
Emilio Yepez - from Lighthouse Internet Media

Emilio Yepez is the CEO/Founder of Lighthouse Internet Media/High Peak Institute a digital and business performance agency. Emilio has spent over two decades working with professionals, start-ups, entrepreneurs and internet retailer 500 companies grow their business, expand their brand and increase their productivity.Emilio speaks at events across the US sharing his passion for entrepreneurship, digital marketing and mastering the inner game! He loves to help people understand what it takes to build successful businesses and how to apply key principles of the inner game that offer exponential rewards. As an accomplished author, speaker and business consultant, Emilio will share unique insights and ideas on how to fast track your business to success.
Online Event: A Few Topics We Discuss
In our sessions we discuss an array of topics that no one in our industry is sharing in the following subject matters:
Playing To Win In Business - Do You Have the Right Mindset?

Be First or Be Different - Innovation The Key to Reiventing Your Business

The Insider On Raising Capital - Learn How to Raise Money for Your Idea or Business

Marketing Your Business - The Science of Creating Value

Creating Your Online Sales Funnel

Social Media-Rebooted- The Future of Social Media, How To Harness These Effective Tools

Writing Effective Sales Copy - Write Killer Headlines and Marketing Copy That Converts

Online Secrets of the Pros- Use These Powerful Tools for Effective Online Marketing
What's The Catch?
WE DO NOT SELL books, audios, software or ask for money! We don't pressure you into buying anything. Reserve Your FREE Ticket Today! (Please Note: In order to be included in the breakfast portion of the meeting, you must RSVP, therefore please register with an email that is verifiable.)