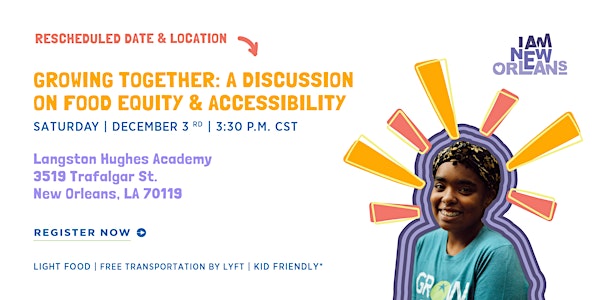 Growing Together: A Discussion on Food Equity & Accessibility
Our first in-person #IamNewOrleans event includes youth & expert panelists, breakout sessions and ways to combat today's food challenges.
When and where
Location
Langston Hughes Academy 3519 Trafalgar St. New Orleans, LA 70119
About this event
Join us for our first in-person #IamNewOrleans event at 3:30 p.m. CST on Saturday, December 3, at Langston Hughes Academy. "Growing Together: A Discussion on Food Equity & Accessibility" will be hosted in partnership with Grow Dat Youth Farm and aims to dig deeper into the food equity challenges in New Orleans and across the U.S.
We know that food equity and accessibility disproportionately impact BIPOC communities, and during the holidays, families experience additional financial strain. The holidays are a time of celebration centered around food and drink, but for millions, food insecurity makes the season far less festive. "Growing Together: A Discussion on Food Equity & Accessibility" will be rooted in empowerment while our community experts provide unique resources and solutions for us to combat today's food challenges.
Our city's youth will be at the core of this event, with breakout sessions, open dialogue and opportunities to reimagine a more equitable food system for future generations. Free Lyft transportation, light food and refreshments will be provided. This is a kid-friendly event, and children of all ages are welcome.
Youth panelists from Grow Dat's youth leadership program will facilitate the conversation alongside:
Pamela Broom, 7th Ward Revitalization project manager & FARMacia Wellness Hub director
Darianna Videaux Capitel, Familias Unidas En Acción
Cheryl Brickley, Sankofa CDC's Healthy HeartBeats community facilitator
Kim Curtis, Crown Community Garden
Khai Nguyen, VEGGI Farmers Cooperative
We invite you to join us and share your story using #IamNewOrleans on your social networks.

I am New Orleans le invita al simposio "Creciendo Juntos: Discusión sobre el sustento alimentario justo y accesible". El evento tiene la intención de educar a la comunidad sobre métodos para crecer y distribuir alimentos de manera sistemática y efectiva.
La sesión "Programas de Cultivo Local y Urbano para la Juventud: Lo que necesitan saber sobre agricultura como sustento, o profesión," será ofrecida exclusivamente en español para participantes de habla hispana.
Descargue la app Lyft. Escanee el código QR para pedir su transportación usando el crédito que aparecerá en su pantalla.