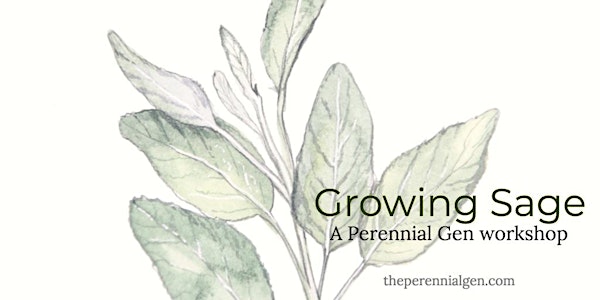 Growing Sage: From Doing to Becoming
When and where
Location
Trinity Episcopal Church 130 North West Street Wheaton, IL 60187
Refund Policy
Refunds up to 7 days before event
Description
Growing Sage: From Doing to Becoming is a workshop on vocation for Christian women hosted by: The Perennial Gen, growing deeper roots in the dirt and light of midlife
What's next in this second half of life?
It's a question women start asking more often after we hit midlife--the nest starts emptying, relationships change, and our roles in the family, in our career, and even at church begin to shift.
The Perennial Gen community has been providing an online space (theperennialgen.com) to openly and honestly explore and discuss these topics. Since we started, the response from contributing writers and readers has been amazing. On September 15, 2018, co-founders Michelle Van Loon and Amanda Cleary Eastep will provide a new space to continue the conversations face-to-face (and over coffee!).
What is the focus of the workshop?
Growing Sage: From Doing to Becoming will focus on the topic of vocation in the second half of life. During the first half, many of us learned to define ourselves by what we do--in our work, our relationships, our goals, and our aspirations. As we move into and through the second half of our lives, healthy spiritual growth shifts away from the drive toward achievement and toward sage and faithful ways of being. We begin to lay aside some of the ambitions and expectations that drove us during the first half of our lives, and we are free to grow in God's wisdom and to love in new ways.
---
"(Vocation is) not a goal to be achieved but as a gift to be received...Vocation does not come from a voice 'out there' calling me to become something I am not. It comes from a voice 'in here' calling me to be the person I was born to be, to fulfill the original selfhood given me at birth by God."
--Parker Palmer,
Let Your Life Speak
---
What to expect...
The morning will include a keynote message from PerGen co-founder and author Michelle Van Loon, a guided individual reflection/prayer time, a panel discussion, small group discussion, and the opportunity to gather with other like-minded Perennials and friends.
Cost includes continental breakfast.
Registration deadline: Thursday, September 6
(Note: This is a Perennial Gen event, not a Trinity Episcopal Church event. Please contact Michelle and Amanda at theperennialgen@gmail.com with questions.)

---
The righteous will flourish like a palm tree, they will grow like a cedar of Lebanon; planted in the house of the Lord, they will flourish in the courts of our God. They will still bear fruit in old age, they will stay fresh and green, proclaiming, "The Lord is upright; he is my Rock, and there is no wickedness in him." Psalm 92:12-15
---