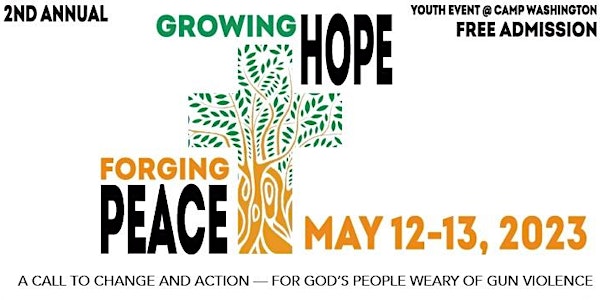 Growing Hope Forging Peace - Youth
A CALL TO CHANGE AND ACTION — FOR GOD'S PEOPLE WEARY OF GUN VIOLENCE
By Camp Washington - Camp and Retreat Center
Date and time
May 12 · 6pm - May 13 · 2pm EDT
Location
Camp Washington (860) 567-9623 190 Kenyon Rd Lakeside/Morris, CT 06763
About this event
For Middle and High School Youth:
Come to Camp with old friends and meet new friends as we come together for a WEEKEND OF HOPE AND TRANSFORMATION. We will gather at Camp on Friday at 6:00 pm for an evening of engaging conversation and discussion with Shane Claiborne, beating of guns into plowshares around the forge, group art projects, and time to chill and talk around the campfire. Saturday morning, we will wake up to breakfast and time to wrap up our work from Friday night, as we welcome the larger community to join us for a day of testimony, reflection, experience, and ACTION! Our day will end with a time of worship, prayer, and a picnic lunch.
This important event is made possible by: St. James's Church- W. Hartford, Swords to Plowshares Ministry Network, St. Paul's Church- Fairfield, The NW Region of the ECCT, St. John's Church - New Milford, St. John's Church - Washington & other generous sponsors.
Shane Claiborne, Keynote Speaker
Shane Claiborne is a prominent speaker, activist, and author. Shane worked with Mother Teresa in Calcutta, and founded The Simple Way in Philadelphia. Grace fuels his passion. He was recently awarded The King Center's Beloved Community Social Justice Award. His book, Beating Guns, acts as a guide for how we can be part of the solution towards ending gun violence. Inspired by the prophetic image of beating swords into plows, Beating Guns offers a clarion call to change our hearts regarding one of the most significant moral issues of our time. His newest book, Rethinking Life was released February 2023.
About the organizer
Camp Washington Camp and Retreat Center, a place of acceptance, joy, and renewal for all God's people.