Actions and Detail Panel
Growing Healthy Schools
Fri, March 24, 2017, 8:30 AM – 3:00 PM EDT
Description
An Intensive Day of Learning to Grow Healthy Schools for Educators and Foodservice Professionals

Join us for a free full day workshop to empower yourself through food literacy. Learn to grow healthy students by incorporating health and wellness into your school's curriculum and lunch program. Improve the lives of students and their families by using school gardens, teaching kitchens, traditional classrooms, art studios, and cafeterias.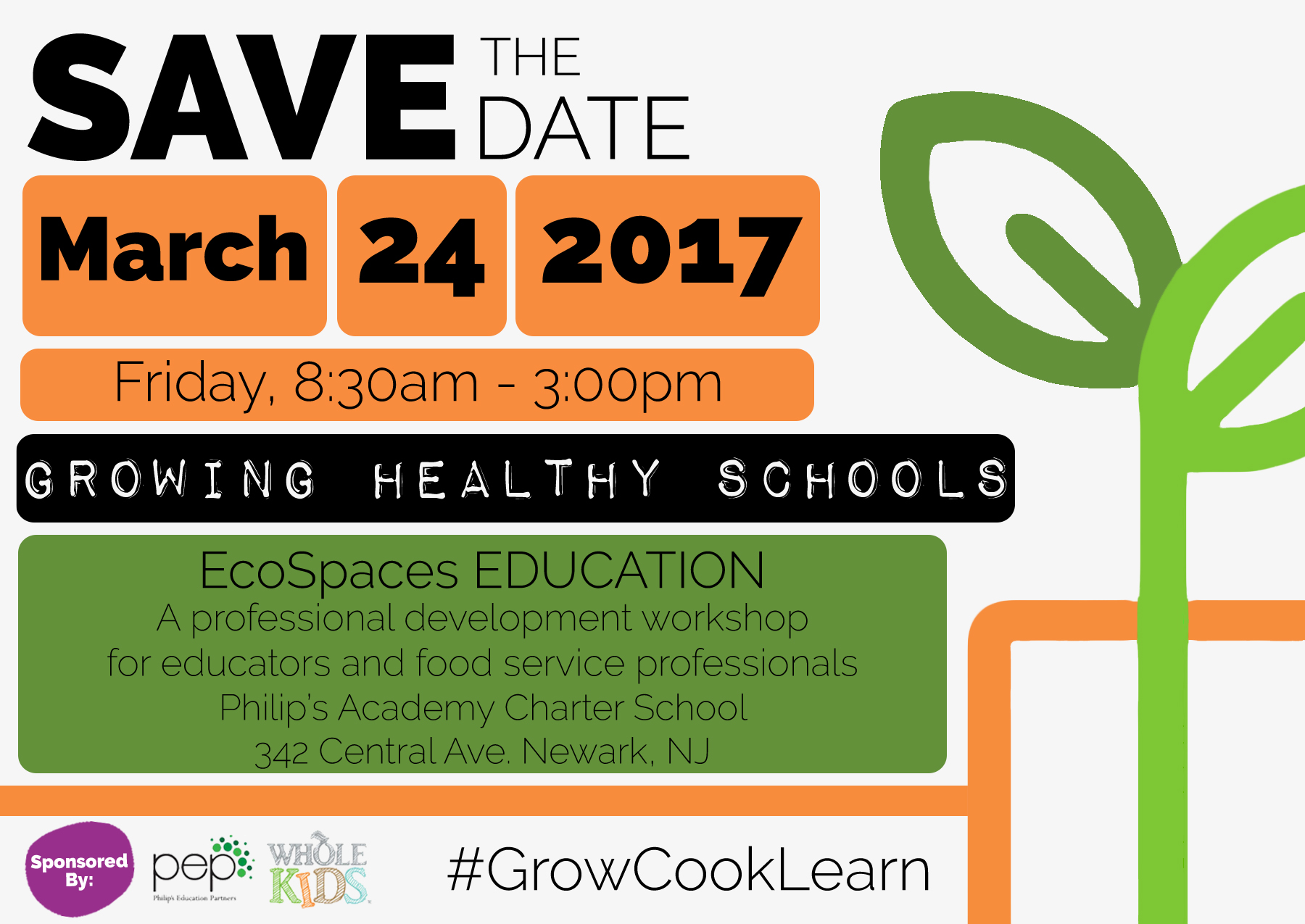 SCHEDULE
Here is a quick look at the day's events. A complete schedule will be sent via email upon registration.
8:15-9:00 am Registration/Breakfast
9:00-9:30 am Introduction
9:30-11:30 am MORNING SESSION: GROWING HEALTHY TEACHERS
Educators can become "Wellness Champions" through food literacy. With an understanding of the nuances of food politics, the role of the media, and the power of the consumer, we can adopt healthier habits, and, through the observation of our actions by our students, we can facilitate sustainable and positive behavior change, contributing to their success in school, and in life.
11:30am-12:30pm LUNCH and TASTING
Enjoy our made-from-scratch, seasonal school lunch in a family style setting. Take part in a tasting which demonstrates how the school cafeteria/dining room can become a classroom!
12:30-2:30pm AFTERNOON SESSION: WORKSHOPS
Kitchen Essentials: Eat your veggies! We all remember hearing this from our childhood! Learn ways to attract students to veggies by making them eye-appealing, exciting and yummy! Discover how to make vegetables taste delicious by donning aprons and preparing interesting recipes in our kitchen. Then, sample the nutritious veggie side dishes created by attendees!
Bringing the Garden Into The Classroom:The school garden offers countless opportunities for classroom learning. This workshop will focus on how to connect the activities in the garden to your core content across the curriculum in math, language arts, foreign languages, literature, social studies, and science.
Kitchen Culture - Seasonal Food, Global Connections: Chop, mix, taste and learn. Join us on a journey through a classroom cooking lesson. See how curriculum can come to life in the kitchen. Learn how to manage a class in a cooking environment and how to create a kitchen in your classroom. On the menu: Falafel!
Teacher to Teacher: Do you have questions or concerns about intertwining Food Literacy Education into your already busy teaching schedule? Is holistic wellness education philosophy one that matches yours? Come to a round table discussion lead by teachers who share thoughts about this topic. Hear how they infuse Food Literacy Education into their classroom through classroom activities and lessons, and talk about real challenges and success stories. You will leave this discussion with plenty of "tools in your toolbox" to give you the courage to add more to your Food Literacy curriculum and teach healthier kids. We are looking forward to a great day together!
Tending to the Veggie Patch -Connecting to Food through Handwork: Engage in a series of whimsical activities that make fruits and veggies kid-friendly and fun. Handwork allows children to develop a personal relationship with food, expands their food literacy vocabulary and establishes connections to health and wellness.
2:30-3:00 pm CLOSING SESSION: Engaging Community - Food Access and Farm Stands
Learn how a student-run Farm Stand can benefit the entire school community.
FAQs
Who can attend? Is there a registration fee?
This free workshop is open to educators (teachers, school administrators, school nurses), food service professionals, and farm-to-school enthusiasts.
Can educators earn Professional Development credit hours for attending?
Yes, educators can earn six (6) Professional Development credit hours for attending the entire day. A certificate will be issued to each attendee. Please confirm with your school district or principal.
What are my transportation/parking options for getting to and from the event?
Newark is accessible by bus, New Jersey Transit train, PATH, and light rail. For those taking public transportation, the New Jersey Transit Trip Planner may be helpful. For map information scroll down and click on the travel links below.

Limited FREE parking will be available in the Philip's Academy Charter School parking lot, directly across the street from the school at 342 Central Avenue, Newark, NJ.
If the parking lot is full, please park on the surrounding streets of Central Avenue, Morris, Duryea, Hudson, Dickerson and Hecker Streets. Parking is allowed on all of these streets on Fridays. Please be sure to check street signs to confirm.
Will breakfast and lunch be provided?
Yes, eating our made-from-scratch meals in our communal dining room is an integral part of the day. All participants will receive breakfast and lunch free of charge.
For more information, please contact fmentesana@ecospacesed.org.
Follow EcoSpaces Education on Facebook and Twitter!