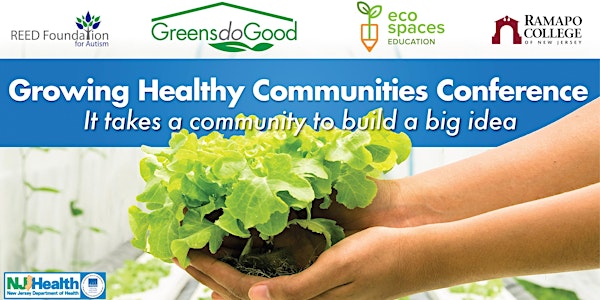 Growing Healthy Communities Conference
When and where
Location
Philip's Academy Charter School 342 Central Avenue Newark, NJ 07103
Refund Policy
Refunds up to 7 days before event
Description
It takes a community to build a big idea.
Food Literacy Education and Social Entrepreneurship Can Change Culture. The Growing Healthy Communities Conference gathers Educators, Administrators, non-profit leaders, and entrepreneurs together to make our children healthier and stronger through food literacy education and creative social action.
Keynote speakers and interactive workshops cover a wide range of topics on community health and social entrepreneurship. The conference aims to increase the reach and depth of our potential to grow healthy children, families, and neighborhoods.
Educators are our first line of defense in the battle to make our children healthier nationwide. They are also the most critical element when it comes to determining a community's culture; serving as role models to students and their families. Schools, afterschool and summer programs are not only a place of academic learning, but of social development, providing a crucial environment to combat America's growing health crisis- poor nutrition, its health effects, and community impact. It is our belief that we have the opportunity to be at the forefront of a movement to transform the eating habits of a generation, leading us towards a more healthy and sustainable future.
Join us to gain a better understanding of how, as educators and leaders, you can be empowered to become "Community Champions" through food literacy and social entrepreneurship. By understanding food systems, garden-based education, urban agriculture and the nuances of food politics, we can adopt better programs throughout our state that affect positive behavioral change for thousands of schools and communities.
6 Professional Development Credits for K-12 Educators
AGENDA FOR GROWING HEALTHY COMMUNITIES CONFERENCE
8:30 - 9:00 AM: Registration and Breakfast
9:00 - 9:15 AM: Introduction and Welcome - Collaborating For Solutions - Miguel Brito, CEO Philip's Educational Partners & Jill Nadison, CEO REED Foundation for Autism
9:15 - 9:30 AM: Keynote Speaker - Chip Paillex - Founder America's Grow A Row - Opportunity to Serve a Purpose
Opportunity to Serve a Purpose: Turning your passion into a way to help others
9:30 - 9:45 AM: Keynote Speaker - Austin Allan - Founder Tio Gazpacho - Quick and Nutritious in a Fast-Paced World
Quick and Nutritious in a Fast-Paced World
9:45 -10:00 AM: Break
10:00-11:00 AM: Session A Workshops
Jennifer Papa & Jenny Schrum - City Green Let's Get Growing! Learning & Inspiration for Garden Education
School Garden Best Practices - City Green's Grounds program will share school gardening best practices so that participants gain the knowledge and enthusiasm to use an outdoor garden classroom as an educational asset, and as a tool to cultivate a school culture that values garden education as an integral part of developing the whole child.
Amina Bahloul & Hannah Joseph - Edible Schoolyard NYC Let's Get Growing! Learning & Inspiration for Garden Education
No Garden No Problem - Get ideas for planting and growing with kids in a school setting with limited space.
Jessie Tartanian - Edible Schoolyard NYC Let's Get Growing! Learning & Inspiration for Garden Education
Learning to Love Data-Driven Programming- Talk about ways to evaluate kitchen and garden-based programming.
Angela Cristini & Chris Leishear Ramapo College & GreensdoGood Let's Get Growing! Learning & Inspiration for Garden Education
Vertical Farming - The workshop will describe the Vertical Farm at the Meadowlands Environment Center in Lyndhurst, NJ. STEAM learning activities on plants, nutrition, food preparation and this method of growing healthy food will be presented.
Melissa Almendinger - Duke Farms Let's Get Growing! Learning & Inspiration for Garden Education
Accessible Gardening -Setting up a garden space to allow adults & children to gain the benefits of gardening without the physical barriers. The presentation will detail a pilot project at Duke Farms.
Lea Madry - National Farm to School Network Let's Get Growing! Learning & Inspiration for Garden Education

Grant Writing 101 - Participate in this workshop to learn the basics of writing a grant proposal and leave with best practices and tips to take your applications to the next level!
Judith Symonds - Philip's Academy Charter School Let's Get Growing! Learning & Inspiration for Garden Education
The Veggie Patch: Connecting to Food through Handwork: Incorporating fruit and vegetable whimsy, Judith will take the group through a series of activities that will make fruits and veggies more kid-friendly and fun. Getting kids to know their vegetable in a variety of interactive ways through handwork helps them develop a personal relationship with food and expands appropriate food literacy vocabulary and connections to health and wellness.
Sarah O'Leary - Greater Newark Conservancy Let's Get Growing! Learning & Inspiration for Garden Education
The Wonder of Worms: Vermicomposting in Your Classroom- all you need to know to get worms munching away in your classroom. More importantly, you will learn the WHY of worm composting so you will wonder how you ever lived without them.
Carolyn Taylor - N.J. Agricultural Society Let's Get Growing! Learning & Inspiration for Garden Education

Linking Language Arts and Social Studies (with some math thrown in!) to the School Garden - School gardens are not just about science! In this workshop, New Jersey Agricultural Society Learning Through Gardening program director Carolyn Taylor will show you how to link the garden to lessons in language arts and social studies. She'll also show you how to find lesson plans on this subject matter Workshop is focused on grades PreK-5.
Tinia Pina - Re-Nuble Super Heroes: Fighting for Food Justice
Using Ecoponics as a Way to Educate our Youth on Sustainable, Closed Loop Agriculture - Tinia Pina, Founder and CEO of Re-Nuble will demonstrate how her company innovates organic waste as a viable and continuous source of nutrition for plants and the communities that consume them in closed loop growing systems.
Rachel Terry - The Common Market Super Heroes: Fighting for Food Justice
Building a Road Map for Farm to School Success - The Common Market is a mission-driven, local food distributor that is working to build a more equitable and thriving regional food system by connecting family farms across the Mid-Atlantic with institutional partners. This session will highlight the work The Common Market does to bring sustainable foods to public schools through collaboration with nonprofit partners, educators, and foodservice leaders. Participants will also have an opportunity to action plan with their peers around incorporating local foods into school environments, leaving with inspiration and tools to make Farm to School a success in their communities!
Ben Hoyer - CREDO Make an Impact for Good, Social Enterprise It's Bigger Than You!
Impact Follows Mission - A strong and compelling mission is especially critical for social enterprise. It builds partnerships, structures program, and product development, attracts customers and drives impact. In this workshop, I'll share the story of Downtown CREDO's mission and challenge you to consider your own.
Luke Sellers - CHOPS Snacks Make an Impact for Good, Social Enterprise It's Bigger Than You!
The Better Food Movement & Why it Matters to You - Over the past decade or so, better-for-you food has become more prominent, yet it was generally only available at high prices. Recently a revolution has begun in the natural foods world -- a revolution to not only provide healthy foods for wealthy people, but to provide food at lower price points, making it available to all people. Enjoy a lively discussion on the Better Food movement and how we can do our part to eliminate "Food Deserts" -- places where healthy foods are not available to the population.
Janet Celi- N.J. Department of Agriculture Empowerment for Healthy Choices **SPECIAL 3 HOUR COOKING WORKSHOP**
EAT YOUR VEGGIES - We all remember hearing this from our childhood! Learn ways to attract students to veggies by making them eye-appealing, exciting and yummy! Join us to explore where and how two (2) Jersey vegetables are grown, their health benefits and additional interesting facts about each item. Discover how to make these vegetables taste delicious by donning aprons and actually preparing interesting recipes in our kitchen.We will wrap up the workshop by arousing our taste buds and sampling the nutritious veggie side dishes created by attendees!
Catkin Flowers - Philip's Academy Charter School Empowerment for Healthy Choices
Kitchen Culture: Seasonal Food, Global Connections - Chop, mix, taste and learn. Join us on a journey through a classroom cooking lesson. See how the curriculum can come to life in the kitchen, and how to create a kitchen in your classroom. Learn how to manage a class in a cooking environment.
Michal Levison - Cookbook Author/Blogger Empowerment for Healthy Choices
Building Community Through Food - This workshop will dig into the importance of cooking as a learning tool as well as a way to connect with others. When we cook together, we grow and we build connections that are important. The workshop will consist of a talk followed by a live cooking demo.
Evelyn Fuertes - Whole Cities Foundation Empowerment for Healthy Choices
4 Pillars Foundation to Healthy Eating: This workshop gives you the tools you will need to make significant health changes with an emphasis on whole foods, plant-strong, healthy fats and nutrient density
Alina Zolotareva, RDN - AeroFarms Empowerment for Healthy Choices
Nutrition & Self Care 101: This workshop focuses on self-care basics for hard-working teachers, educators, and professionals to maximize personal well-being and professional success.
---
---
11:00 - 11:15 AM: Break
11:15 - 12:15 PM: Workshop Session B (Same speakers as Session A)
12:15 - 1:15 PM: Lunch - FoodCorps - Cassidy Cabrera & Jae Zimmermann The Cafeteria as Classroom: Tasting the Harvest
Shifting school culture to include more healthful eating by expanding student participation at a freshly, minted salad bar or choosing healthier main options is easier said than done. Gently nudge your students in the right direction by conducting Taste Tests as part of the lunch period. When we sample unfamiliar foods together, we encourage students to "try new things!" in a fun and inclusive way.
1:15 - 2:15 PM: Workshop Session C (Same speakers as Session A)
2:15 - 2:30 PM: Break
2:30 - 3:00 PM: Motivational Speaker - Summer Sanders - Former Olympic Swimming Champion, sports commentator and television host - Taking a Healthy Bite Out of Every Step of Life
3:00 - 4:00 PM: Networking Hour - Refreshments
For more information, please contact Diane Walpole at ghcconference@gmail.com or call 973-715-6304.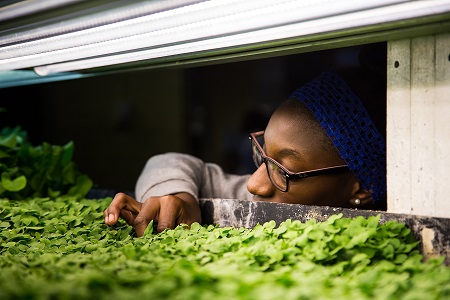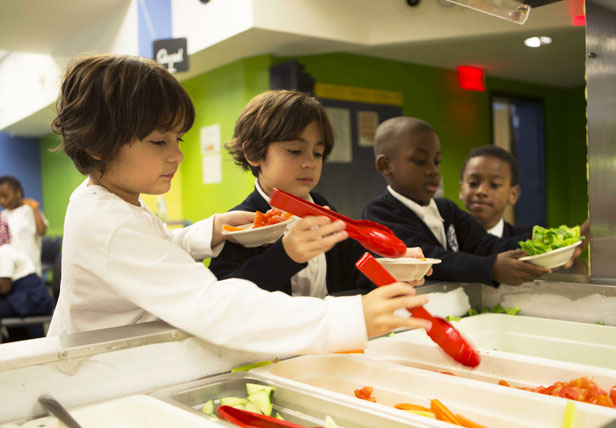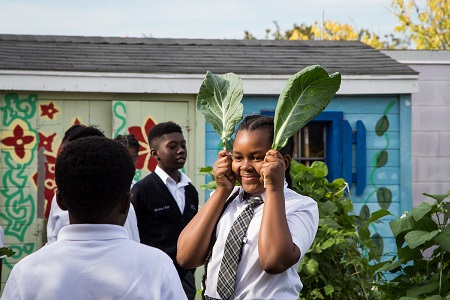 FAQs
Who can attend? Is there a registration fee?
The Growing Healthy Communities Conference is open to educators (teachers, school administrators, school nurses), food service professionals, and non-profit professionals. There is a $35.00 registration fee which includes entrance to the conference, breakfast, lunch and refreshments during the networking hour.
Can educators earn Professional Development credit hours for attending?
Yes, educators can earn six (6) Professional Development credit hours for attending the entire day. A certificate will be issued to each attendee. Please confirm with your school district or principal.
What are my transportation/parking options for getting to and from the event?
Newark is accessible by bus, New Jersey Transit train, PATH, and light rail. For those taking public transportation, the New Jersey Transit Trip Planner may be helpful. For map information scroll down.
Limited FREE parking will be available at the two Philip's Academy Charter School parking lots. Both are directly across the street from the school at 342 Central Avenue, Newark, NJ.
If the parking lots are full, please park on the surrounding streets of Central Avenue, Morris, Duryea, Hudson, Dickerson and Hecker Streets. Please be sure to check street signs to confirm.
Will breakfast and lunch be provided?
Yes, EcoSpaces delicious and nutritious made-from-scratch breakfast and lunch will be provided. There will also be a networking hour at the end of the day where refreshments will be served.
Directions
North or South via Garden State Parkway: Take Exit 145 to Route 280 East. Follow directions below for Route 280 East.

North or South via New Jersey Turnpike: Take exit 15W to Route 280 West. Follow directions below for Route 280 West.

Route 280 East: Take the First Street exit (left exit) – Exit 13. At the light, make a right onto First Street. Go straight through the first traffic light and at the second traffic light make a left onto Central Avenue. Continue to 342 Central Avenue. The school will be on your right.

Route 280 West: Take Exit 14A (Clinton Ave.). Proceed to the traffic light and turn left onto Norfolk Street. Continue 3 blocks to Central Ave. and turn right. The school will be on the left 2 blocks down.

Route 78 East: Take exit for Garden State Parkway North and follow the directions above.