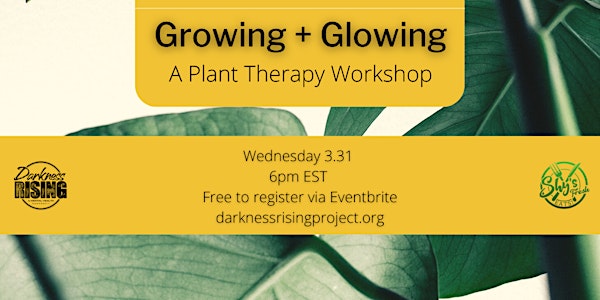 Growing + Glowing: A Plant Therapy Workshop
Tips & tools for house-plant care + the benefits of plants on our mental health.
About this event
🌱Join us for GROWING + GLOWING! 🌱
Plant lovers, plant parents, and those who have yet to make up their mind - join us for Growing + Glowing, a Plant Therapy Workshop in our #WellnessWednesday series!
Get tips and tools for plant care, and get your questions answered.
All are welcome!
DATE: Wednesday 3/31
TIME: 6pm EST
DEETS: Virtual event on Zoom. You will receive a Zoom link the day before.
🌱ABOUT THIS WORKSHOP:
The Growing + Glowing workshop aims to teach the basics of house-plant care and to discuss the benefits of plants on our mental health and overall well-being.
🌱ABOUT SHY'S FRESH EATS:
Shy's Fresh Eats is a Black-owned, woman-owned business that aims to provide a range of services and products for the betterment of the community at-large, and seeks to specifically empower the Black community by improving access to plants, herbs, organic produce, and how to beautify spaces and improve overall health and well-being through knowledge of plant care.
🌱Follow: @shysfresheats
🌱Visit: shysfresheats.com
*Shy is not a licensed therapist. This workshop is not a substitute for therapy.
ABOUT DARKNESS RISING:
Darkness RISING is a 501(c)3 nonprofit created to help those in the Black community begin conversations with their family, coworkers, and friends about their mental health and emotional well-being. We accomplish this by partnering with mental health providers and/or mental health educators to create events, seminars, and sessions where the intersection between mental health education and the arts collide.
Learn more + Resources: Darknessrisingproject.org
Connect: @darknessrisingproject