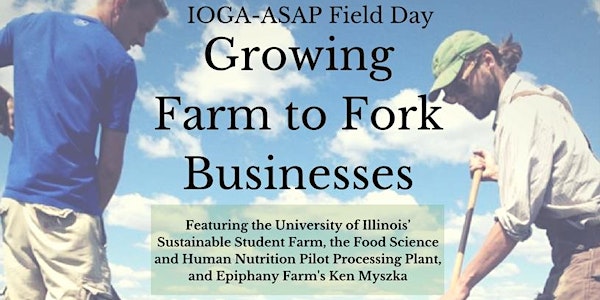 Growing Farm to Fork Businesses Field Day
When and where
Location
University of Illinois at Urbana-Champaign Champaign, IL
Refund Policy
Refunds up to 7 days before event
Description
IOGA-ASAP Field Day: Growing Farm to Fork-Businesses: Featuring the University of Illinois' Sustainable Student Farm, the Food Science and Human Nutrition Pilot Processing Plant, and Epiphany Farm's Ken Myszka
The field day starts at the Sustainable Student Farm (3505 S. Lincoln Ave. Urbana, Il 61801.) Both the field day and lunch are open to the public. Registration $10 in advance, $15 at the door if space is available.
Sept. 14
9:30 a.m. Welcome and tour to the SSF--Presentation and Tour—Matt Turino,
Sustainable Student Farm Manager.
10:45 a.m. Drive to the I-Hotel.
Presentation of the Illinois Local Grains Initiative—Drs. Carmen Ugarte, Martin Bohn, and Michelle Wander.
11:10 a.m. Presentation about the FSHN Pilot Processing Plant and how the Pilot Plant is partnering with U of I dining services — Brian Jacobson, Assistant Director.
Research directions to optimize processing of local products—Dr. Juan
Andrade, Assistant Professor of Food Science and Human Nutrition.
12:15 p.m. Lunch featuring Chefarmer Ken Myszka of Epiphany Farms. Presentation on growing a farm to fork business.
1:30 p.m. Recognition of Jack Erisman and the release of U of I's new wheat variety— Dr. Fred Kolb and Bill Davison.
2:30 p.m. Interested folks can tour the FSHN Pilot Processing Plant.
Featuring the University of Illinois' Sustainable Student Farm, the Food Science and Human Nutrition Pilot Processing Plant, and Epiphany Farm's Ken Myszka