Explore social innovations and their impact in the community which can also help them grow their business
About this event
ONE event | Growing Businesses with a Good Cause
TWO cocktails | by Y Cocktail & Mocktail
THREE Organizers | BPWHK x HKM x Ucommune
FOUR Speakers | Alyssa x Harmony x Till x Lynda
FIVE Takeaways |
To explore social impact opportunities in private, social enterprise and non-profit sectors;
To promote social innovation and entrepreneurship;
To enhance collaborations in social innovation spaces among all sectors;
To understand how these social businesses fulfil their vision and at the same grow a sustainable business;
To understand what challenges that are uniquely to them and how do they tackle them on a business front.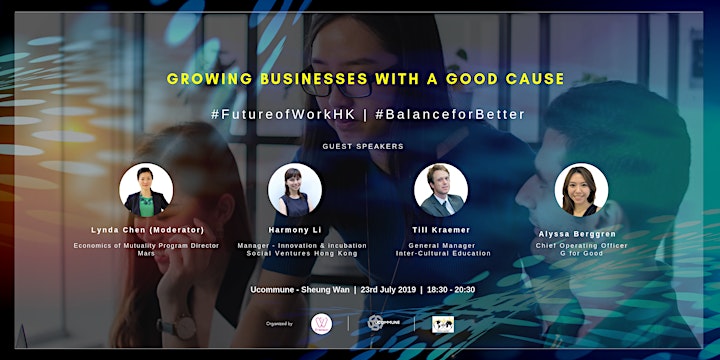 Harmony Li • Manager, Innovation and Incubation
Social Ventures Hong Kong
Harmony manages community empowerment portfolios under SVhk including the 'HATCH co-working factory', 'Clubhouse for Grassroots Families' and 'Playtao Joyland'- affordable SEN services for children. As a strong supporter of #balanceforbetter and mother of a demanding 2-years old, she is also striving to balance between work, home and her interests.
Till Kraemer • General Manager and Director
Inter Cultural Education (ICE)
Till originally did his undergraduate and Master's degree in Mathematics and Computer Science at Oxford University, but later found his passion in discovering, understanding and educating about the world. His passion for traveling rewarded him with adventures in places like Siberia and Iran, while his unusual life journey and his continued obsession with science, technology, and philosophy have featured him in multiple TEDx talks (and in countless unsolicited science lectures to his friends and colleagues). He has been with ICE since 2011 and is currently serving as General Manager and Director.
Alyssa Berggren • Cheif Operating Officer
G for Good
With her broad experiences on social engineering, fundraising, strategic planning, impact measurement, donor and partnership coverage, consulting, and international experiences, Alyssa was appointed as trailblazer at Green Monday, UNICEF and New World Development to lead social innovation projects.
Alyssa received a B.A and M.A in Child Psychology at University of California - Berkeley, and will complete her MBA at Harvard Business School in 2019.
Moderator
Lynda Chen • Economics of Mutuality Program Director, Asia Pacific
Mars