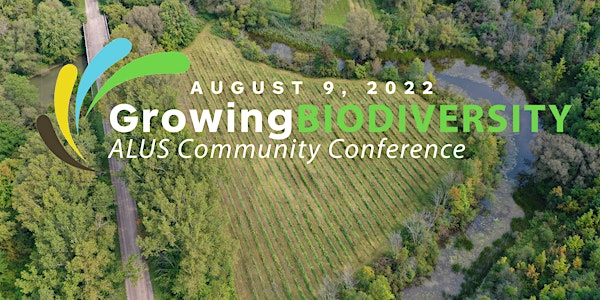 Growing Biodiversity
Bringing Farmers and Community Partners together to Safeguard Biodiversity in Southwestern Ontario
When and where
Location
Wildflowers Farm 42338 Fruit Ridge Line Central Elgin, ON N5P 3S9 Canada
About this event
Join ALUS Elgin and ALUS Middlesex as they celebrate their 10th and 5th year anniversary's with the Growing Biodiversity conference. Gather and learn as researchers, environmental organizations and landowners come together to create networks and share knowledge about habitat restoration.
An exciting line-up of speakers will present the latest trends in local biodiversity and showcase the impacts of farmer-led stewardship projects that are safeguarding wildlife, ecosystems, and important habitats. The speakers will also offer answers to your questions during a panel discussion that will proceed presentations.
KEYNOTE SPEAKER — BRYAN GILVESY, ALUS, CEO, Participant
Ian Fife – Birds Canada, Forest Birds at Risk Coordinator
Ryan Godfrey – World Wildlife Fund, Botanist
Samantha Whiteye – Delaware of the Thames First Nation, Community Leader
Drake Larsen – Three Ridges Ecological Farm, Co-owner and ALUS Participant
Jumanah Khan - ALUS Elgin, Program Coordinator
Peter Moddle - ALUS Middlesex, Program Coordinator
This will be a hybrid event with options to attend either in-person or stream-live virtually. Please select your preferred format in the ticket options when registering.
In-Person
Attend in person and enjoy a dinner, featuring a local caterer and foods from ALUS participants, to continue conversations over a meal.
Virtual
Join the conversation as we stream live! Those attending virtually will receive an email containing the meeting link the day before the event.
General Program Agenda:
2:30 - 2:40 – Welcome & Introduction
2:40 - 3:00 – Sam Whiteye, Delaware of the Thames
3:00 - 3:20 – Ryan Godfrey, WWF
3:20 - 3:35 – BREAK
3:40 - 4:00 – Ian Fife, Birds Canada
4:00 - 4:20 – Drake Larsen, Three Ridges Ecological Farm and ALUS Elgin
4:20 - 4:40 – ALUS Elgin and ALUS Middlesex Presentation
4:40 - 4:55 – BREAK
5:00 - 5:20 – KEYNOTE SPEAKER - Bryan Gilvesy, ALUS
5:20 - 5:40 – Speaker Panel Discussion
5:40 - 6:00 – Closing Message
6:00 - 7:00 – Dinner
About ALUS
ALUS is a community-delivered program that works with farmers to create and restore habitat on marginal lands. ALUS recognizes that despite plenty of action taken to date, there is still work to be done to address biodiversity loss in southern Ontario. Through farmer-led stewardship, ALUS offers nature-based solutions to pressing environmental issues. Learn more at www.alus.ca
About SW Ontario
Southwestern (SW) Ontario is a uniquely biodiverse region that is home to over 3,000 different native species of flora and fauna and provides habitat to one-third of the rare, threatened and endangered species found in Canada. The region's natural cover is made up of Carolinian forests, wetlands and grasslands. These extraordinary ecosystems provide so many benefits – from coastal wetlands protecting the water quality of our drinking sources, to century-old forests sequestering tons of carbon dioxide. Despite their vital roles, we continue to lose at-risk species and native habitats far too quickly. Growing interest in restoration and conservation have led to the desire to create and restore habitat in order to protect the integrity of local biodiversity, and in-turn protect us.
ALUS Elgin is a program delivered through the Lower Thames Valley Conservation Authority (LTVCA). Learn more about the LTVCA by visiting their website www.ltvca.ca.