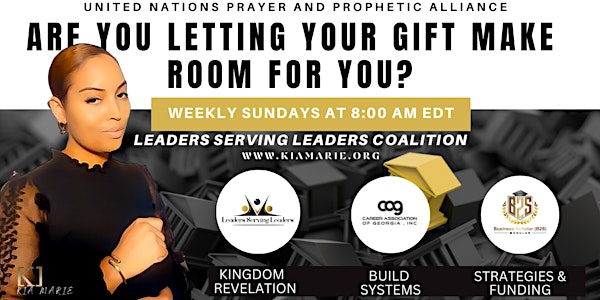 Growing Apostolic Marketplace Ministries and Training Centers
Are you not being properly fed by your current leader? Are your gifts not being exercised? Come discern our atmosphere where Love resides.
About this event
United Nations Prayer and Prophetic Alliance
Sundays at 8:00 AM Eastern Time
Ever felt like there was more, ever felt that burning sensation in your belly that wanted you to come forward but the opportunity to do so never presented itself? Here it is, come discern our atmosphere with United Nations Prayer and Prophetic Alliance powered by Leaders Serving Leaders Coalition where you will be challenged to move in your gifts whether you murmur or complain functioning as an Apostle, Prophet, Pastor, Teacher, Evangelist, etc.
Our dynamic Prophets in the Lord aren't easily offended and we have the ability to look past offenses because we know the challenge to progress and plunge forward isn't easy and friction that poses itself when spirit tries to control the flesh. However, Christ within you wants to show you the world and we are prepared to help you get postured governed by the Twelve (12) Floors from Lost to Found.
Our Distribution Center
Certifications and Funding for Business and Ministry Leaders
Employment Assistance for Career Seekers
Books to encourage you to align with your marketplace ministry business
Virtual Group Fitness Training on Saturdays at 8:00 AM EDT
Becoming Fishers of Men [Max Unlimited Sales Bootcamp]
Contracts for Startups $24,000-$146,600 USD
B2S Shop [Create an Online Store with Us] Systems provided
Awards for Startup Credibility
Visit our websites
www.cag.solutions
www.kiamarie.org
About Kia Marie
Built by the Best Reformer in the world, B2S companies governed by the Business:Scholar (B2S) Modular has become one of the most effective HR structures for companies and rising C-Suite executives to find their purpose and a Trusted model to do business with. For over seven years, Kia Marie has helped companies expand sales, increase transaction profitability, and reduce turnover all by disrupting the status quo by implementing her proven, industry-leading processes, through management, and training methodologies.
Founded and led by CEO, Kia Marie, Prophetic and Apostolic in Nature, as seen on Financial Capital, Business Vantage Views and more, international influencer, renowned speaker, trainer and coach to SMEs, CAG Communications takes a cutting-edge, disruptive approach to sales, marketing, social media and consulting to give businesses an opportunity to increase their revenue, make impact, and expand their market share.
EEOC Policy
Career Association of Georgia, Inc and affiliated companies is an equal opportunity employer. All aspects of employment including the decision to hire, promote, discipline, or discharge, will be based on merit, competence, performance, and business needs. We do not discriminate on the basis of race, color, religion, marital status, age, national origin, ancestry, physical or mental disability, medical condition, pregnancy, genetic information, gender, sexual orientation, gender identity or expression, veteran status, or any other status protected under federal, state, or local law.