Description
Ann
Wheeler
,
Log
House
Herbs
The enormous variety of herbs available throughout the year at The Arbor Gate present us all with a problem defined as being "spoiled by choice" -- how to choose? For many herb fanciers, the next best herb for one's garden may be one that is familiar only through reading or conversation. So let's get growing something new-to-you! This discussion will help guide your choices, by homing in on the discovery process common to getting acquainted with any new friend.

MGCEU: Fort Bend, Galveston, Harris, Orange, and Waller Counties
About the Instructor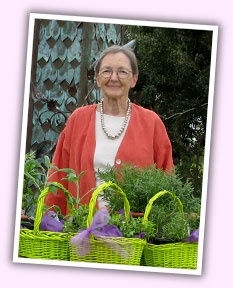 Ann Wheeler of Log House Herb Farm is consultant of fine culinary and ornamental herbs to The Arbor Gate.