You will learn how new exciting leather-like materials can be manufactured from fungal mycellium[Talk given by a designer and a scientist]
About this event
Growing alternative materials for the fashion industry from fungal mycelium 
We are so excited that you join us this November in an 'Afternoon in The Science Basement':
This November, Manuel Arias & Géza Szilvay from VTT will talk about how fungal mycellium can be used to manufacture new exciting leather-like materials 😲.
*****************************************************************************************************
SUMMARY: Fungal mycelium is an interesting material due to its structural features. Living fungal cells act as the engine for the creation of new exciting biobased materials. In our project, we aim to understand the growing behaviour of mycelium as we develop an industrially scalable process to make a leather-like material that would replace animal and synthetic leather. In this talk, you will learn about our mycelium technology and ongoing research activities from a scientific and design perspective.
Bios:
*Manuel Arias is a designer and sustainability specialist working as an Interdisciplinary Researcher at VTT Technical Research Centre of Finland. Born in Costa Rica but based in Finland, his work focuses on envisioning future scenarios and applications by connecting the dots between design, business, and biology for the creation of new materials and scalable biotechnologies. Great part of his material R&D activities at VTT have been on the use of mycelium as an alternative material to animal leather.
*Géza Szilvay is a Senior Scientist at VTT Technical Research Centre of Finland in the Industrial Biotechnology research area. His research at VTT aims to develop biotech solutions for the production of novel bio-based materials. Before joining VTT, Géza worked at Columbia University in New York City as a post-doctoral fellow. He holds a PhD in Biochemistry from University of Helsinki.
*****************************************************************************************************
ZOOM WEBINAR
https://helsinki.zoom.us/j/69516882409
[Meeting ID: 695 1688 2409 ; Passcode: 962759]
*****************************************************************************************************
The event will be streamed live and it will be followed by an interactive Q&A! 💻⠀⠀⠀⠀
For up-to-date information visit the Facebook event: https://fb.me/e/4Zwub4lLe
The event is part of the Year of Research-based Knowledge 2021#scicomm #thesciencebasement #tsb #phdlife #vtt #myhelsinki #sciencecommunication #tttv21 #tutkituntiedonteemavuosi #fashion_with_science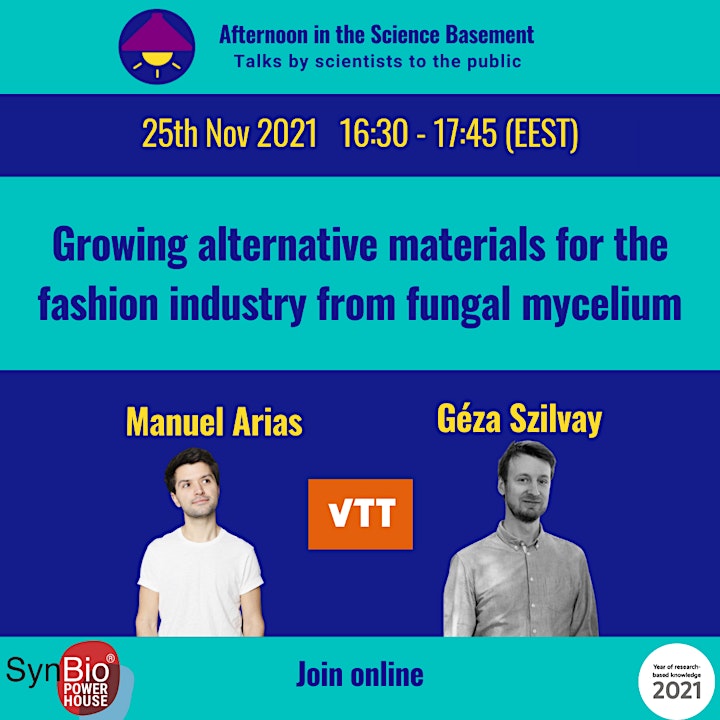 Organizer of Growing alternative materials for the fashion industry from fungal mycelium