Description
Join us for a book launch and discussion with David Montgomery, author of Growing a Revolution: Bringing Our Soil Back to Life, moderated by Kiera Butler, senior edior of Mother Jones and host of Bite "a podcast for people who think hard about their food," introduction by Deborah Koons Garcia, director of Symphony of the Soil.
Books, Food and Drinks for Sale; free ticket.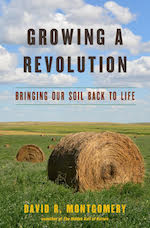 Praise for Growing a Revolution:
"Montgomery has the rare talent of making complex scientific topics not only understandable but truly fascinating. Growing a Revolution is both exceptionally enlightening and tremendously enjoyable. Highly recommended reading."
—Nicolette Hahn Niman, author of Defending Beef and Righteous Porkchop
"Soil's greatest living advocate, David Montgomery, has done it again. Growing a Revolution proposes the radical idea that by improving soil health, we can heal not only the earth but ourselves as well. A call to action that underscores a common goal: to change the world from the ground up."
—Dan Barber, chef and author of The Third Plate
David Montgomery is a Professor of Earth and Space Sciences at the University of Washington in Seattle, where he is a member of the Quaternary Research Center. His latest book explores the ways in which farming and land management can be a major part of the solution to climate change, through practices ranging from "beyond organic" to large scale conservation agriculture still incorporating conventional practices.
Montgomery is also the author of Dirt: The Erosion of Civilizations and The Hidden Half of Nature: The Microbial Roots of Life and Health (co-authored with Anne Biklé).